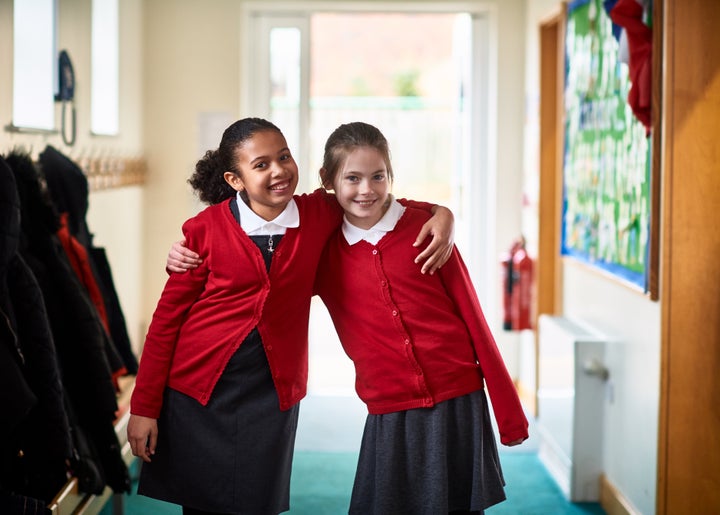 School uniform is bloody expensive.
UK affordable footwear retailer, Wynsors, estimates that families face paying 20% more for school uniform this summer than they did back in 2018.
Its survey of more than 1,000 UK parents also revealed three quarters (76%) agree the cost of buying school uniform and supplies puts a strain on their household budget.
It's thought the average parent will spend roughly £230 on a full set of new school uniform in 2023. So, if you're planning on forking out, where can you get the best value for money?
The cheapest place to buy uniform
A new analysis by Which? has found Sainsbury's (Tu Clothing) is the cheapest retailer for parents looking to save money on uniform.
The consumer champion analysed prices of a selection of essential nine-year-old sized school uniform items at eight popular supermarkets and clothing retailers.
Sainsbury's was the cheapest place to buy, with two each of pinafore dresses, polo shirts, skirts, sweatshirts, boys' trousers and girls' trousers costing a total of £47.
It also had the cheapest items available in four of the uniform categories, including polo shirts for £4, sweatshirts for £3, boys' trousers for £8 and girls' trousers costing £9.
Morrisons was just £1.95 more expensive, costing £48.95 in total. It sold the cheapest pinafore dresses and skirts, costing £10 and £8 respectively.
The cheapest and most expensive places to shop for uniform
Which? analysed the price of two items from each category: pinafore dresses, polo shirts, skirts, sweatshirts, boys' trousers and girls' trousers, before coming up with a total.
Prices were correct as of August 9 for Sainsbury's, Asda, John Lewis, Matalan, M&S, and Next, and July 26 for Morrisons and Tesco.
Aldi and Lidl also sell cheap uniforms in-store – both run a £5 uniform bundle deal, but these are 'special buys' which tend to sell out quickly and generally do not get restocked (hence why they weren't included in the above analysis).
Other ways to save money while shopping for uniform
Buy secondhand (check your local charity shop or sites like Vinted).
Join a local uniform swap – online forums and community groups can point you in the right direction.
Speak to your child's school. Clothes are donated at the end of the academic year and tend to be available for collection in the first month of re-opening.
Opt for multipacks when shopping in stores.
Choose longer-lasting options such as trousers with a hem that can be let down.
Keep an eye out for deals – according to NetVoucherCodes.co.uk, back-to-school deals tend to kick off around the time the holidays come to an end.