A baker who creates lifelike animal cakes has come under fire from animal rights activists who say she is "encouraging animal cruelty".
She has recently been trolled by people who claim her lifelike cakes encourage "animal cruelty" as people have to cut them with knives.
Edwards, who has two young sons, Oscar, 4, and Felix, 2, said that she won't let the negative comments affect her livelihood.
She told The Huffington Post UK: "As an artist, if you get a response like that then you're probably doing the right thing."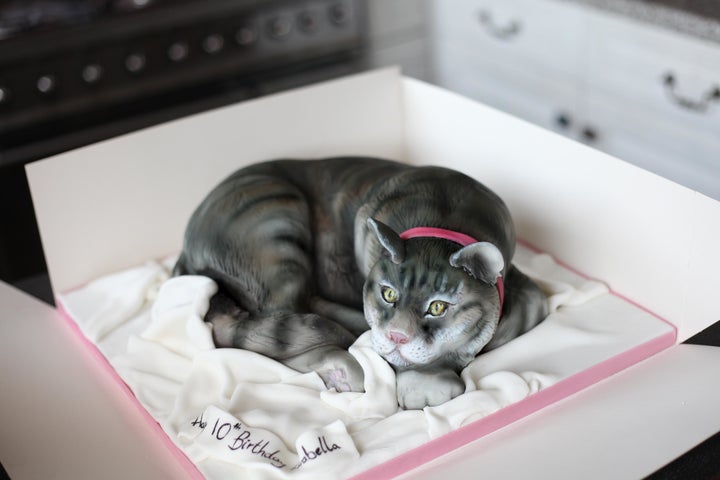 Edwards, who is based in Hemel Hempstead, was a professional photographer before she started her own cake-making company.
She said her love of baking became apparent after she gave birth to her first child Oscar. "When I was on maternity leave I baked," she explained. "I was baking cupcakes and pretty things.
"Then, when my son turned one I created a lion cake. It was very basic but I put it on Facebook and people really loved it," she said.
A friend of Edwards asked her to bake an elephant cake for her son's birthday and she obliged. From then on she would regularly bake cakes for friends and family as a hobby.
But when Edwards fell pregnant with her second son, disaster struck and she was made redundant.
"I had two small children and had the redundancy money so decided to try and make a living out of baking," she said. "I thought, 'I'll give it six months and if it doesn't work then I'll try something else'."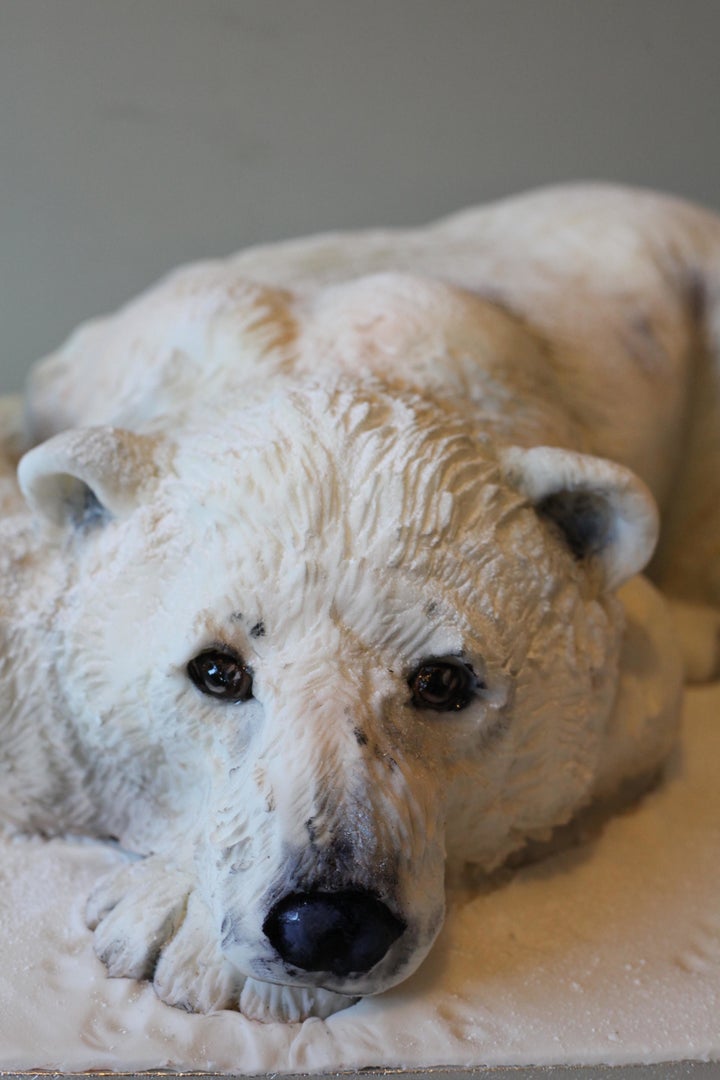 Setting up her own company gave Edwards the strength she needed to leave a troublesome marriage. And she hasn't looked back.
"I love it, it's playing with sugar, it doesn't feel like a real job," she said.
A typical day for Edwards now consists of looking after her two young sons during the day. Then, at 7pm when they go to bed, she bakes until the early hours.
"What started as a three month exploration has lasted for three years," she said.
Edwards now creates between one and two cakes per week. She is so busy that she's got a six-month waiting list and her cakes cost anything from £150 to £2,500.
In the past, she has created lifelike cat, dog, penguin and even polar bear cakes. The latter of which took 20 hours to complete.
She said she won't spend any longer than three days on her cake creations as otherwise they won't be fresh enough.
"They're cakes, you can't spend two weeks working on them otherwise they go off," she explained.
Her business venture has grown and grown and her cakes, which she tries to make look as realistic as possible, have become viral sensations.
But with popularity comes criticism. One Facebook user wrote under a picture of a husky dog cake: "Disgusting idea. Maybe do a sweet baby child, then see if you get any likes for that."
Edwards said: "The problem they have, and I vaguely understand it, is that when they look that realistic, how can anyone cut into them? If you're savage enough to cut into something that looks hyper-real, are you savage enough to cut into something that's real?
"That's their problem with it. I do understand where they're coming from, but it's misguided."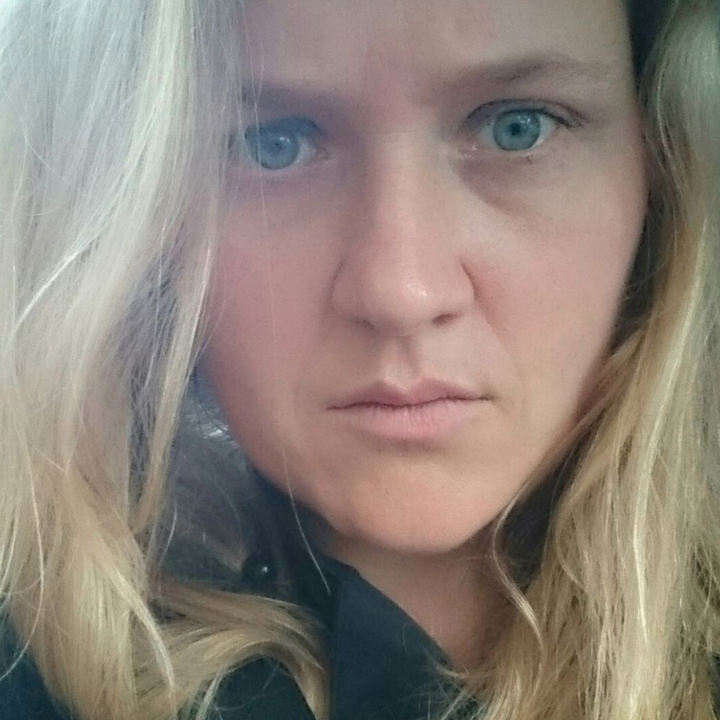 Edwards' response to the trolling has been surprisingly positive.
"I decided that as an artist, if you get a response like that you're probably doing the right thing," she explained. "Most artists tend to offend somebody.
"I just thought it was funny because what on earth do you do with these cakes if you can't cut them up?
"If you let them sit around they'll just rot and that's a waste. It's the cake's destiny to be cut."
Her message to the trolls? "If you can't say anything nice, don't say anything at all."
She said: "I've had one or two people apologise after leaving horrible comments, because I've responded to them and they've realised that I'm a real person and not some huge, glossy, high-end company.
"I'm a single mum with two little boys, I've got my kitchen signed off by environmental health and you'll find me there until 2am."
Edwards, who also creates stunning wedding cakes, insists she'll continue making her realistic animal-themed cakes.
Over the coming year, she hopes to move her bakery company to a proper unit on an industrial estate and to take on more people.
But she doesn't want it to get too big. She added: "I will always be at the heart of it."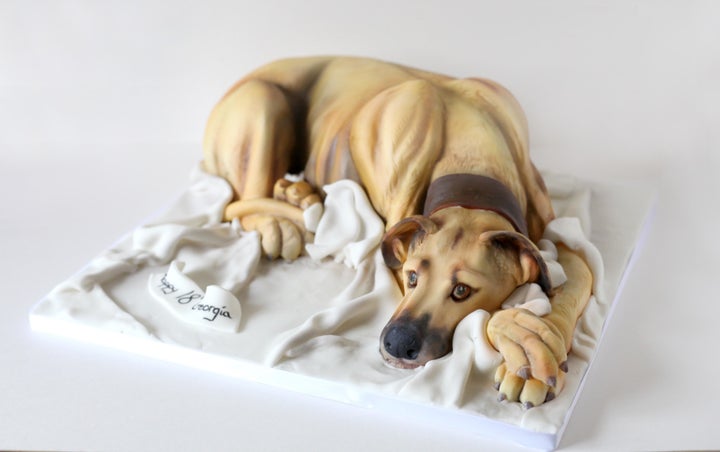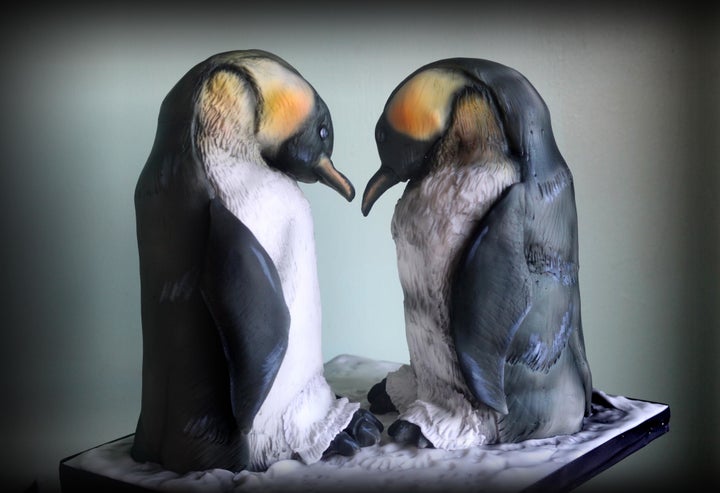 Related