Drivers face "carmageddon" this weekend with the worst bank holiday congestion expected on UK roads in recent years.
Transport information supplier Inrix said some stretches of road could have twice as many vehicles between Friday and Monday compared with a normal weekend.
Hotspots to avoid include sections of the M25, M5, M27 and M6.
The combination of rail engineering work and a forecast of potentially warm weather is expected to boost the number of journeys over the popular getaway weekend.
Inrix traffic analyst Greg Hallsworth said: "This bank holiday could see the worst congestion in recent years.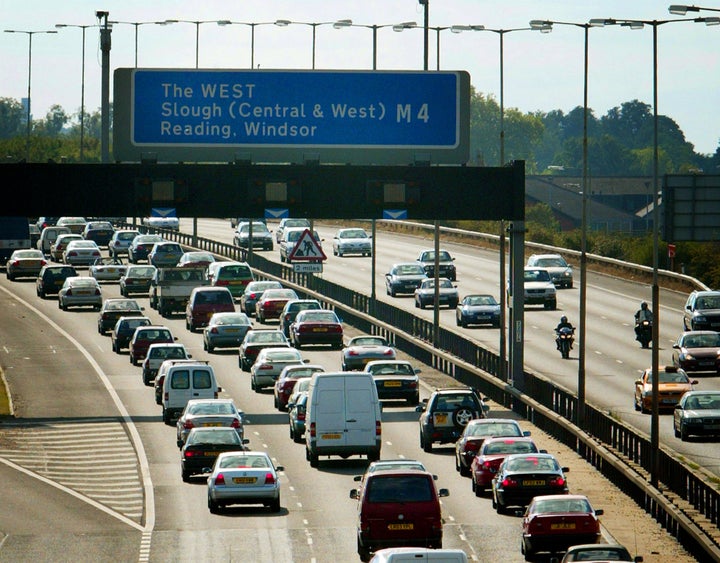 "A perfect storm of conditions will lead to increased traffic as carmageddon blights the long weekend.
"With some uncharacteristically good weather forecast and potential rail disruption, holidaymakers could find roads gridlocked far more than usual.
"We have already seen delays of up to 90 minutes during the bank holidays earlier this year but we could see delays of more than 120 minutes for some of the worst affected roads this weekend."
The RAC estimates that 20.7 million cars will be using major roads for leisure trips between Thursday and Monday.
Based on a survey of 1,579 motorists, it expects Saturday is set to be the busiest day with five million leisure journeys planned - double the figure for the same day last year.
Sunday is also set to be busy on the roads with 4.4 million getaway trips.
Road congestion could be boosted with nearly 1,000 engineering projects being carried out across Britain's rail network, meaning some lines will be closed.
Major work is taking place to upgrade signalling in the Bristol area, affecting Great Western Railway passengers.
Other work includes track replacement disrupting services between Milton Keynes and Rugby, and rail replacement buses operating between Preston and Bolton due to a project to electrify the railway through Chorley.
Martin Frobisher, route managing director for Network Rail, said: "Work takes place 365 days a year as part of our Railway Upgrade Plan but we carry out larger upgrades over bank holidays when there are fewer passengers travelling."
Forecasters at the Met Office said temperatures could reach 30C in some places this week, with inland parts of south-east England and East Anglia expected to enjoy the warmest weather.
Highways England announced that almost 98% of England's motorway and major A roads will be clear of roadworks over the weekend.
Some 373 miles of roadworks will either be completed or suspended ahead of the holiday.
The decision was welcomed by the Freight Transport Association, which said lifting "such a significant number of roadworks" was good news for all motorists.
Popular in the Community