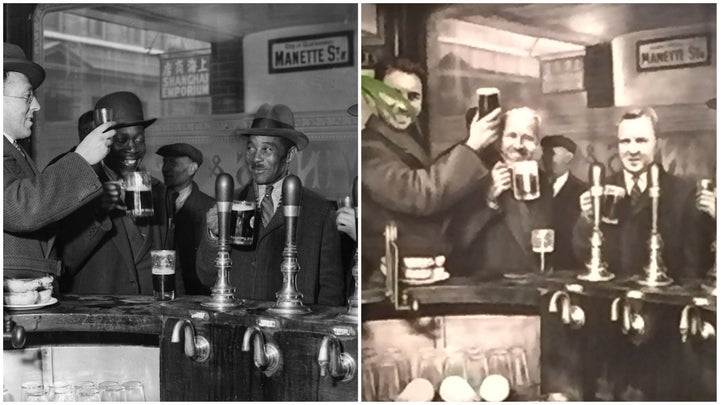 An historic London cocktail bar is to remove an illustration of a photograph that saw two black customers replaced with the faces of its former white owners.
The Pillars of Hercules pub, which reopened in June as Bar Hercules, appeared to erase two black drinkers from an old picture taken in the pub in 1933 when it installed a fresh artwork.
The newly-commissioned illustrated version includes three white men who bought the venue this year - before selling their company last month - replacing three figures in the original.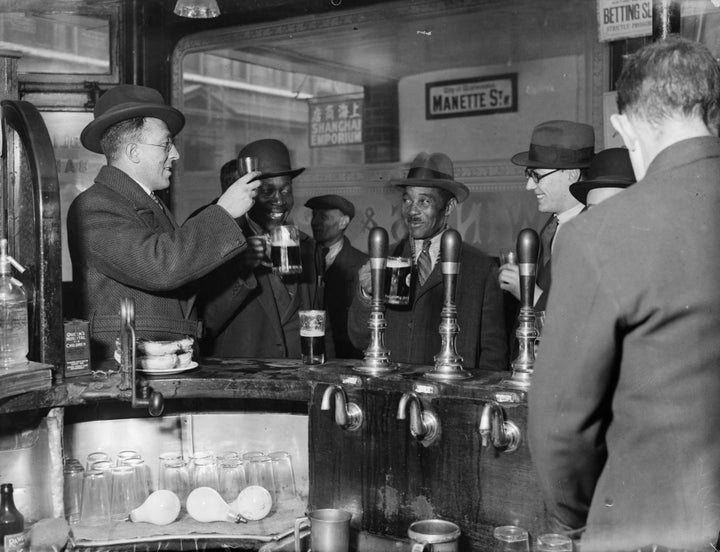 One customer who pointed out the change on Twitter wrote: "WHAT THE FUCK? Who are these new white guys? Why?"
Andrew Stones, the chief executive of Bar Hercules' owner Be At One, confirmed on Monday that the illustration will now be removed.
"In light of the fact one of our guests has taken offence to [the illustration], we will remove it," Stones told HuffPost UK in a phone interview.
"The whole reason it was commissioned by the previous owners was so it could be a tongue-in-cheek nod to the bar's previous history."
Stones said an appropriate replacement, drawing on the site's 300-year history, will be found.
Earlier, Charles Roche, the bar's manager, said the new illustration was thought of by staff as a tribute to the founders of Be At One, which was sold in July.
"The three [former] owners are in the painting and this was seen as more of a sincere offering to them rather than a stab at racism," Roche said.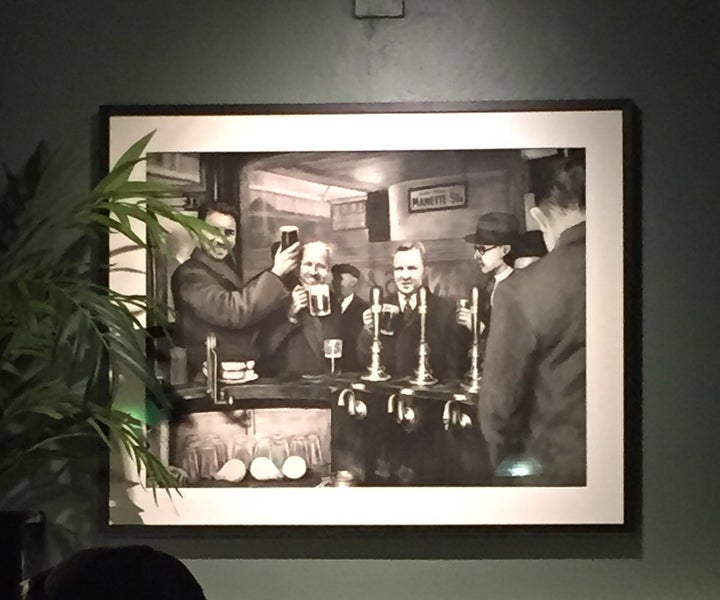 "We have had customers ask the bar staff about it, as it is such a famous photograph," he added.
"When you stand behind the bar at a certain angle, you can still see the detailing in the picture from the 1930s."
Be At One was founded by former TGI Friday bartenders Steve Locke, Rhys Oldfield and Leigh Miller.
Locke, Oldfield and Miller are all depicted in the illustrated version of the old picture.
The trio formed Be At One in 1998 and sold their empire to pub giant Stonegate for an undisclosed sum, thought to be as high as £60 million, last month. They are no longer involved in the business.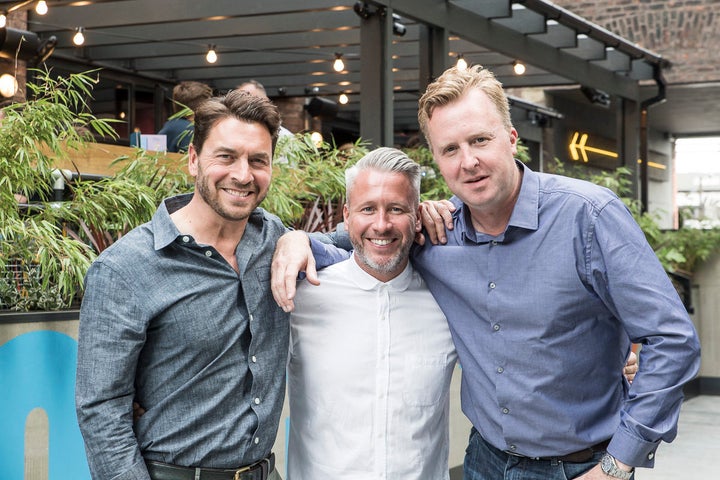 Among Bar Hercules' menu of drinks is a £12 mix of "frazzled" bourbon, vermouth, IPA and sherry, dubbed "Lads On Tour", and an £11 rum, tequila, avocado twist named "Bang Tidy".
And the bar's brash decor includes a nude Arnold Schwarzenegger depicted in stained glass above plush leather seating.
Financial accounts for Be At One showed the group made earnings before tax of £5.5m last year.
Related