You're reading our series Summer's Not Cancelled, celebrating summer in this new normal. From rediscovering nature and cherishing time with friends and family, to virtual festivals and unforgettable staycations – summer's still here, it's just different.
Forget working from home, what if you could work from holiday instead? Yes, that means clocking off for the day and heading to gorgeous beaches and crystal clear waters.
Barbados plans to launch a 12-month 'Welcome Stamp' to encourage visitors from overseas to stay there for a year and work remotely.
The Caribbean island's prime minister, Mia Amor Mottley, revealed plans for the scheme last week and said it's currently being refined for promotion.
The hope is that it'll bring more people to the island to grow the economy, given that tourism makes up an estimated 40% of the country's gross domestic product (GDP).
A year-long pass would make it easier for people to visit the idyllic island, it's thought, as short-term travel is harder due to testing and quarantine. "You can come here and work for a couple months at a time; go back and come back," said Mottley.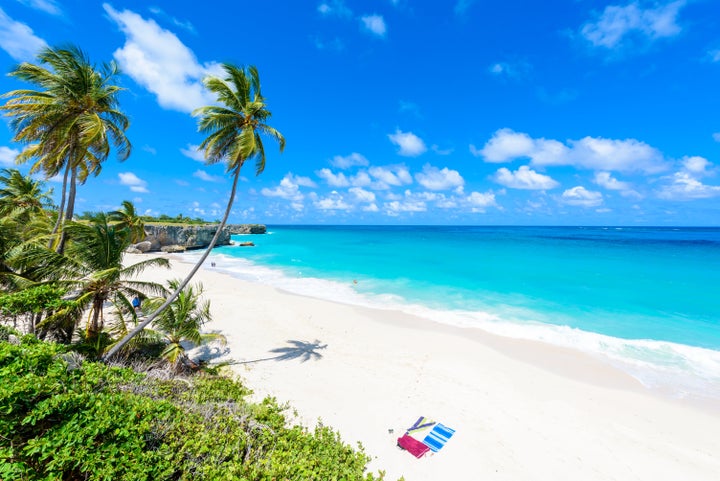 The scheme is currently being drawn up – but the Barbados government didn't give a date on when travellers would be able to take up the offer.
Barbados plans to officially reopen its borders to international travel on July 12. Current guidance states people travelling there need to have a Covid-19 test 72 hours before travel and must submit an Embarkation/Disembarkation (ED) card 24 hours prior to travel.
Anyone who arrives in Barbados without being tested will have to have a mandatory test on arrival. If you test positive, you'll be placed in isolation until you've recovered.
As it stands, British passport holders don't need a visa to visit Barbados. On entry, you're normally granted a specified period to stay (usually six months). But if you wish to stay longer, you must apply and pay for an extension of stay through the Barbados Immigration Department.
The Welcome Stamp scheme would mean visitors could stay up to a year. It's not yet clear whether you would need to pay for this or not.