14 people killed and over a hundred injured in Barcelona and Cambrils
Van driver could have been shot dead during separate Cambrils attack
Moussa Oukabir, 18, is suspected of being the driver. 4 have been arrested
British dual-nationality child, 7, is believed to be among the missing
Foreign Office says a 'small number' of Britons were injured in Barcelona
Victims from 24 different countries, including France, Germany and Australia
BARCELONA - A sombre minute-long silence at Barcelona's Las Ramblas gave way to spontaneous applause on Friday, as crowds of tourists and locals joined Spanish leaders in a ceremony to commemorate victims of Thursday's terror attack.
Holding white or red roses aloft, thousands in the crowd chanted and shouted "Viva! Espana" and "No tinc por" ("I'm not afraid").
Amid temperatures in the high 20s (Celsius) and a beating near-midday sun, Barcelona's Plaça de Catalunya, at the top of Las Ramblas, fell silent to honour the 13 killed and over 100 injured in Thursday's van attack.
Police announced today that a woman ploughed down by a car in Cambrils in a separate attack has also died, bringing the death toll of Spain's 24 hours of terror to 14. They believe one of the five terrorists killed in Cambrils could have been the driver of the van in Barcelona.
UK authorities are "urgently looking into reports" of a British dual-nationality child believed to be missing in Spain following the terror attacks, Prime Minister Theresa May said.
The Foreign Office also confirmed that a "small number" of Britons were injured in terror attacks in the country and that additional staff have been sent to Barcelona to help.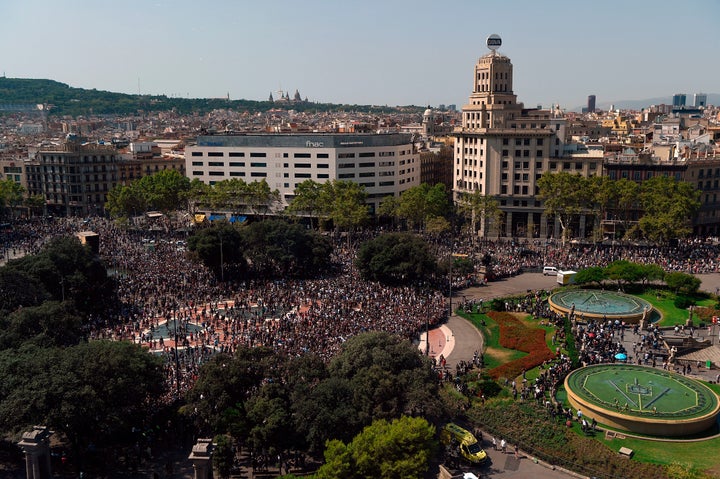 At the memorial, applause rang out for the arrival of Spain's King Felipe VI as a flock of pigeons rose.
Amid a mood of reflection, police patrolled the roads surrounding the busy square, the centre of the Spanish city's normally chaotic tourist district.
Queues of people lined roads to get into the square itself, with police officers conducting careful searches of bags and persons.
"If we just shut down and close then they win," Diana Daniels, an American living in Barcelona, told HuffPost.
"Of course we have to get on because if we don't they win," she said of the perpetrators of Thursday's attacks.
Daniels, who witnessed crowds running and screaming through the window of her office just metres from Las Ramblas, said while Thursday's events were terrifying, they won't alter the spirit of many here.
"We will get on, we have to," she added.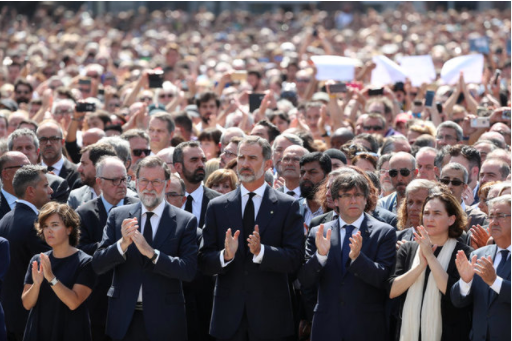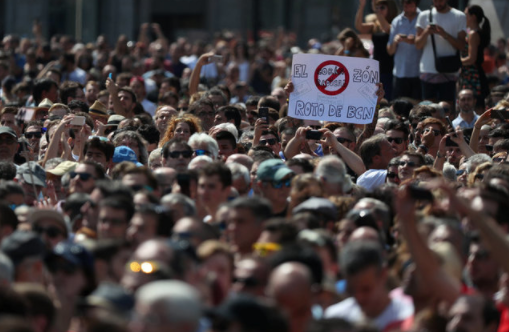 While officially starting at 12pm local time crowds fell silent much earlier, reflecting the stoic yet somber mood among locals and visitors alike.
But Barcelona's central Plaça de Catalunya did not remain silent for long.
The planned minute-long tribute to those affected by the attack nearby gave way to spontaneous applause, chanting, and shouts of "Viva! Espana".
Briton David Kivell told HuffPost that he found about the attack "on the plane over."
David and his wife, Elizabeth, and their four children, realised they were due to check in to a hotel directly on Las Ramblas, yards from the scene of Thursday's attack.
"We were locked out of the street we were staying in for three hours… then we just literally walked past the scene of the [attack]. They were still recovering bodies," he said.
"I did think 'I just want to leave', but I'm staying. We just have to see this through."
Ben and Jordan, a young British couple who were in the city last night told HuffPost "there's a very sombre mood."
"It's majorly changed our plans to be honest," Ben added. "We came to pay our respects, but we'll be staying away [from Las Ramblas]."
"This is a way to show we are confronting this attack," Estelle, a Barca native told HuffPost UK.
Signs of the latest terror attack to strike Europe remain, with cordons and police vehicles in view and public traffic still restricted.
"We come here to pay respects, of course, it is important," Laura, another Barca native, who declined to give her last name, said.
"Normally we don't queue to get into this place, today is different," she added.
Susan McLean, an Australian national who is currently travelling with her husband in Barcelona, was around 100 metres away from Las Ramblas when the attack occurred.
McLean told HuffPost that while there now appears to be a strong police presence in the city, local residents and tourists are continuing about their daily lives "to show that they would not be silenced".
"There's still many streets blocked off. They've just had a memorial service, they don't do a minute silence here, they do a minute clapping. They had two of those and chanting, so there were thousands of people paying respects and showing solidarity," she said.
"The city is quite subdued this morning but in the 15 minutes leading up to midday when they had that service, Las Ramblas was full of people striding towards the Plaça de Catalunya to show their respects and to show that they would not be silenced.
"There is no one in Las Ramblas that appears visibly affected [by the attack]. Everyone is marching and standing strong."
The scene of Thursday's van attack, which killed 13 and injured 100, was just yards away, packed with visitors keen to pay their respects to those lost.
It is believed that the attack was linked to the incident in Barcelona, with the suspects wearing suicide belts which were later found to be fake.
Police announced this afternoon that the suspects' car contained knives and an axe, with one victim receiving facial wounds before the five men were shot dead.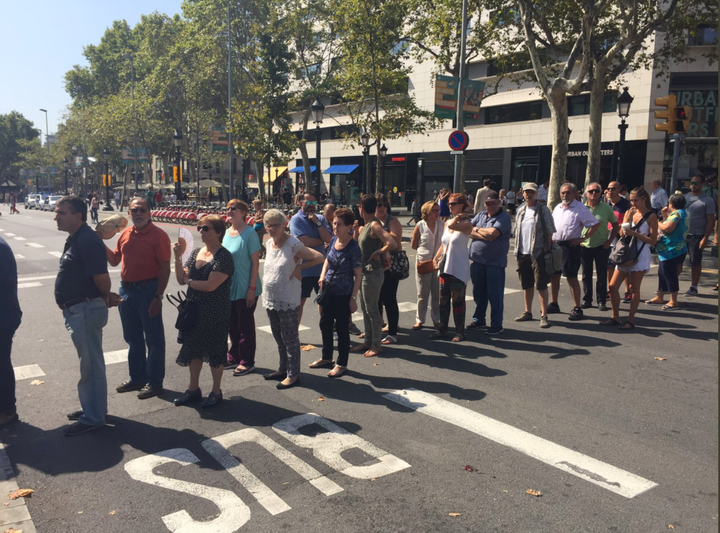 Fitzroy Davis, who was in Spain for a judo event, told the BBC: "He stood back up and then he stepped over the fence and he started, he was taunting, smiling and he carried on walking to the police, and then they gave it to him again, a couple more shots and then he fell to the ground."
Authorities are also investigating possible links between the two attacks and an earlier explosion that destroyed a house in the town of Alcanar, about 120 miles from Barcelona.