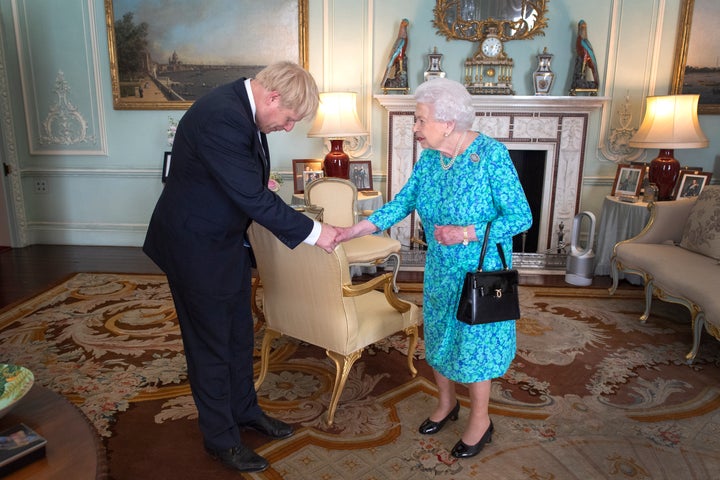 Sources told Kuenssberg that senior government officials were extremely concerned about Johnson's conduct in May 2020, at the height of the pandemic.
One source alleged that relations between his political team and the civil service "broke down" around this time, with then-chief of staff Dominic Cummings often butting heads with head of the civil service Sir Mark Sedwill.
That's why some officials took the "extraordinary step" of appealing to the Palace, according to Kuenssberg.
They reportedly raised their concerns to Palace officials, so the Queen could mention it in her weekly private audiences with Johnson.
The BBC noted there was an uptick of phone calls and communications between Downing Street and the Palace during this period compared to their normal level of exchange.
However, former deputy cabinet secretary Helen MacNamara, declined to offer further details about what the conversations entailed, saying she would "get into trouble".
She told Kuenssberg: "There were definitely times after the prime minister came back from his illness [when he was hospitalised for Covid] when the kind of, the perception amongst the political team in No.10, about the failings of the system, and the failings of the civil service and the failings of the institution were so extreme, and the way that they're articulating that, they were in absolutely, 'smash everything up, shut it down down, start again' [mode].
"We were systematically in real trouble."
One source also told the programme that Johnson "had to be reminded of the constitution".
The BBC said the Palace declined to comment on the story while Johnson's team said No.10′s actions were always within the constitution, and none of the royals had raised concerns with him.
This incident came a year after Johnson's government called on the Commons to be kept closed – or "prorogued" – for five weeks ahead of the Brexit deadline in 2019.
Critics claimed that meant MPs couldn't scrutinise his Brexit plans.
The prorogation was technically carried out by the Queen although as a constitutional monarch, she is usually tasked with just following what the government asks her to do.
The Supreme Court then found the prorogation had broken the law.