Just 16 years ago, there had never been a single case of Type 2 diabetes among children in the UK.
Fast forward more than a decade and the number of children with the illness has reached more than 500 - and this figure is rising at an alarming rate.
For a new Panorama special, the BBC spent six months in Birmingham, on the 'frontline of the epidemic', in a bid to understand why cases of Type 2 diabetes have doubled among children aged 16 and under since 2005.
In the future, these children are twice as likely to suffer heart attacks and more than three times as likely to develop kidney disease. They're also at risk of going blind and needing amputations.
Professor Timothy Barrett, a doctor from Birmingham Children's Hospital, said: "The children we're seeing with Type 2 seem to have more aggressive progress. And they're getting complications earlier than you'd expect."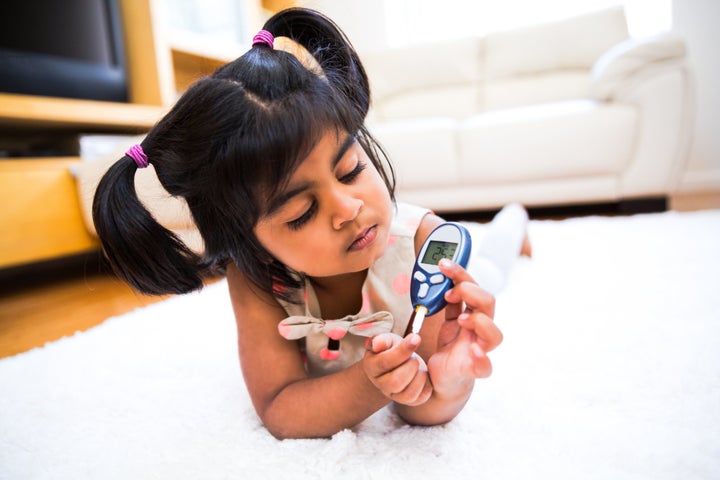 Around four million people in the UK have Type 2 diabetes, a largely preventable illness that is often triggered by poor diet and lack of exercise.
It's a major problem that is costing the NHS roughly £10.3billion a year - almost 10% of its overall budget.
With Type 2 diabetes, the body's natural insulin system stops working which results in high blood sugar levels that clog up veins and arteries, leading to acute complications.
Dr Bellary, who works in the centre, said: "The prevalence of diabetes is rising so rapidly that at present it is three times the numbers of all the cancers combined together."
Ameer is a 15-year-old patient with Type 2 diabetes. He was diagnosed aged 13.
In one of his check-ups, his blood sugar levels register at 18, when they should be somewhere between four and seven.
"The problem is Ameer that if we carry on like this, at 15, by the time you get to 25, you'll get eye damage, and you've already had gout and stuff in your feet as well," Professor Barrett explained.
"I'm sure you're eating healthier, which is great, but you need to eat less.
"I'm worried in the long-term because we're not winning at the moment. Either in terms of his weight, which is static, or his glucose control which if anything is even worse than it has been before."
Ameer is just one of 500 children who have been diagnosed with the disease in the UK. It is estimated that there are even more kids out there who are living with it undetected.
"I saw a child last week who is developing cirrhosis of the liver," Professor Barrett said.
"Type 2 diabetes in children may be a different disease to Type 2 diabetes in adults. So adults who get this at the age of 50 or whatever may not necessarily get these other complications.
"The children we're seeing with Type 2 seem to have more aggressive progress. And they're getting these complications earlier than you'd expect."
While the Government has proposed a sugar tax on soft drinks and published a childhood obesity strategy, many doctors think it needs far tougher action to have any chance of making a difference.
Dr Schuppler from Swanswell Medical Centre, Birmingham, said: "The childhood obesity strategy has fallen short on what many people would have hoped.
"We know this is a disease that is unrelenting, unforgiving, we're in a crisis now.
"It can't be left to health care professionals to endlessly pick up the pieces."
'Diabetes: The Hidden Killer' airs on BBC One at 8.30pm on Monday 3 October.