A BBC weatherman has gone viral after he celebrated International Drag Day on air - by cramming as many drag references into a report as possible.
Owain Wyn Evans caught the attention of thousands of drag fans on social media after he referenced dozens of drag queens during a 94 second forecast yesterday.
"The time has come for me to forecast for my life," he told viewers.
"I'm going to spill the tea alright and tell you that some of these clouds today are going to be throwing some serious shade, okay?"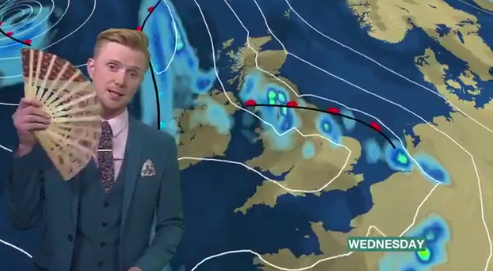 Referencing some of the stars of Ru Paul's Drag Race, a popular US TV show, Evans continued: "So this weather front brought us some rain yesterday which is great news for our Nina Flowers in the garden, but I hope you didn't get Courtney Act in any downpours.
"So that weather front has indeed, sashayed away."
To date, Evans' incredible weather report has been shared almost 2,000 times and has even captured the attention of one of the world's biggest drag acts.
'Supermodel of the world' Ru Paul wrote on Twitter: "Owain, you are the winner of this week's challenge."
Charlie Hides, who appeared on Ru Paul's Drag Race season nine, also replied:
"Howling! Just woke up here in Melbourne and nearly spit out my coffee."
Fans took to social media to celebrate the "amazing" report: