Most of us can cook sausages and burgers on a BBQ easily enough. But for those who fancy a bit of a flavour adventure this weekend, we've unearthed some more interesting recipes to wow your guests with.
With a beautiful bank holiday ahead, it's time to dust off the outdoor grill and try something new. From chipotle chicken wings to delicious asparagus with shallots, these dishes will work great alongside the BBQ basics. First up...
Smokey Chipotle Chicken Wings
Serves: 4-6 people
Cooking time: 55 minutes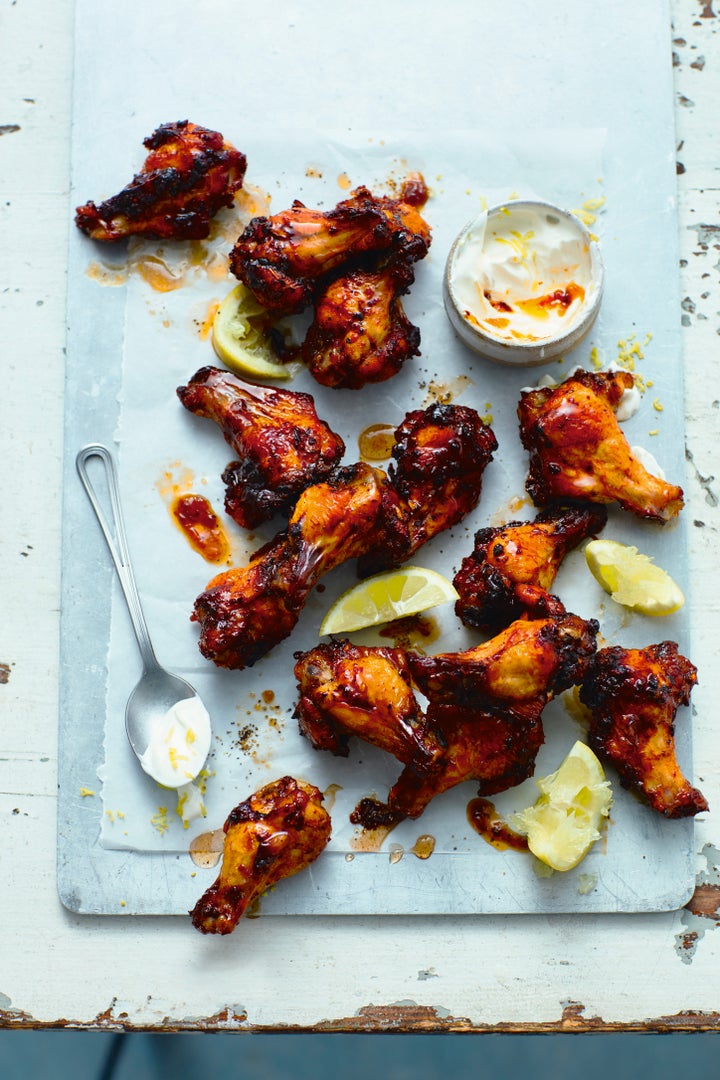 Ingredients
27g pack of Chipotle rub (e.g. Bart Smokehouse Barbecue Smokey Chipotle Rub)
2 x 475g packs of British chicken wings
2 tbsp sunflower oil
1 tbsp white wine vinegar
2 tsp Worcestershire sauce
1 clove garlic, crushed
1 tbsp clear honey
3 tbsp Greek yoghurt
1 tbsp mayonnaise
1 tsp grated lemon zest
2 tbsp lemon juice
Method
1. Place the chipotle rub in a marinade bag. Add the chicken wings and seal, releasing as much air as possible. Shake everything to coat the wings evenly in the rub, pressing in with your fingers, then leave to marinate for 3-4 hours, if possible.
2. When ready to cook, preheat the oven to 140°C, gas mark 1 and line a large baking tray with tin foil. Spread the wings out on the baking tray and roast for 30 minutes.
3. Turn the heat up to 200°C, gas mark 6 and cook for a further 20 minutes until the chicken is cooked through with no pink meat. Mix together the oil, vinegar, Worcestershire sauce, garlic and honey and brush over the wings, then return to the oven for 5 minutes.
4. Mix together the dipping sauce ingredients and place in a small serving bowl. Brush the chicken wings with any remaining glaze and serve (with plenty of napkins!).
5. If the sun is shining, glaze the wings and finish them off on the barbecue.
Barbecued Mackerel
Serves: 4 people
Cooking time: 8-10 minutes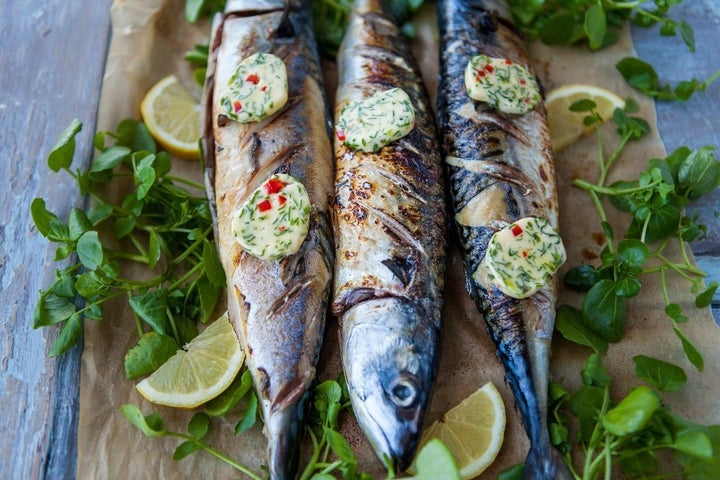 Ingredients
4 whole mackerel, gutted and scaled
100g salted butter, softened but not melted
1 red chilli, deseeded and finely diced
1 bag watercress
1 clove garlic, finely chopped
Zest of half a lemon
Sea salt
Olive oil
Method
1. Finely chop a small handful of the watercress. Mix together the butter, chilli, watercress, garlic, and lemon zest. Spoon the butter mixture onto a sheet of cling film, then roll into a tight cylinder, twisting the ends to help it keep the shape. Place into the fridge for 10-15 minutes or until it has set firm.
2. Using a sharp knife, slash the skin of the mackerel diagonally on both sides. Drizzle with olive oil and sprinkle with sea salt. Remove the butter from the fridge and take off the cling film before slicing into 8 rounds.
3. Place the mackerel on a pre-heated barbecue, either directly or in a barbecue fish basket. Cook for 3-5 minutes on each side, making sure that you only turn the fish once. After the fish has been turned, place two rounds of butter on each fish and allow it to melt slightly. You will know when the fish is cooked as the flesh will come away easily from the bone.
4. Place the remainder of the watercress in a bowl, drizzle with olive oil and sprinkle with sea salt. Serve together with the cooked fish and some lemon wedges.
Pineapple And Halloumi Kebabs
Serves: 4 people
Cooking time: 8 minutes
Suitable for vegetarians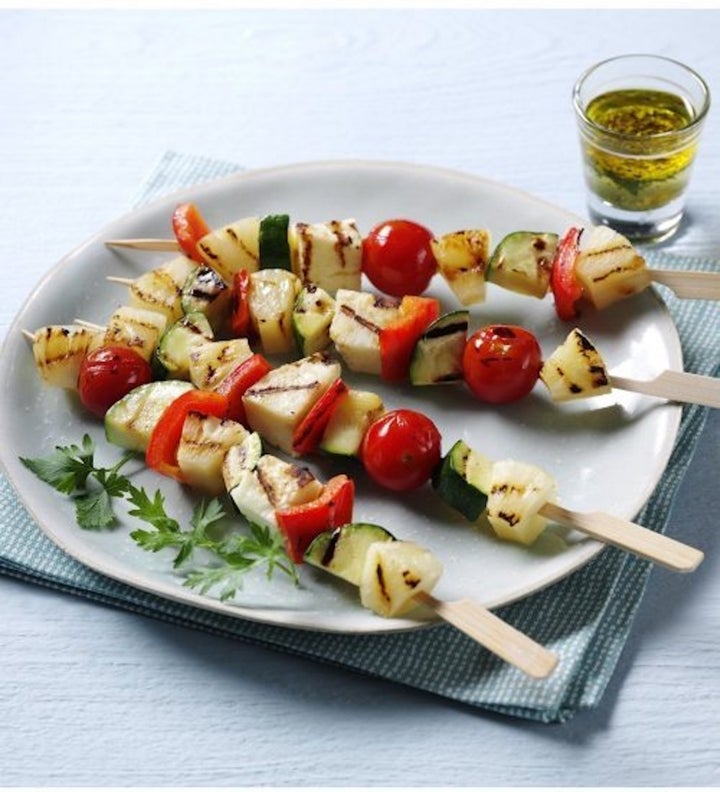 Ingredients
1 x tin of pineapple chunks
225g pack halloumi cheese, cut into chunks
1 large courgette, cut into chunks
1 large red pepper, cut into chunks
8 cherry tomatoes
4tbsp olive oil
2tbsp lemon juice
2tbsp finely chopped fresh parsley or chives
Salt and freshly ground black pepper
Method
1. Drain the can of pineapple chunks.
2. Take eight wooden kebab sticks and thread the pieces of pineapple onto them with the halloumi, courgette, red pepper and cherry tomatoes. Brush them with a little olive oil.
3. Mix the remaining olive oil with the lemon juice and parsley or chives to make the dressing. Season to taste with salt and pepper.
4. Preheat the barbecue or grill, then cook the kebabs for 6-8 minutes, turning often. Serve with the dressing.
Image and recipe courtesy of Princes.
Stuffed Lamb Burgers
Serves: 4 people
Cooking time: 8 minutes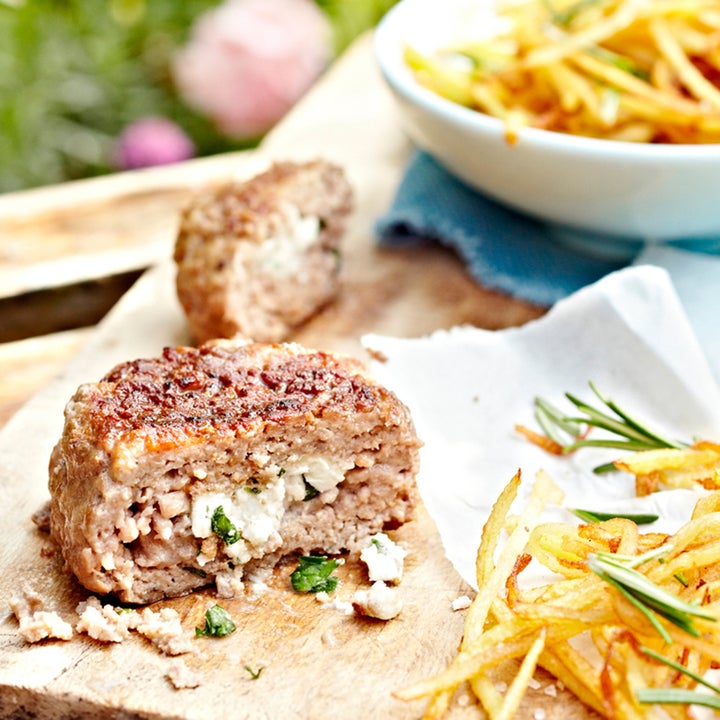 Ingredients
500g minced lamb
Salt and pepper
60g feta cheese, crumbled
Small handful of mint leaves, roughly chopped
Method
1. Place the lamb into a bowl and season well. Divide into 8 portions and roughly shape into patties.
2. Place a patty into a burger press and close the lid to create a well (or use your hands to make a well). Place a little of the feta and mint into the well, top with another patty and press the lid of the burger press to seal. Repeat with the remaining ingredients and refrigerate for 30 minutes or until required.
3. Preheat a grill or barbecue, and cook the burgers for 8 minutes on each side or until cooked through.
British Asparagus And Shallots With Salsa
Serves: 4 people
Cooking time: 15-20 minutes
Suitable for vegans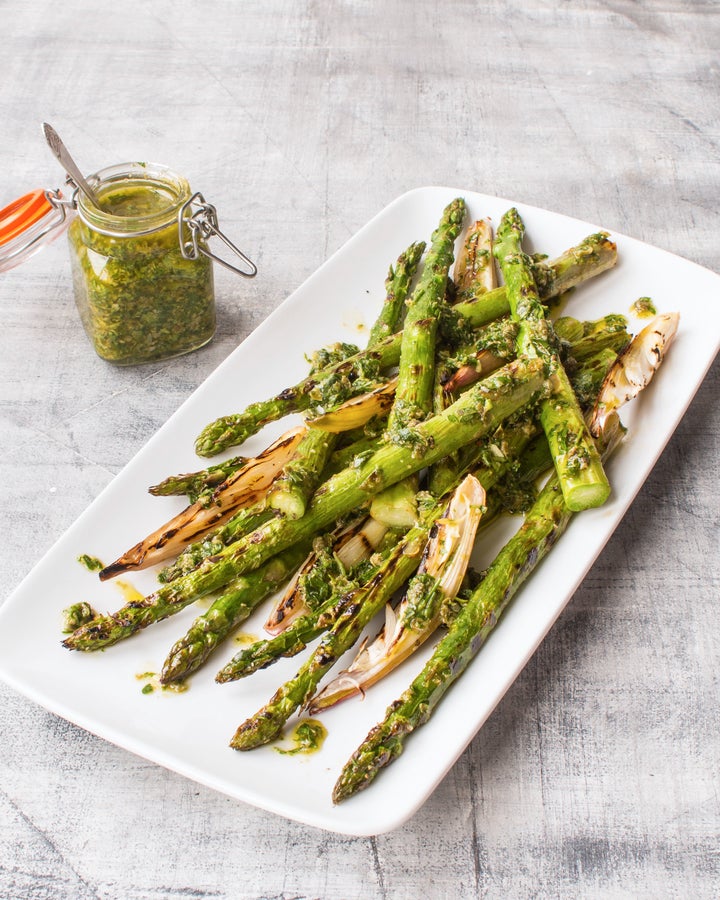 Ingredients
½ garlic clove

2bsp red wine vinegar

30g flat leaf parsley, just the leaves

30g basil, just the leaves

Zest of 1 lemon

2 tbsp capers

150ml olive oil

Salt and freshly ground black pepper

2 echalion shallots

500g British asparagus
Method
1. Place the garlic, red wine vinegar, parsley, basil, lemon zest, capers and olive oil into a hand-held blender and blitz until combined but still coarse. Check the seasoning and add salt and pepper if needed.
2. Chop the shallots lengthways into four quarters and drizzle with a little olive oil. Place on a hot BBQ to cook until they are soft and slightly charred but still hold their shape. Set aside.
3. Cut the woody ends off the asparagus and lightly oil them, then place on the BBQ for 2-3 minutes until charred but still tender.
4. Arrange the asparagus and echalions on a plate, then spoon over the salsa verde.
Oriental Mini Sweetcorn Skewers
Serves: 4 people
Cooking time: 10 minutes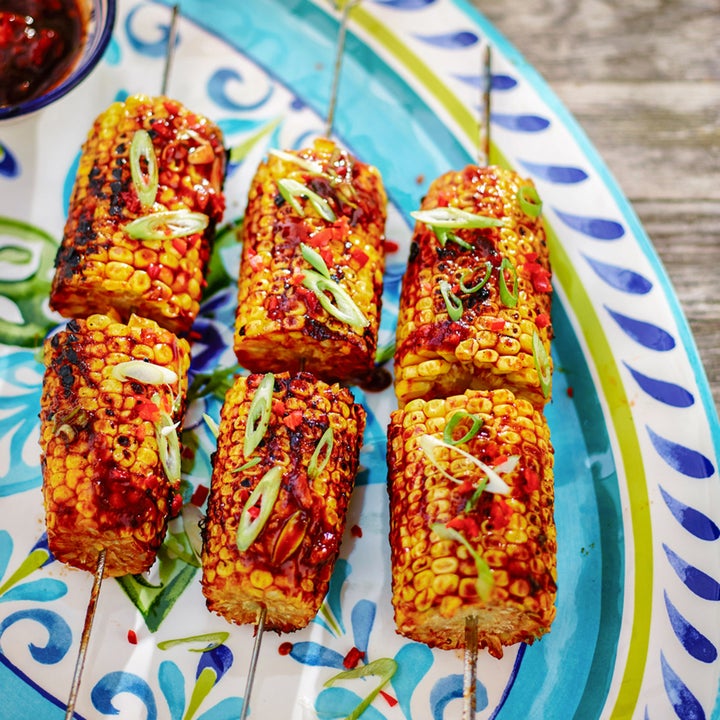 Ingredients
6 mini corn on the cob or 3 whole cobs, halved
3 tbsp hoisin sauce
3 tbsp rice wine vinegar or sake
3 tbsp tomato pure
2 tbsp dark soft brown sugar
15g fresh root ginger, peeled and finely chopped
2 tbsp honey
2 tbsp soy sauce
4 spring onions, finely sliced
2 red chillies, deseeded and finely chopped
Method
1. Cook the corn in a large saucepan of boiling water for 5-6 minutes until tender, then drain and refresh under cold water.
2. Mix all the marinade ingredients together in a small bowl, reserving half the spring onions and chilli for garnish.
3. Divide the corn cobs between three skewers and brush evenly with the marinade.
4. Prepare and light the grill according to the instructions.
5. When ready, guests can cook the corn for 3-4 minutes on each side, turning carefully with tongs and basting with the remaining marinade until it is evenly cooked and slightly chargrilled.
6. Remove the corn from the grill and sprinkle with the reserved spring onion and chilli to serve.