The Government has been accused of "seriously undermining" the fight against homelessness with its benefits reforms.
Some 84 percent of 106 councils surveyed by the University of Sheffield and the Chartered Institute of Housing (CIH) agreed it was harder to work with housing associations to protect people from becoming homeless as a result of reforms, such as capping benefits.
A total of 70 percent of housing associations surveyed agreed.
Of the councils surveyed, 61 percent of them said restriction to welfare was the most common reason people were rejected for rehoming by a housing association, when threatened with homelessness.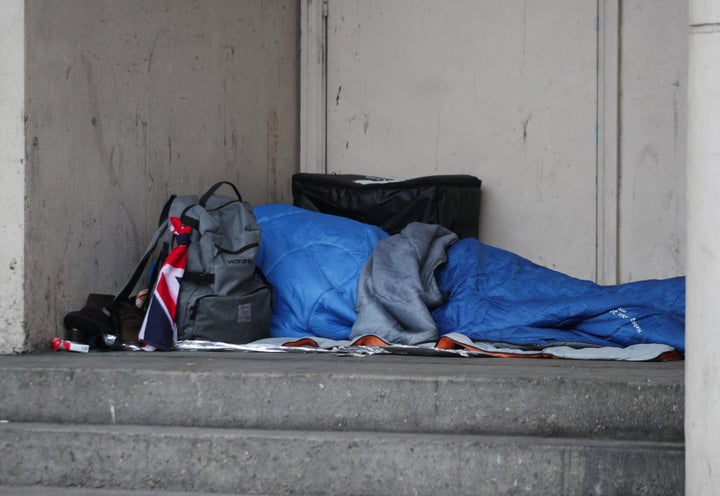 There were 77,240 households in temporary accommodation in England in March 2017, an increase of 60 percent on March 2011.
In a joint report published on Thursday, the CIH and Sheffield University warn that welfare reform is "directly undermining" the Government's own commitment to tackle homelessness.
The Homeless Reduction Act is due to impose greater legal responsibilities on councils to prevent people becoming homeless from April next year.
Terrie Alafat, CIH chief executive, said: "Welfare policy is seriously undermining the work that councils and housing associations can do to reduce homelessness.
"The government has stated its commitment to tackle homelessness and the Homelessness Reduction Act, which comes into effect next year, represents significant progress. But it is also clear that welfare policy is directly undermining that effort."
"Policies like the lower benefit cap are leaving people with significant gaps between the help they get with housing costs and their rent."
She added: "If the Government is serious about tackling our homelessness crisis it must urgently consider how it can create a policy framework which supports, and not undermines, what councils and housing associations can achieve together to tackle this huge problem."
University of Sheffield Professor David Robinson, who worked on the research, said: "The introduction of the Homeless Reduction Act has been widely welcomed.
"The Act gives councils important new responsibilities and powers. However, councils cannot tackle homelessness on their own - they need help.
"Evidence that the vital role that housing associations traditionally play helping councils to reduce homelessness is being undermined is therefore deeply concerning."
More than 70 percent of housing associations and councils said cuts to their funding had also hurt efforts to fight homelessness.
A Government spokesperson said reforms were "incentivising work and restoring fairness to the system".
They added: "Universal Credit claimants are moving into work faster than under the old system, and since the benefit cap was introduced, 34,000 households who previously had their benefits capped have moved into work.
"We continue to spend around £90 billion a year supporting people who are out of work, disabled or a carer, bringing up a family or on a low income. We are also investing £550 million to 2020 to address the issue of homelessness and implement the most ambitious legislative reform in decades."