UPDATE: Police release suspect arrested because of insufficient evidence, prime suspect still at large. Latest story here.
Officials are not certain they have arrested the right suspect over the Berlin lorry attack that killed at least 12 people at a crowded Christmas market, the German capital's police chief has revealed.
Berlin police chief Klaus Kandt said on Tuesday that it was not clear whether the man detained was really the driver.
"We haven't been able to confirm it yet," he told reporters.
Berlin police urged people to remain "particularly vigilant" and to report "suspicious movement" to a special hotline.
The suspect, who has denied involvement in the murders, is believed to have arrived in the country from Pakistan and had applied for asylum, Germany's top security official added.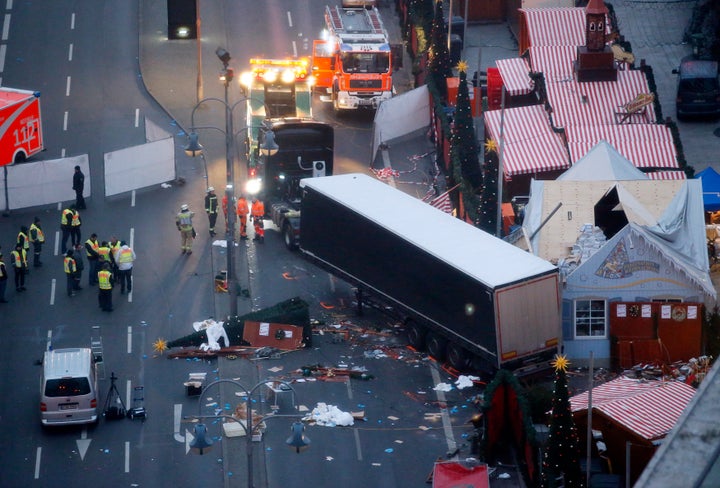 Germany's federal public prosecutor Peter Frank told a press conference that police were still unsure what the attacker's motives may have been.
The Telegraph reports that Frank said it was unclear if the attacker had an Islamist background, adding: "For now we don't know whether there was one attacker or several attackers. We also don't know whether they had support...
"We have to think that the person who was arrested yesterday, a man of Pakistani nationality, we have to be open to the idea that he could possibly not have been the attacker."
Frank added on Tuesday afternoon: "From the chosen target and behaviour of the perpetrator, you can infer an Islamist motive," he said. "But we must continue to investigate in all directions."
Speaking earlier today, German chancellor Angela Merkel said it would be "particularly sickening" if the Berlin market attacker is proven to be a refugee.
Police are investigating the suspected terror attack after a lorry was driven into a crowded Christmas market on Monday, killing at least 12 people and injuring 48.
Police said the truck was driven into the busy part of the German capital intentionally.
Merkel said the government "assumed" it was a terror attack, adding that: "We will find the strength to continue living life as we want to live it in Germany - in freedom, openness and together."
The lorry struck the popular Christmas market outside the Kaiser Wilhelm Memorial Church late Monday as tourists and locals were enjoying a traditional pre-Christmas evening out near Berlin's Zoo station.
"Our investigators are working on the assumption that the truck was intentionally driven into the crowd at the Christmas market on Breitscheidplatz," Berlin police said on Twitter.
"All police measures concerning the suspected terror attack at Breitscheidplatz are being taken with great speed and the necessary care," they said.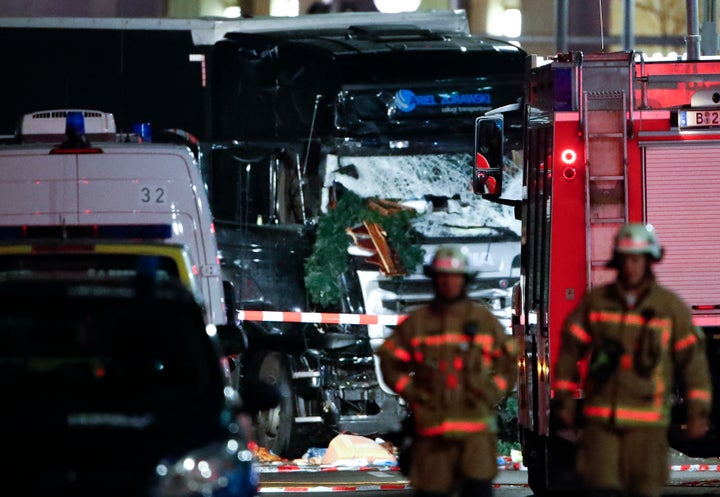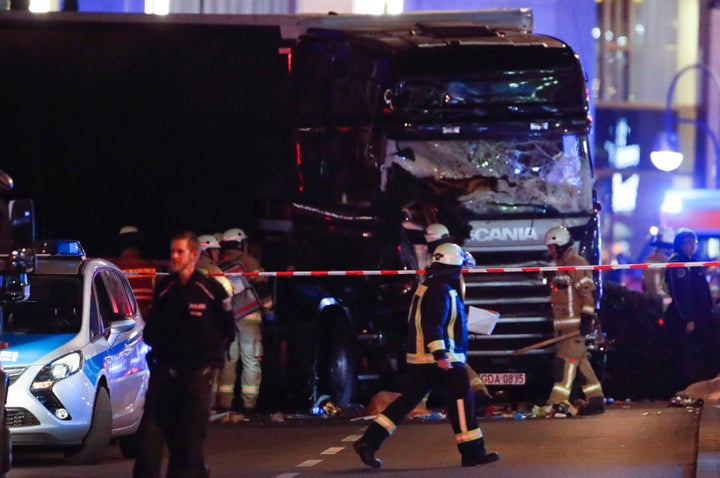 Police arrested a suspect nearby. A passenger in the vehicle, believed to be a Polish national, was found dead in the lorry.
The Polish owner of the truck said he feared the vehicle may have been hijacked.
Ariel Zurawski said he last spoke with the driver, his cousin, around noon, and the driver told him he was in Berlin and scheduled to unload Tuesday morning. "They must have done something to my driver," he told TVN24, the Associated Press reports.
Last night police urged people not to share videos from the scene on social media.
Police said the truck was registered in Poland, but that they were still investigating where it came from and who the driver is.
Television footage showed a large Scania truck with its windshield smashed out on the sidewalk alongside the market, with a swarm of ambulances nearby. A large Christmas tree with a gold star on top was toppled over nearby in the street.
Mike Fox, a tourist from Birmingham, UK, told HuffPost Germany at the scene in Berlin that the truck missed him by about three metres as it drove into the market, tearing through tables and wooden stands.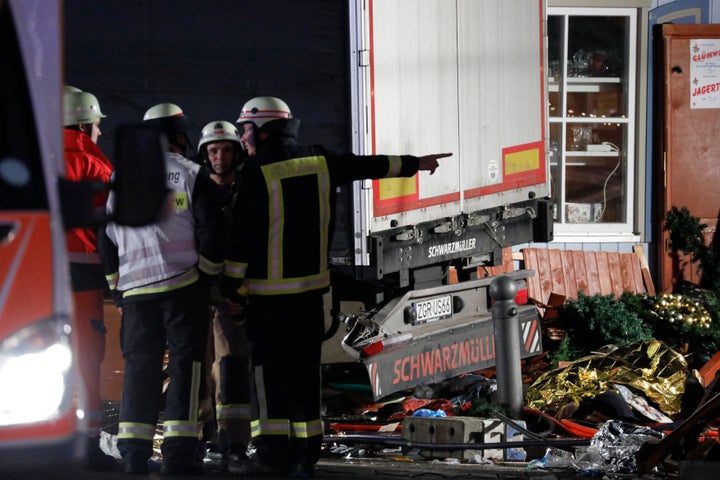 Fox said he helped people who appeared to have broken limbs, and that others were trapped under Christmas stands.
"It definitely looked deliberate," Fox said. "My girlfriend said it appeared the truck was not stopping, there was no attempt to stop. It was careering, bashing into the stalls, and then carried on through."
He added: "When it's braking the cab dips down, when it's not braking it carries on up. It didn't look like it was stopping. There was no break sounds. It was clearly going straight on through.
"Whether it was driver drunk going on through, whether it was lost control or deliberate attempt, I can't tell you. But there was no attempt to stop that we could see."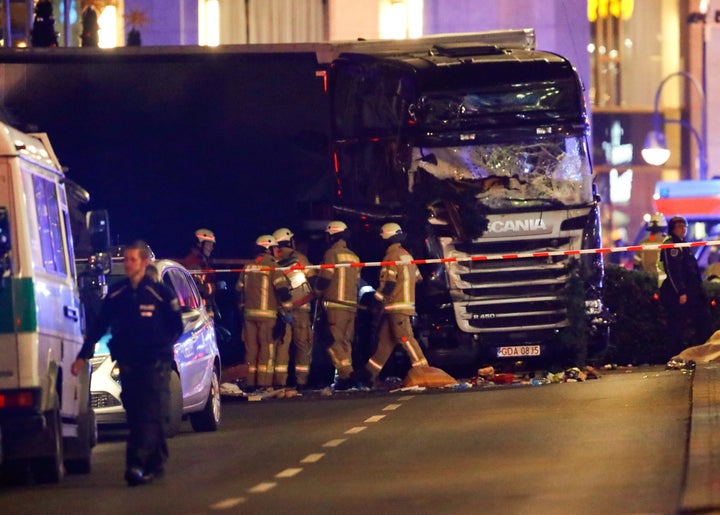 The United States said the incident "appears to have been a terrorist attack".
White House National Security Council spokesman Ned Price says the US condemns the attack "in the strongest terms."
The White House said the US stands with Berlin in the fight against those who "target our way of life and threaten our societies".
British Foreign Secretary Boris Johnson said: "My thoughts and condolences are withe the people of Germany following tonight's terrible tragedy in Berlin, leaving so many dead and injured."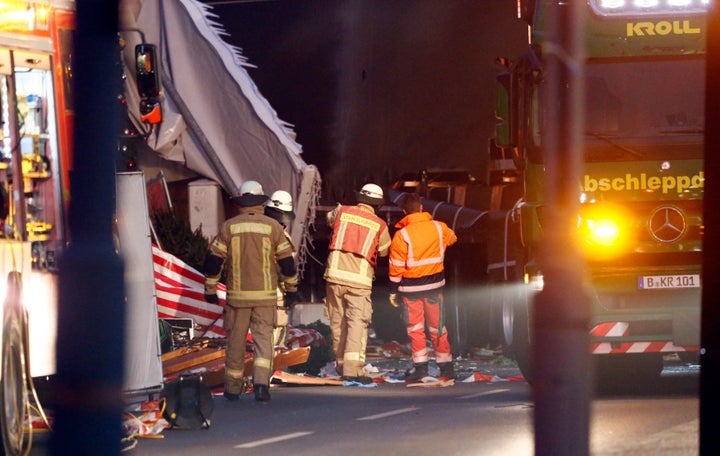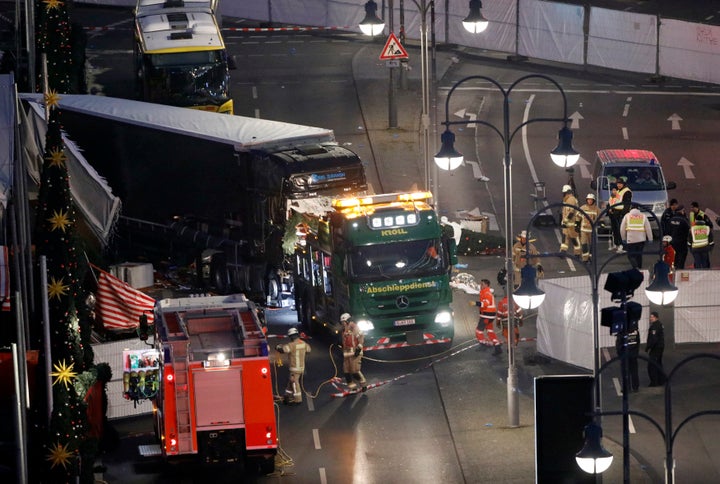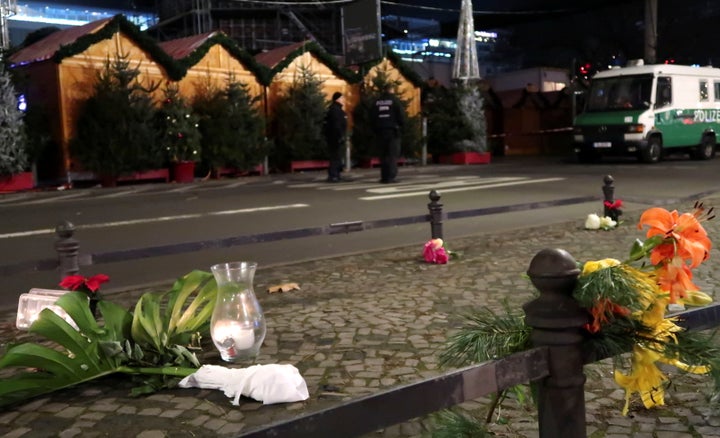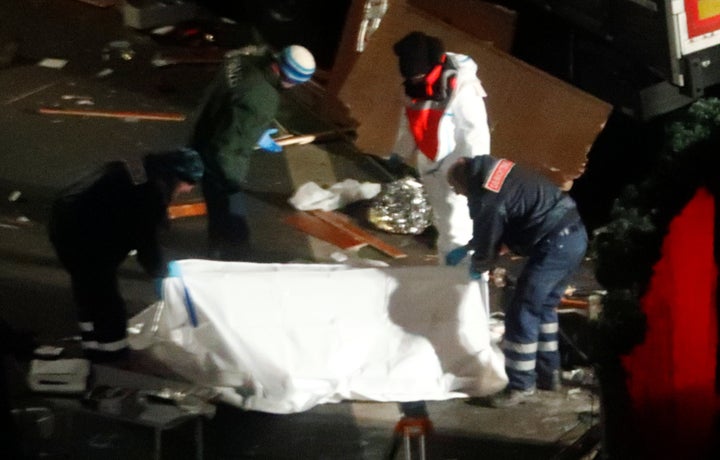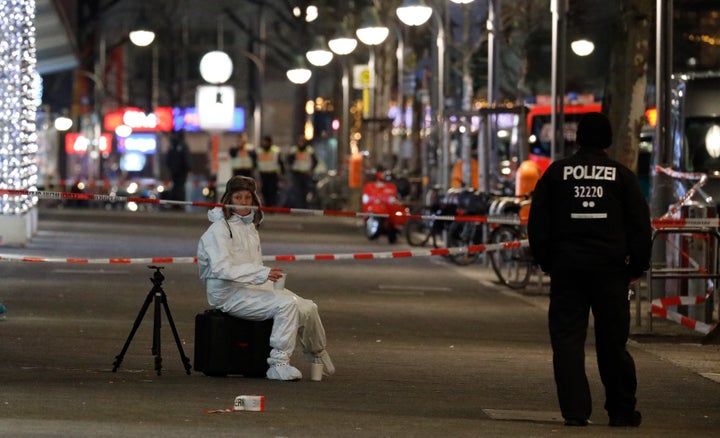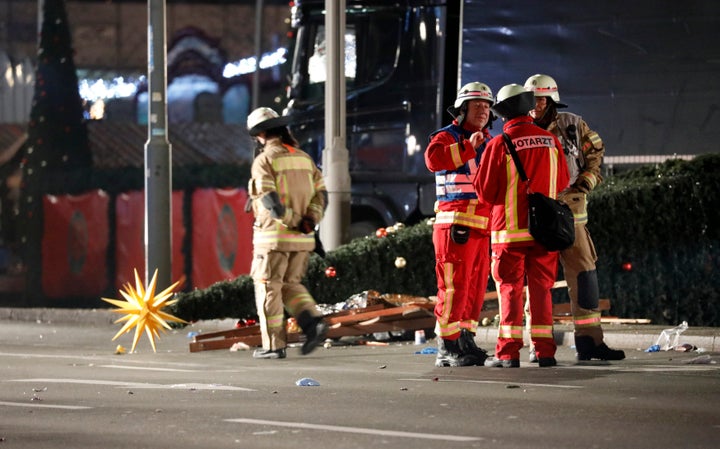 Far-right groups and a nationalist party seized on Monday's attack, blaming Merkel for what had happened.
"Under the cloak of helping people Merkel has completely surrendered our domestic security," Frauke Petry, the co-chairwoman of the Alternative for Germany party wrote.
Manfred Weber, a member of Merkel's conservative party and leader of the European Parliament's biggest political grouping, cautioned against reaching sweeping verdicts following the attack. But he said it was important to ensure that extremists didn't enter the country among those seeking refuge in Europe.
"The state must be able to check every refugee who comes here," he told German public broadcaster ARD.
On Tuesday Brendan Cox, widower of Jo Cox, likened the far right to Islamist extremists who "share (the) same hate driven psychology".