What's that? You want us to eat loads of chocolate in an effort to find the best? As news of HuffPost's Easter egg taste test rippled through the office, there was no shortage of willing volunteers.
Three hours and 28 eggs later, we'd discovered that too much chocolate is an actual thing, gin and cocoa are not tastes that belong together, and the winner of the Huffpost Easter egg challenge is … nope, we have important judging notes to give first.
For our incredibly scientific and rigorous test, we split our eggs into four categories according price – from £5 and under, through to the heady heights of more than £10 – and then added an extra section for free-from eggs.
Our fearless testers for each category (nobody tested more than five eggs because eating 28 eggs would be ridiculous), each awarded each egg a mark out of 10 based on taste, texture, appearance and the extra stuff included inside. After finding out the price, they then added their score out of five for value, and noted some personal remarks, of which there were many.
We smashed up eggs from Tesco, Asda, Green & Blacks, Cadbury, M&S, Waitrose and more, including dark, milk and white varieties, before totting up the scores, averaging them out and crowning the king of each category. So who won what?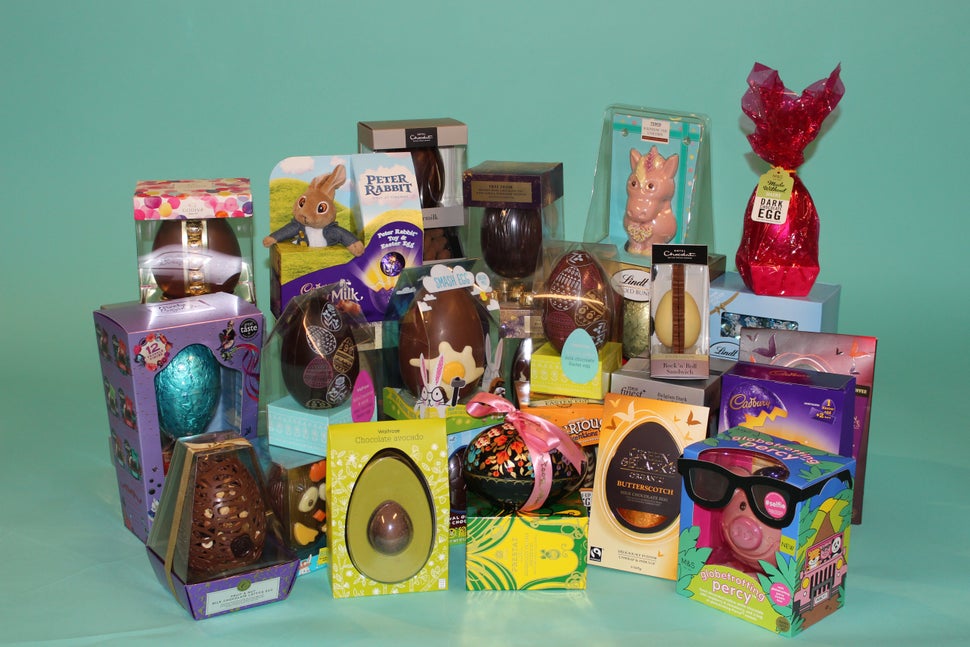 Eggs priced £5 and under
If you're on a budget, have lots of kids to buy for, or are just puzzled by how expensive Easter eggs now seem to be, there are still plenty that you can pick up in supermarkets for a fiver or less. Unsurprisingly, the quality of the chocolate varies greatly. This particular category proved a real mashup in terms of taste and luxury, with cheap-tasting chocolate from Asda and Aldi, a posh dark chocolate number that looked like it should be in the £10+ category from Tesco, and a Cadbury's Wispa egg sitting somewhere in between.
Asda Decorate Your Own Cheeky Chick Egg, £4
The chocolate was "claggy" in texture and "unexciting" in taste. But the egg looked fun - bonus points for the stick-on chocolate facial features.
Overall score: 8/15

Asda Smash Egg, £5
This Easter egg has mini eggs hidden within, so rattles when shaken. While the chocolate was "nothing to write home about", the teeny eggs were a welcome surprise.
Overall score: 8.25/15

Tesco Strawberry Unicorn, £3.50
"Very sugary" and "artificial" in flavour. (Kids may find this a bonus, of course.) Panellists were slightly perturbed when they had to smash up its cute little pink face.
Overall score: 8.75/15

Tesco Finest Belgian Dark Chocolate Egg, £5
Looked expensive and impressive. "The raspberry crust really lifts the dark chocolate." One judge noted that for the money, "It's the best looking egg by far". Really not bad for a fiver.
Overall score: 10.25/15

Aldi Curious Inventions Honeycomb Mash-Up Egg, £2.99
Most people overlooked the cheap-tasting chocolate of this "extremely hard to smash!" egg, because of the addition of tasty honeycomb. Although one still commented that the egg had "ideas above its station".
Overall score: 10.75/15

WINNER: Cadbury Wispa Egg, £4
When it comes to HuffPost's journalists, most agreed "you can't beat a bit of Cadbury's". Two Wispa Gold chocolate bars were a major bonus.
Overall score: 12/15
Eggs priced £6 to £7
If you're feeling a little more flush but still want change from a tenner, there's a whole load of eggs around the £7 mark, of which Asda seemed the best bet in our testing. The divide between greatness and atrocity was pretty huge in this category – with Waitrose's eggs, while beautiful, falling foul of our judge's exacting standards. Asda's luxury eggs and the Green & Blacks butterscotch number, however, left every single panellist wanting more.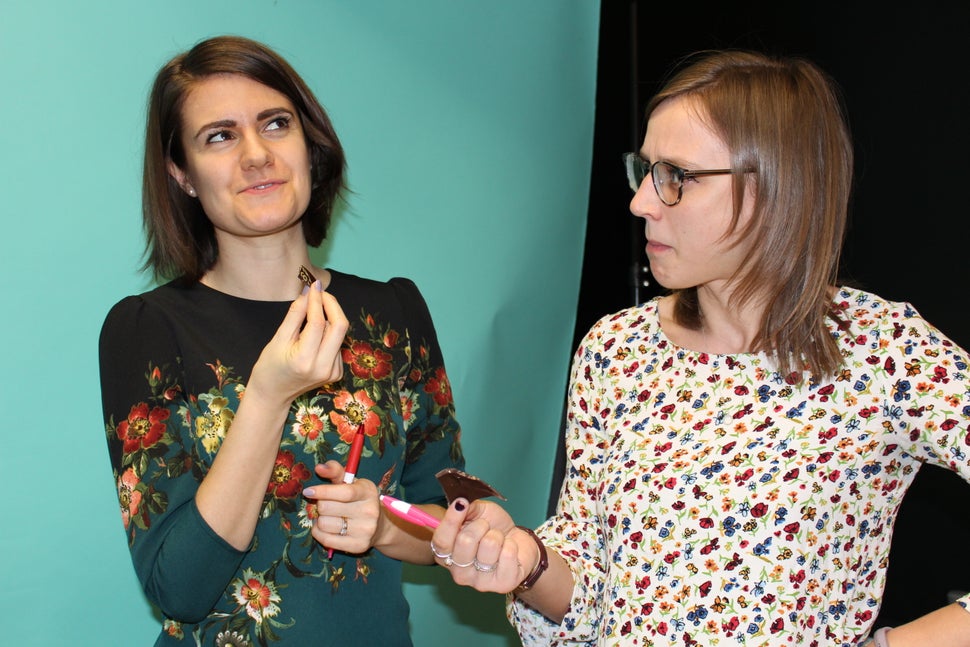 Waitrose Arabica Coffee Egg, £7
Looked great, tasted not so great. The word "bitter" cropped up in every review, the coffee flavour was "too strong"and the texture was "gritty".
Overall score: 5/15

Waitrose Salted Hazelnut And Raisin Egg, £7
Uncharitably described as tasting like "lightly-seasoned plastic". We couldn't find the hazelnut, while raisins were in short supply. It does however, have lovely decoration.
Overall score: 5.5/15

Cadbury Peter Rabbit Egg, £6
A small Cadbury egg accompanied by an inedible Peter Rabbit toy. Possibly brilliant for your small child – less warmly embraced by HuffPost's grown-up testers.
Overall score: 8.75/15

Green & Blacks Butterscotch Milk Chocolate Egg, £6.59
The egg was made up of "creamy and delicious" chocolate with crunchy butterscotch bits embedded in the shell – AKA "a delight for the mouth".
Overall score: 11/15

Asda Belgian White Choc Egg With Raspberry Pieces, £7
Despite looking like it had "smallpox", the taste went down a storm thanks to the "nice, light" white chocolate and "strong raspberry flavour". Some thought the truffles were "sickly" – but not everything can be perfect.
Overall score: 12.25/15

WINNER: Asda Belgian Milk Choc Egg With Salted Caramel Truffles, £7
The judges loved the texture, with crunchy bits of salted caramel embedded in the egg. In the end, there was nothing left. One judge wrote, eagerly: "Crunchy! Chocolatey! My fave!"
Overall score: 13.25/15
Eggs priced £8 to £10
If you thought the divide in the £6-7 category was bad, you should see the Grand Canyon-sized chasm the £8-10 category created. A boozy egg was (somewhat surprisingly) dealt one of the lowest scores thanks to the team's view on its floral flavours. At the opposite end of the spectrum, Waitrose's avocado-shaped dark chocolate egg (containing no avocado whatsoever) knocked the spots off everything else. What is this world in which we live?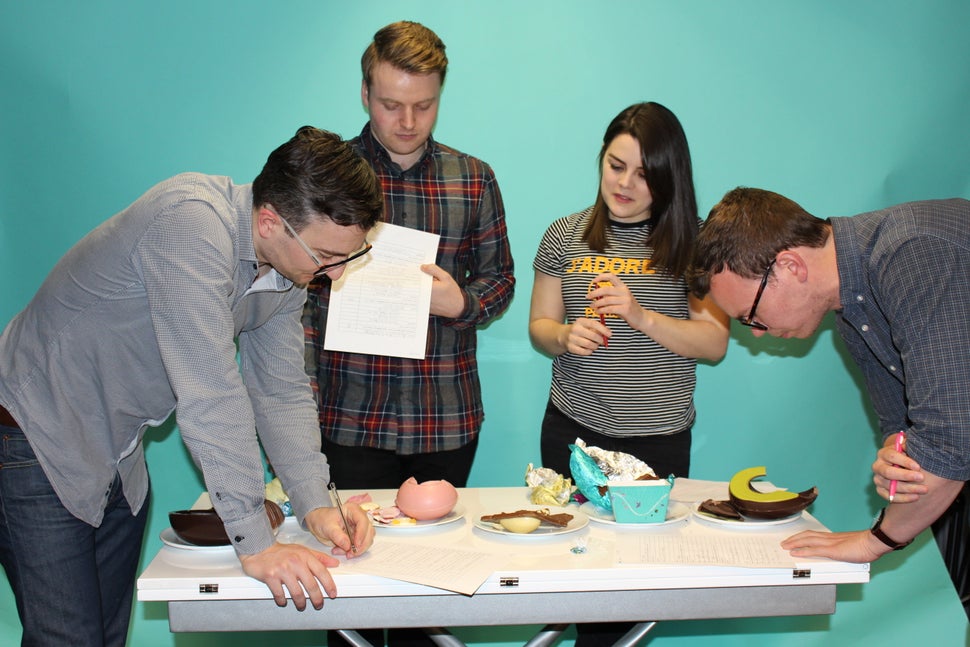 Tesco Finest Gin And Elderflower Egg, £10
The truffles were "bitter", the elderflower overpowered the gin, and it tasted like foliage. "Criminal," one judge wrote. "I prefer my gin with tonic."
Overall score: 1.5/15

Marks & Spencer Globetrotting Percy, £8
"I'd prefer to eat actual pig," said one of our judges, rather bluntly. The pink chocolate was deemed " too sugary" but the Percy Pig sweets were at least a saving grace.
Overall score: 5/15

Waitrose Monty Bojangles Spring Sensations, £10
Beautiful packaging, but the egg tasted "cheap and disappointing" according to the team. And then they found the truffles it came with – described as "amazing".
Overall score: 8/15

Hotel Chocolat Rock & Roll Easter Egg Sandwich, £10
A Marmite reaction to this egg: the peanut butter and banana flavour was "unusual", and the white chocolate was "a little sickly". But those who liked it scored this chocolate highly. "Looks amazing - like real toast!"
Overall score: 8.5/15

Lindor White Chocolate Stracciatella Easter Egg, £8
"Luxurious-looking egg. Tastes like childhood. Like a top-end Milky Bar." Need we say more?
Overall score: 11/15

WINNER: Waitrose Dark Chocolate Avocado Egg, £8
Everyone loved how this egg looked and the "thick shell" made it feel like they got their money's worth. "I wanted to not like it but found it quite moreish," one judge said. "But I couldn't bring myself to eat the green bits."
Overall score: 13/15
Eggs priced over £10
You expect a lot from an Easter egg when you spend more than a tenner on it, and this category was largely dominated by the dashing of high expectations. A gin truffle egg made all four of our journalists decide not to eat gin chocolate again, while a lattice egg from M&S looked the part, but failed to deliver on taste. It wasn't all bad though, Dairy Milk, Godiva and Hotel Chocolat led the charge.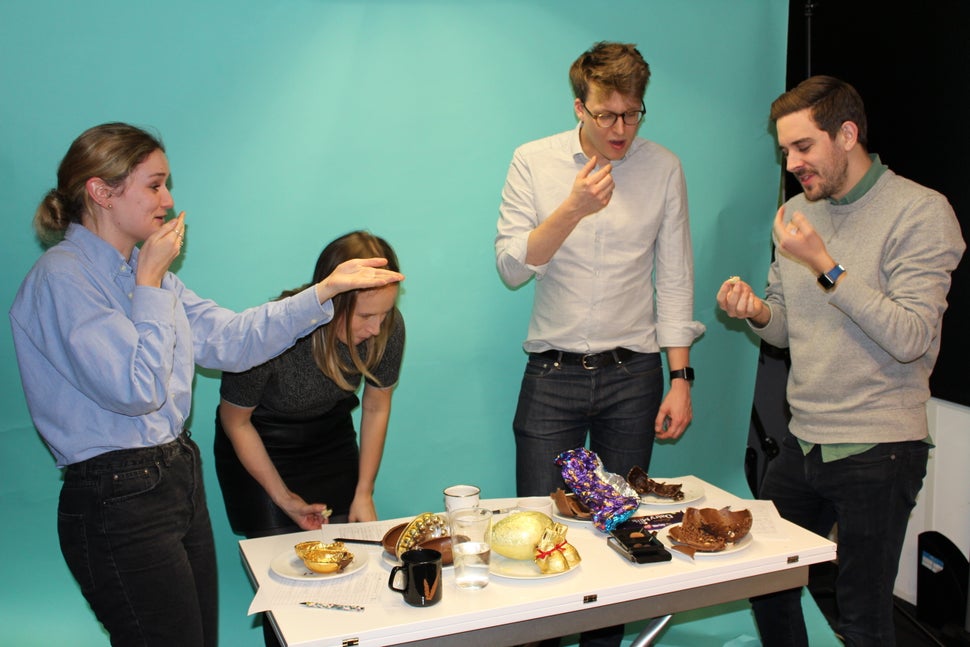 Prestat Gin Truffle Egg, £17.50
One bite of this egg caused complete and utter chaos in a very small room. One person shouted: "I don't know how, but they ruined gin." Someone else added: "This doesn't work." All in all, a terrible egg.
Overall score: 3.75

M&S Fruit And Nut Milk Chocolate Lattice Egg, £12
"Looks lovely, but is low on nuts," said one judge. Everyone agreed the chocolate tasted surprisingly cheap for an egg from Marks. "Very disappointing, you'd expect more from M&S."
Overall score: 5/15

Lindt Gold Bunny Luxury Egg, £12
The Lindt milk chocolate bunny is synonymous with Easter and our panellists seemed happy with this large, "trustworthy egg", and its "cute bunnies" despite noting that the chocolate was "pretty sweet."
Overall score: 9.25/15

Dairy Milk Ultimate Daim Egg, £12
This egg – as big as a person's head – drew really positive comments. One judge remarked: "Classic Dairy Milk flavour with subtle whispers of caramel. Feels like you wouldn't need much to feel sick though – perhaps one for sharing with family." Yeah, right.
Overall score: 9.75/15

Godiva Spring Collection Egg With Mini White Choc Praline Eggs, £12
When the group found Godiva's offering was already split in half, there was fury at the joy of egg-smashing being removed. Happily the chocolate made them less angry. "Standard milk chocolate flavour," one judge said. "The main egg is nice but I'm confused by the taste of the mini eggs," noted another.
Overall score: 10.5/15

WINNER: Hotel Chocolat Hard Boiled Supermilk Chocolate Easter Egg, £16
"The chocolate is very tasty, not too rich and very smooth," said one judge, while another added: "Very moreish, without making you feel sick." The bonus chocolates were described as both "amazing" and "not life-altering". Fickle.
Overall score: 11.25/15
Free-from Easter eggs
Our judges for the free-from eggs included a journalist who is vegan, another with dairy and soy allergies, and someone without allergies and dietary requirements. They spent most of the time trying to sober up after scoffing one of Booja Booja's extremely strong champagne truffles. (There were a lot of flailing hands and flared nostrils.)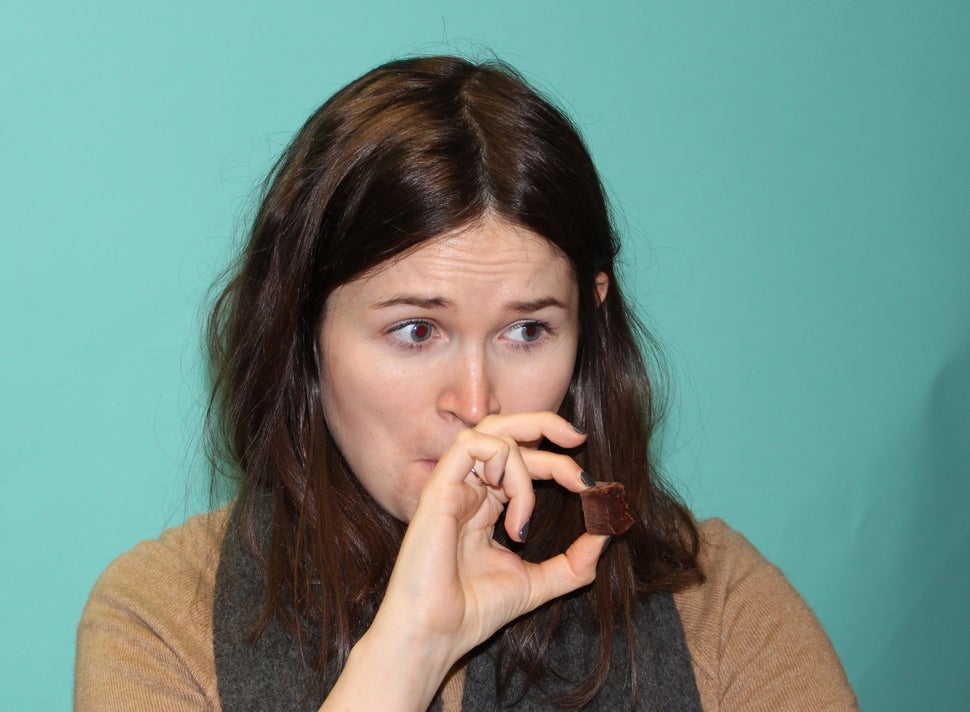 Booja Booja Free From Champagne Choc Truffles, £24.99
The general consensus was that it had lovely packaging (a velvet-lined inedible egg) but the rest was a big fat let down. "Nope. Would not eat again," one judge said. "Way too strong on the champagne. Wanted to love these...but they're so overpowering."
Overall score: 6/15

M&S Made Without Dairy Dark Choc Egg, £7
"I like that there are buttons in the egg, but the flavour is dull and bland." One issue: it does contain soya so if you have an allergy, steer clear.
Overall score: 9.5/15

Aldi Moo Free Easter Egg, £3.49
The packaging was questioned (by our team of adults) for being "childish" the taste was "artificial" and "not very rich or luxurious". The cheaper price helped steer this egg to semi-victory.
Overall score: 10.75/15

WINNER: Asda Free From Dark Choc Egg With Vanilla Truffles, £5
Our judges loved the texture ("a bit crunchy which is unusual for dairy-free products") and absolutely loved the "delicious" truffles. "I found myself going back for more."
Overall score: 12.75/15
The winner...