This year, many supermarkets and eateries have stepped up to the plate offering a colourful, moreish array of takeaway foods to get you through the day.
In January, we scoured the high street and taste-tested a range of vegan options. Our panel of dedicated 'experts' (one full-time vegan, two people trialling Veganuary and two meat-eaters) spent days trying vegan food, to help you make the most of your lunches.
After crunching, chewing and occasionally spitting out foods from a range of high street chains and supermarkets including Sainsbury's, Boots, Waitrose and M&S, here's what we deemed to be the best of the bunch, scoring seven and above.
Fiery Tofu and Slaw Sandwich from Tesco's Wicked Kitchen range (£3)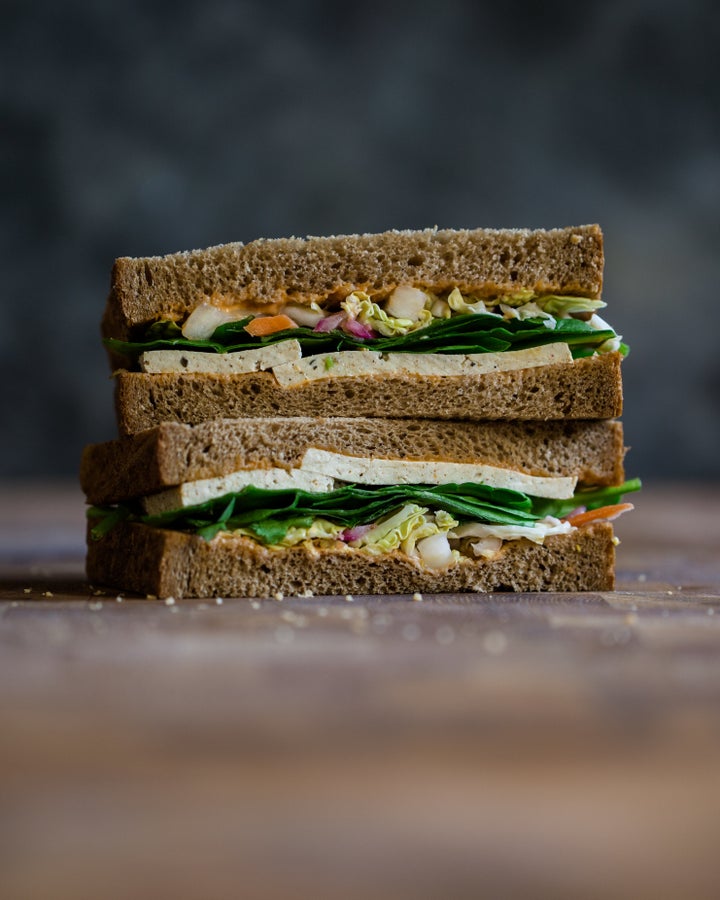 What is it? Roasted chilli and garlic-glazed tofu with crunchy cabbage slaw on light rye bread.
Pros: The spiced tofu certainly has a kick to it ("they were not lying when they said fiery!") but the spiciness doesn't detract from the delicious flavour - and the tofu was in plentiful supply too. Overall, our reviewers were very impressed by the abundance of filling and the combination of spicy flavours and cool slaw.
Cons: The sandwich's main (and only) downfall was that the rye bread was dry around the edges.
Vegan Hot Pot from Pret (£6.25)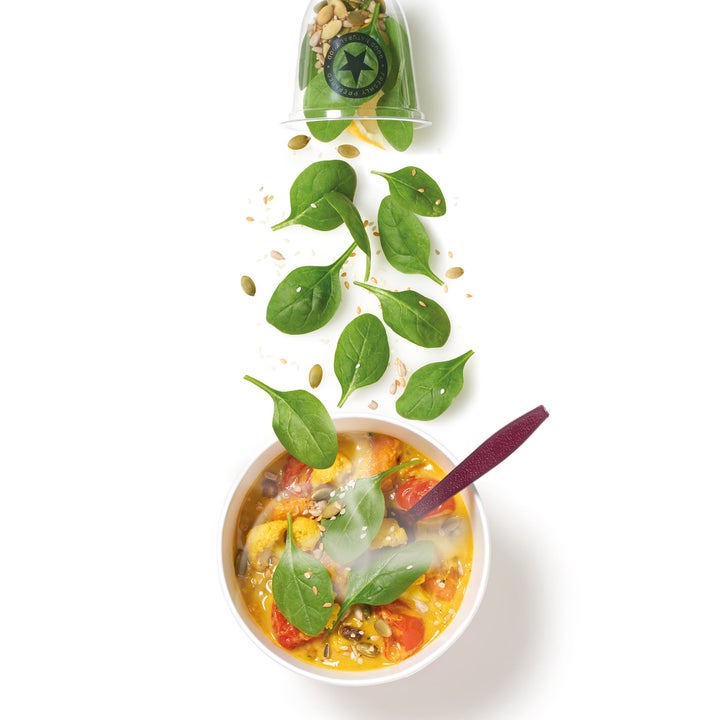 What is it? A cauliflower, sweet potato and tomato dhal with a crunchy topping consisting of seeds, spinach and a squirt of lemon juice.
Pros: This dish is really tasty. The overall consensus is that the dhal has a nice kick to it but is definitely not too hot to handle. The meal itself is filling and flavoursome - "the perfect winter lunchtime treat" - yet it's not heavy and doesn't leave you feeling like you need an eight-hour nap afterwards.
Cons: It would have gone nicely with some form of vegan naan bread option to wipe up the remainder of the sauce, it's quite costly compared to other lunch options and, finally, the turmeric makes the dish look almost luminous in colour - so don't spill it on your white shirt.
Mediterranean Vegetable and Olive Sandwich from Sainsbury's (£2.20)
What is it? A sandwich filled with artichoke puree, red pepper tapenade, fresh basil, roasted red peppers, fresh tomatoes, salty Kalamata olives and peppery rocket.
Pros: The sandwich filling was nice and sweet, fresh flavours and plenty of crunch provided by the peppers. One reviewer thought it was a bold move putting olives in a sandwich but said it paid off.
Cons: Both reviewers highlighted that the bread was soggy, mainly due to the presence of tomatoes: "This is why 'everything but tomato' is my go-to phrase in Subway."
Sweet Potato Pakora Wrap from Tesco's Wicked Kitchen range (£3)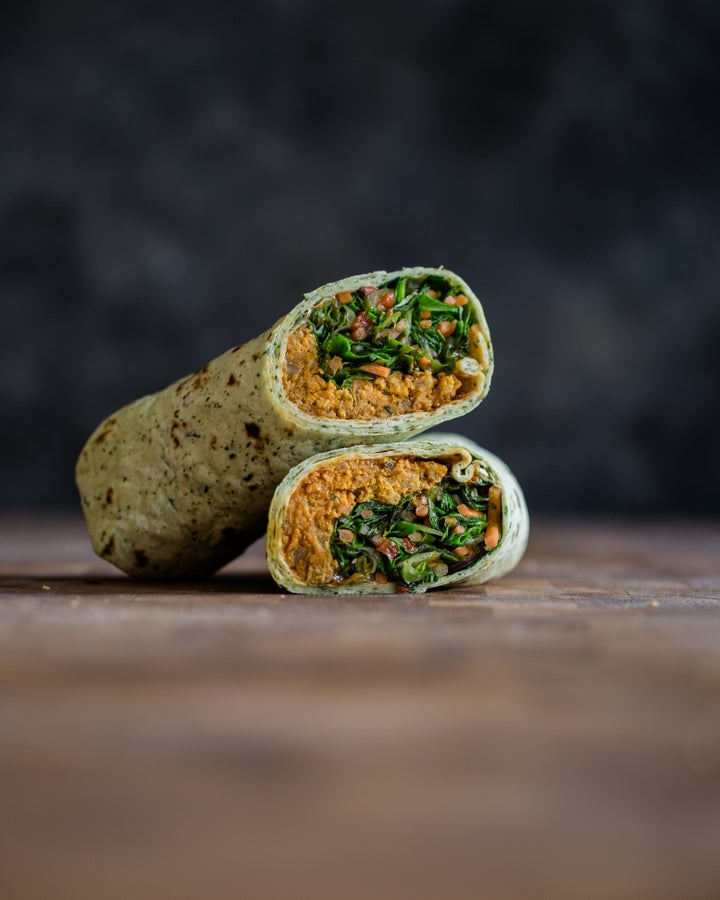 What is it? Sweet potato pakora, fire-roasted red pepper, crispy carrot and creamy Sriracha vegan mayonnaise bundled together in a tortilla wrap.
Pros: Like other options in the Wicked Kitchen range, the sweet potato pakora wrap is full of flavour. It's deep-filled with delicious veggies, colourful and it fills you up a treat thanks to the bulky wrap and potato pakora.
Cons: Spill hazard, right there. #Justsayin
Curried Chickpea and Mango Chutney Sandwich from Pret (£2.99)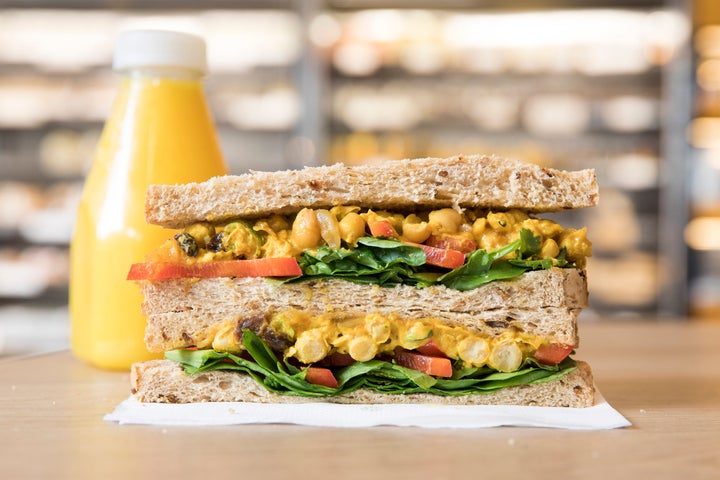 What is it? Lightly spiced curried chickpeas combined with spring onions, raisins, red peppers and sweet mango chutney - finished with a handful of spinach leaves and fresh coriander.
Pros: The sandwich itself tasted delicious. The mango chutney provided light and fruity relief from the "very spicy curry" flavour. All in all, there was a good balance of flavours and textures.
Cons: One of our reviewers would have preferred it as a curry, rather than a sandwich. Both agreed that it was one of the messiest sandwiches they'd ever eaten. Chickpeas clearly don't make the best sandwich-filler ("everything fell out!").
Carrot Pastrami Spiced Wrap from Tesco's Wicked Kitchen range (£3)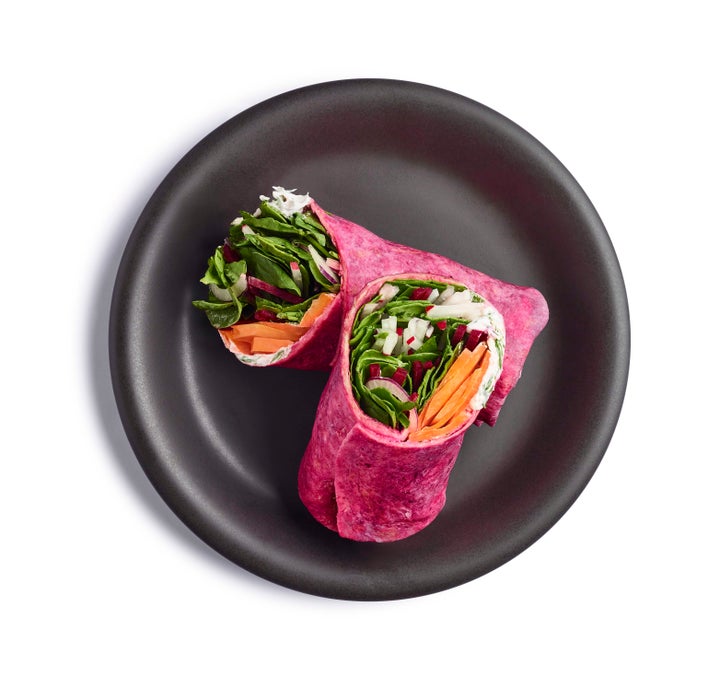 What is it? A beetroot tortilla wrap packed with a carrot and vegetable mix.
Pros: It might look like a load of raw veg shoved into a bright purple wrap, but this dish was so well-received that one of our reviewers went back to Tesco and bought more. The combination of fresh ingredients, crisp texture and strong horseradish flavour really hit the spot for our taste-testers. One of them remarked: "Feed me more now please."
Cons: The taste was great, the food looked great, but there was really no need to label it carrot 'pastrami' (especially when pastrami is a meat product).
Falafel, Avocado and Chipotle Flatbread from Pret (£3.99)
What is it? Sweet potato falafel and sliced avocado with a dollop of chipotle ketchup, topped with pickled onions, crunchy red peppers, fresh coriander and charred corn and black bean salsa.
Pros: This flatbread has a really strong combination of ingredients which are colourful, fresh and crisp. The mixture of crunchy sweetcorn and peppers alongside creamy avocado went down particularly well.
Cons: Despite the wrap being pretty tasty on the whole, it just wasn't as exciting as some of the other options. One reviewer said: "It just didn't blow my socks off."
Rainbow Curry Bowl from Tesco's Wicked Kitchen range (£3.50)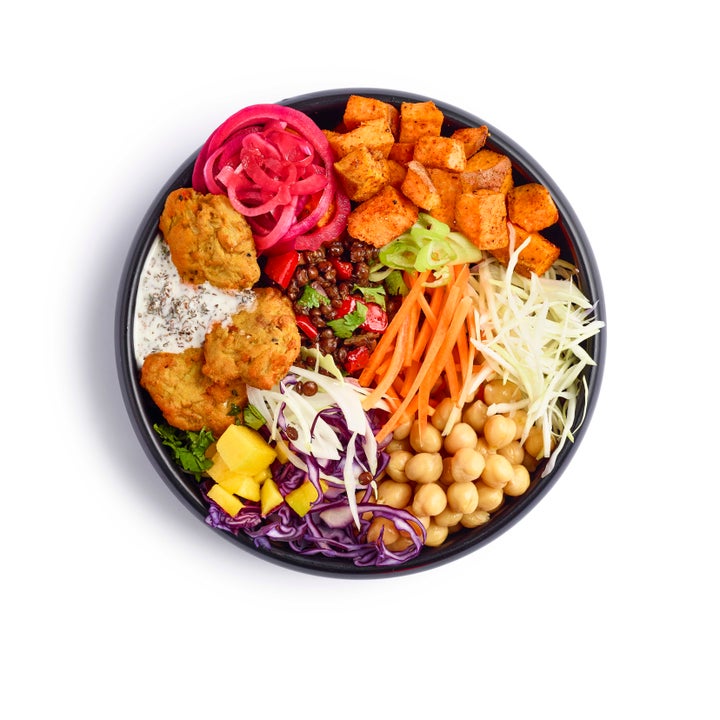 What is it? Colourful curried pulses with fiery sweet potato, onion bhajis, fragrant mango and a cool minty dressing. It's also gluten-free.
Pros: This rainbow curry bowl looks as good as it tastes. Aside from being a visual delight, the taste was equally exciting with an excellent balance of flavours. Our reviewers were particularly taken with the flavours of the chickpea and lentil curry in contrast with the cool, minty dressing.
Cons: The bowl's ingredients seemed quite separate. One reviewer said they would've liked to have seen them mixed up more.
BBQ Vegan Wrap with Jackfruit and Slaw from Starbucks (£3.29)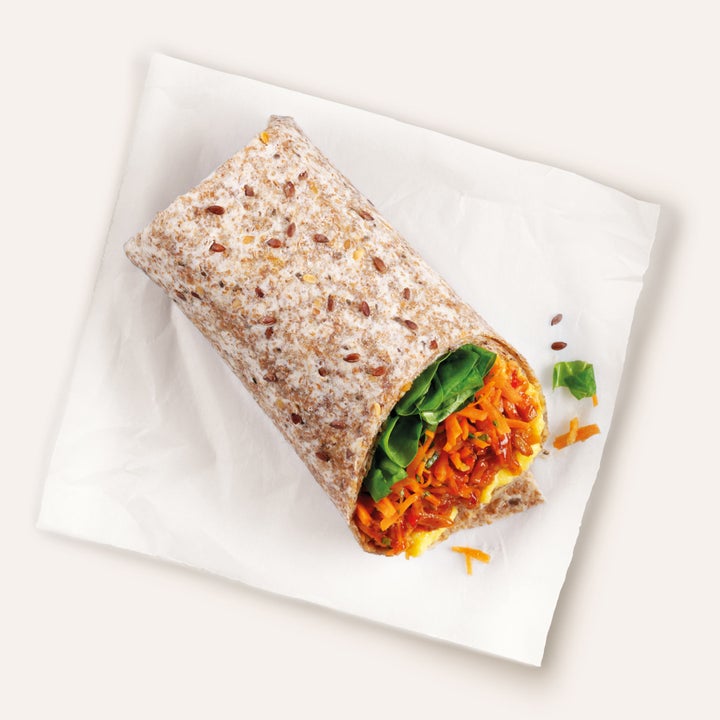 What is it? Jackfruit has been a staple in places like Sri Lanka for centuries, but it's fast becoming a popular choice in the UK too thanks to its unusual flavour. Starbucks' new vegan wrap contains BBQ jackfruit with spinach and a carrot and puréed sweetcorn slaw - all bundled within a whole wheat seeded wrap.
Pros: Starbucks certainly haven't scrimped on veg nor flavour here. The wrap is full-to-bursting with ingredients. The BBQ jackfruit flavours worked really well with the slaw. "The jackfruit was a really lovely flavour - like nothing I have tried before," one reviewer said. "It's quite 'meaty' and wasn't that different to pulled pork. I can see why there's a comparison."
Cons: There was a bit too much wrap overall.
Sweet Potato and Chipotle Sandwich from Waitrose (£3.30)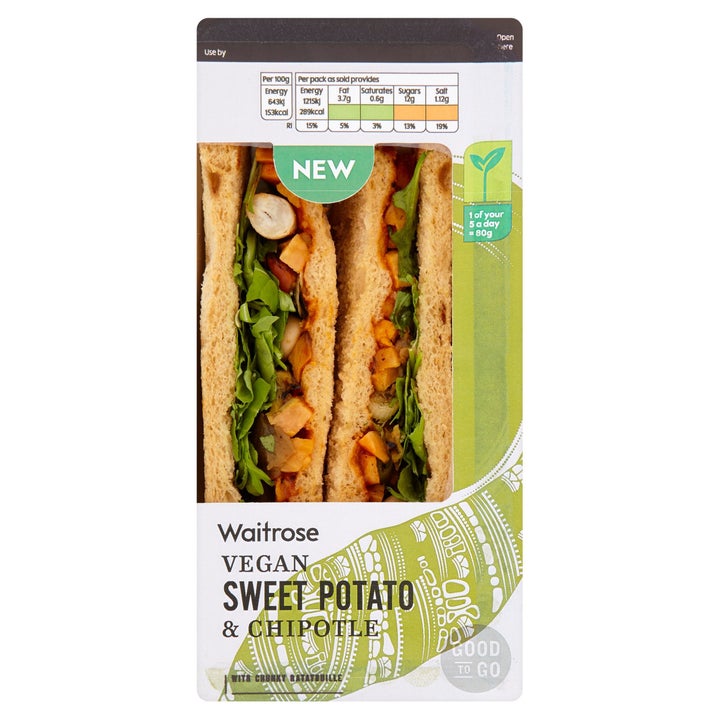 What is it? Roasted sweet potato and smoked paprika chipotle chutney with roasted courgette, peppers, aubergine, butter beans and rocket on sundried tomato bread.
Pros: The tangy and slightly spicy chipotle sauce really complemented the sweet potato - and the salad was crisp and fresh. The bread was stand-out too, really soft and moist. "After reviewing a fair few sandwiches with dry bread, this was a welcome change." All in all it was filling, satisfying and a lot more interesting than your bog-standard sarnie.
Cons: It was quite difficult to eat and kept falling apart. There was also a lot of rocket - possibly too much.
Mexican Spiced Butternut Squash and Beans Wrap from Waitrose (£3.40)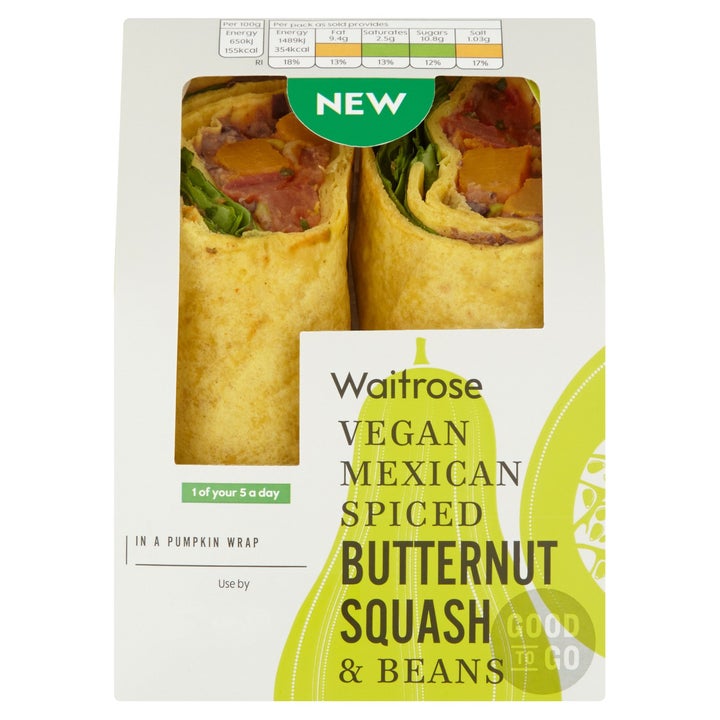 What is it? A pumpkin wheat tortilla wrap filled with black bean paste, cumin roasted butternut squash with a chipotle salsa, spinach and coriander.
Pros: Wraps can be quite hit and miss as sometimes they're stuffed with salad (and not much else) and other times there's just too much wrap and not enough filler. This, however, was the perfect balance of filling and bread. The flavours were really sweet and delicious, especially with the pumpkin-flavoured wrap bread, however our reviewers noted the sweetness became overbearing towards the end of the meal.
Cons: The flavours were tasty on the whole, however one of our reviewers would've liked more seasoning and it was quite a sweet dish overall.