More than 3.5 million people in the UK now identify as vegan while over seven million have switched to a vegetarian diet, new research into the nation's "green habits" suggests.
The survey of 2,000 people, commissioned by comparethemarket.com, asked adults about their current lifestyle choices, then scaled up the results to apply to the entire population. A total of 7% of those surveyed said they are vegan while 14% said they are vegetarian.
Meanwhile almost one third (31%) said they are consciously eating less meat than they used to.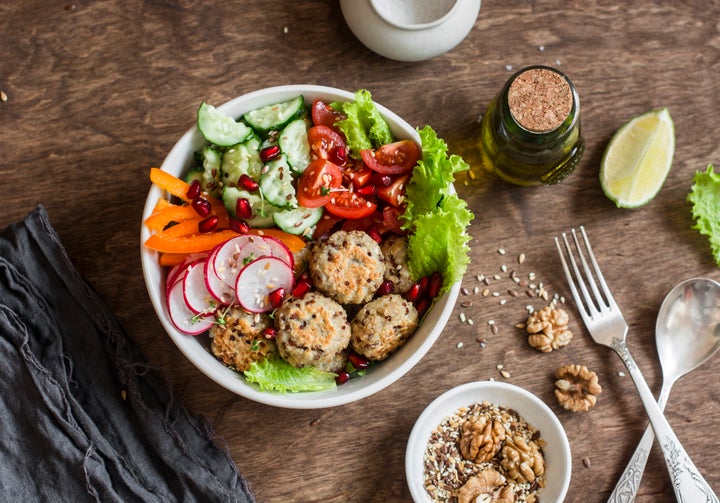 The rise of people apparently shunning meat will come to no surprise to some, with trends including Meat Free Mondays and Veganuary continuing to dominate social media. Statistics from Veganuary show 167,000 committed to not eating animal by-products during January 2018, compared to 60,000 who signed up in 2017.
Vegan and vegetarian food has also never been easier to find. While fruit and veg have been part of our diets since the dawn of time, Vegan Baileys is now available to the masses while vegan lunches are now the norm on the high street.
The research also found almost two thirds (64%) of people are now making conscious decisions to protect the environment, including recycling and making an effort to reduce their food waste. Almost half (47%) are boycotting plastic carrier bags while 28% are cutting down on the amount they drive in an effort to reduce their carbon footprint.
But according to Professor Carolyn Roberts, a Professor of the Environment at Gresham College who worked on the study, passing on steak and burgers is one of the best things you can do to help the planet.
"From farm to fork and beyond, food accounts for about 20% of all of our greenhouse gas emissions. Estimates suggest that if all of our meat eaters switched to a vegan diet, it would roughly halve total greenhouse gas emissions associated with food," she said.
"If you don't do this and cut meat out without considering where you're going to get your iron, zinc, B vitamins and protein from, then you could end up deficient," she said. "This means adding in foods such as dairy, lentils, beans, pulses, nuts, seeds, nut butters and meat alternatives such as soy, Quorn and tofu."
Commenting on the study, Dominika Piasecka, spokesperson for The Vegan Society, pointed out the latest findings, based on a survey of 2,000 respondents, do not reflect the Vegan Society's 2016 study, which estimated there were 542,000 vegans in Britain, scaled up from the results of a survey involving 10,000 respondents.
"We are pleased to see such an interest in veganism and would be delighted if this increase was the case but realistically, we have no reason to think numbers have increased to that extent," she told HuffPost UK.
"It is important to note that respondents in comparethemarket.com's study were asked about their environmentally-friendly habits rather than whether they're vegan. It was not conducted to count the number of vegans in the UK.
"There were no cross check questions asked to confirm the self-declared vegan statement and it was easy to misunderstand the question as asking about environmentally-friendly habits rather than lifestyle choices. Those who care about the environment are encouraged to sign up to our free week-long planet-saving pledge at www.vegansociety.com/plateup."