Following a plant-based diet doesn't have to be boring - and it certainly doesn't mean you have to give up your guilty pleasures.
To prove just how delicious vegan food can be, we scoured the high street for snacks and sweet treats made with ingredients free from animals and animal by-products.
Our panel of dedicated 'experts', comprising of one full-time vegan, two people trialling Veganuary and two meat-eaters, spent days tasting vegan goodies (it's a hard life). Here's what we deemed to be the best of the bunch, scoring seven and above.
Dark Chocolate and Hazelnut Bar from Starbucks (£1.69)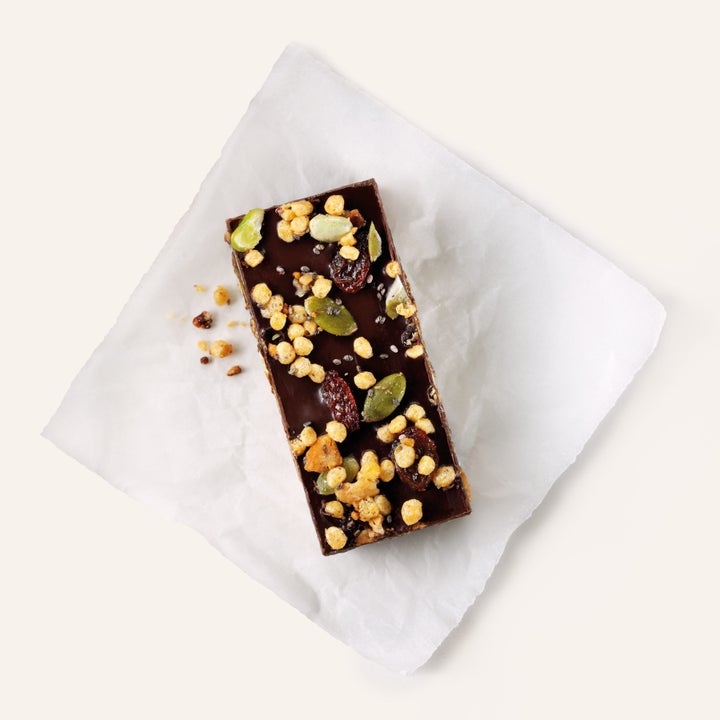 What is it? A cocoa and hazelnut bar blended together with dark chocolate and finished with a crunchy nut and edamame bean topping. According to Starbucks it's "high in fibre and protein".
Pros: The bar was likened to a Rice Krispie cake - making it an instant hit in the office. To quote one tester: "Vegan food can often feel a bit lame or like the healthy option, but this certainly didn't." While the chocolate flavour wasn't as expected, it was "delicious and sugary" and the chewiness was well-received.
Cons: It didn't necessarily look very appetising or fun at first glance, but that meant it was even more of a pleasant surprise at first bite.
Apple and Almond Butter Bowl from Pret (£1.99)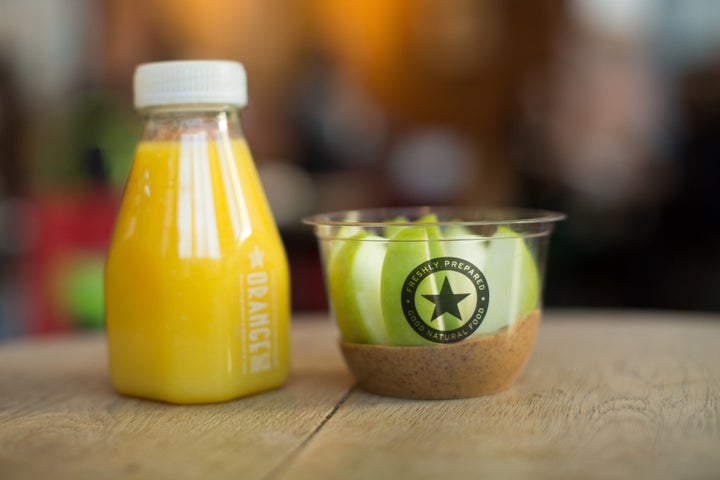 What is it? Slices of crispy apple in a pot of almond nut butter. A sweet alternative to carrot sticks and houmous.
Pros: It's a super simple and healthy snack option. The nut butter isn't overpowering (like peanut butter can be) which makes it the perfect accompaniment to the slightly bitter and crunchy apple. It was described as "incredibly moreish" and a "healthy but delicious mid-afternoon snack".
Cons: There's not enough, as one reviewer exclaimed: "I could've eaten about five pots." It can be quite messy to eat, plus you could probably make it easily at home for far cheaper.
Paradise Slice from Costa (£2)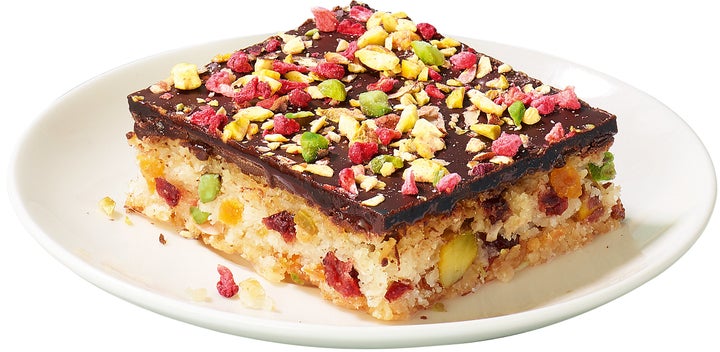 What is it? A sweet slice made up of coconut and vine fruit bound in coconut cream and topped with dark chocolate, dried raspberry pieces and pistachios.
Pros: This small albeit visually overwhelming treat holds plenty of flavour - and it's rather moreish too. The overall taste is fruity with a very strong coconut flavour (likely thanks to the coconut cream). The dark chocolate topping was described as "tasty but not mind-blowing".
Cons: The slice looked a bit dubious at first glance, "like it had been sprinkled with factory floor scrapings". One reviewer mentioned they would've liked it to be slightly crunchier, as the texture was very moist and chewy.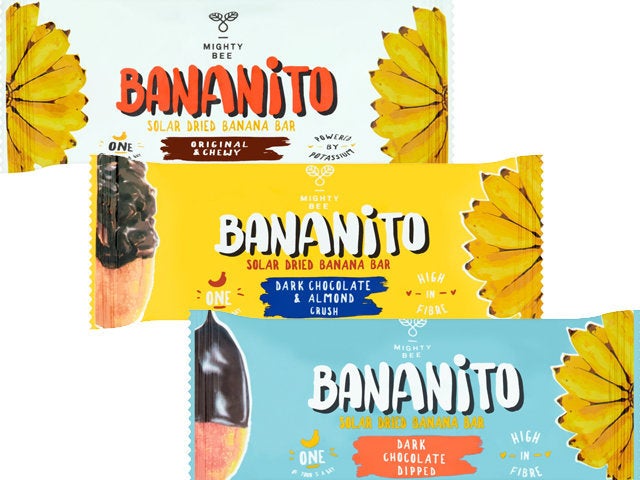 What is it? A 'solar dried' (aka sun dried) banana bar in various flavours including original, dark chocolate and almond crush, and dipped in dark chocolate. We tried the dark chocolate and almond crush flavour.
Pros: The hardest part of trying this bar is trying to pronounce its name, but once you taste it you'll be happy you went to the effort. The dark chocolate gives it a rich flavour (it was "genuinely chocolatey" one reviewer exclaimed) and the banana base means it feels very light, with the almonds adding a crunchy texture.
Cons: The banana was tasty but had an unusual texture - a bit like jelly.
Super Moons Lentil Puffs from Whole Foods Market (75p)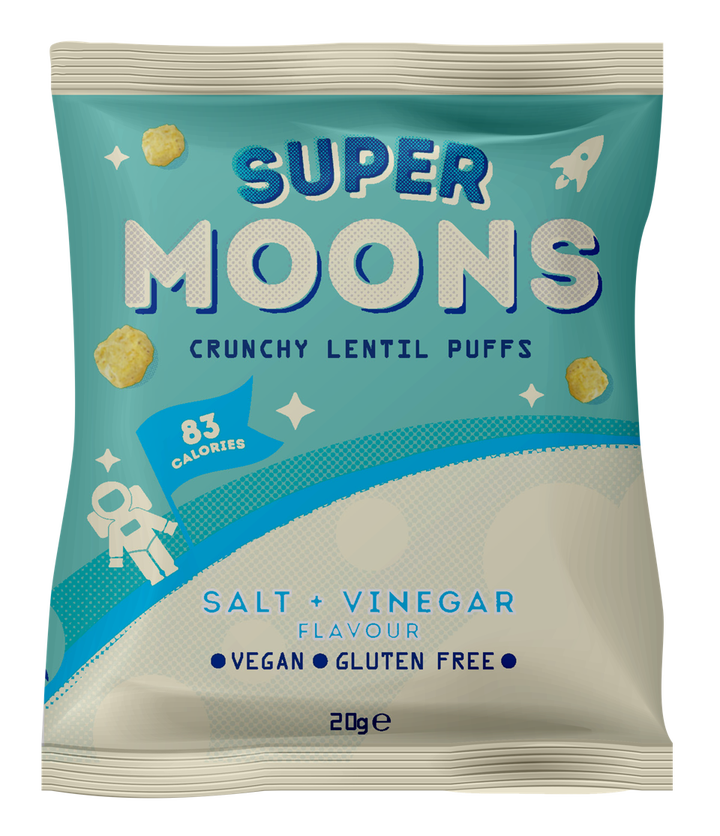 What is it? A bag of lentil puffs in salt and vinegar, and cheese and onion flavours.
Pros: Described by one reviewer as a "poor man's Wotsit", these lentil puffs went down a treat in the office, proving to be extremely light, tasty and moreish too. If you're craving a bit of crunch throughout your day, we'd recommend.
Cons: They disappeared too fast!
Cacao Brownie and Cacao Orange Raw Treat Bars from Squirrel Sisters (£1.99)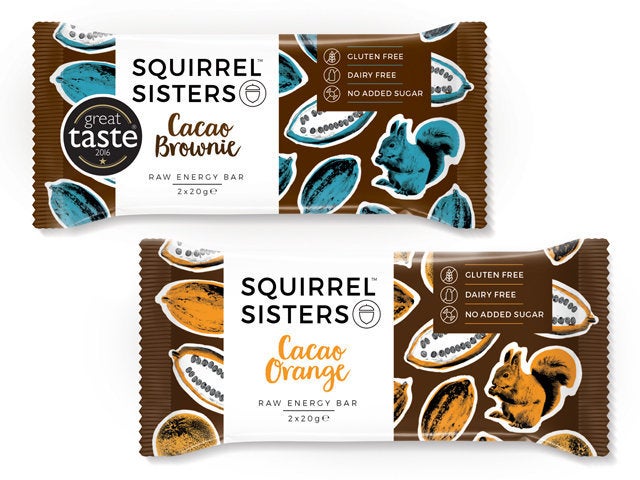 What is it? These raw treat bars are 100% natural and don't contain any added syrups, pastes or sweeteners. There are 4 flavours available in the range: Cacao Brownie, Cacao Orange, Raspberry Ripple and Coconut Cashew. The bars are available in Ocado, Boots, Whole Foods, Planet Organic and Amazon. They will launch in Morrisons on 19 Feb.
Pros: The Cacao Brownie and Cacao Orange flavours came up trumps. The brownie flavour surprised our reviewers - "wow, it actually does taste like a brownie," they exclaimed. They also loved the fact it had a creamy but crunchy texture. But the orange flavour was the clear winner. "Lovely chocolatey orange taste, with a fruity and nutty texture," one reviewer said. The other added: "This is one of my faves so far, rich taste (luxurious, even) and great crunch. Winner."
Cons: The main downside was that it disappeared too fast. One reviewer also said the chocolate orange bar was "slightly bitter". You can't please 'em all.