2021 is set to be a bumper year for weddings, with postponed nuptials and "sequel" celebrations queueing up behind those already booked.
And while you might expect the wedding trends of the new year to mirror those from 2020, there will be some new additions – even among all those preplanned or rescheduled dos.
Unsurprisingly, Etsy saw searches for "wedding face mask" and "bridal face mask" increase by 1004% and 1585% respectively when weddings were permitted again after the first national lockdown. The site predicts the trend for coordinated face coverings will continue well into 2021.
We don't yet know how weddings may be restricted, but with the vaccine rollout upon us, we're cautiously optimistic for a better year – both for couples and industry suppliers. Here are some of the other trends you can expect to see.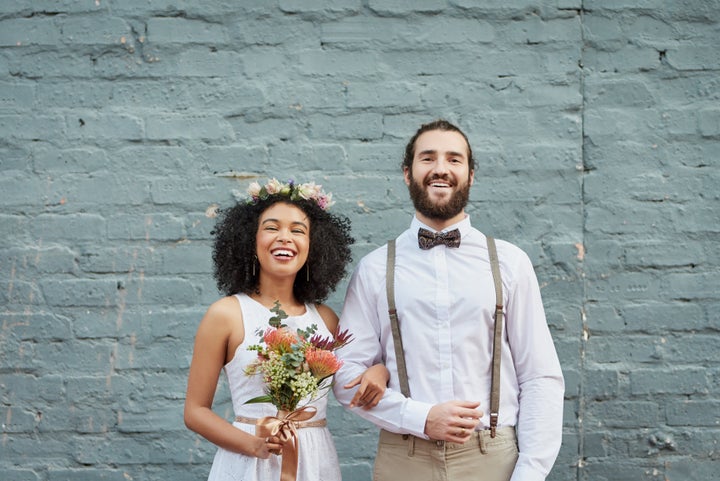 Minimalist matrimony
The pandemic required 2020 to become the year of minimalist matrimony, but trend forecasters at Pinterest think it may spark a movement towards low-key celebrations long term.
The trend for a (not so) big day will continue way into 2021, they say, regardless of covid restrictions, with smaller, laid-back venues and no-frills elopements continuing to gain popularity.
Searches for simple, one tier wedding cakes doubled in the last year, as did searches for courthouse wedding outfits. Meanwhile searches for "small backyard wedding" were up 160%.
Mighty menus
Smaller weddings may actually mean more extravagant menus next year, says Kelly Sinnott, from Essex wedding venue Baddow Park House.
"Smaller guest numbers will allow caterers to focus more on the food quality as couples may have a larger spend per guest ratio," she says. "This could be reflected in upgrading to offer your guests Champagne instead of Prosecco or going all out on a 'tasting menu' with a series of sumptuous courses."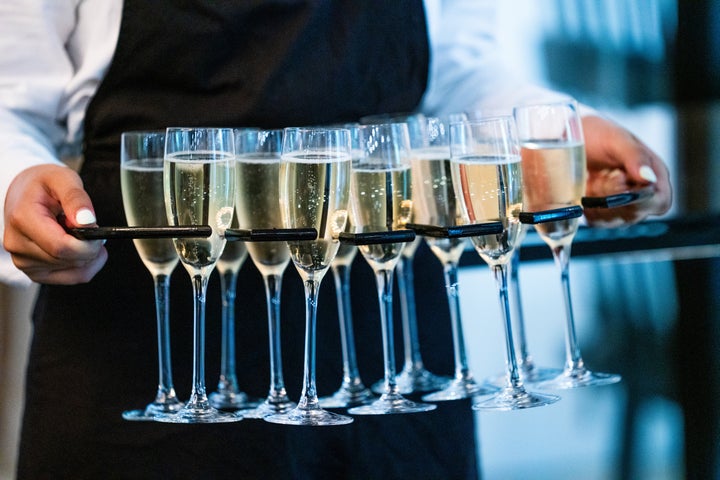 Sustainability wins
A tighter guest list leaves couples with more scope to focus on food
and drink sourcing, meaning sustainability could be another big trend, predicts Sinnott.
"2020 has taught us a lot of valuable lessons about what is truly
important to us. Many couples are finding that that they are mindful of the waste that a large-scale wedding produces and are changing their plans accordingly," she says.
"We expect to see an increase in the amount of couples opting for faux flowers that can be repurposed after the big day as well as real flower displays that can be re-potted after."
Couples may also opt to shop locally more frequently: a win-win for cutting your carbon footprint and supporting local businesses after the economic hardship of 2020.
"We expect to see a surge in the use of local bridal boutiques and small-independent florists amongst other local suppliers," says Sinnott. "Couples want their local economy to feel the benefit of their spend, meaning that weddings and their chosen suppliers will all be closer to the couple's home."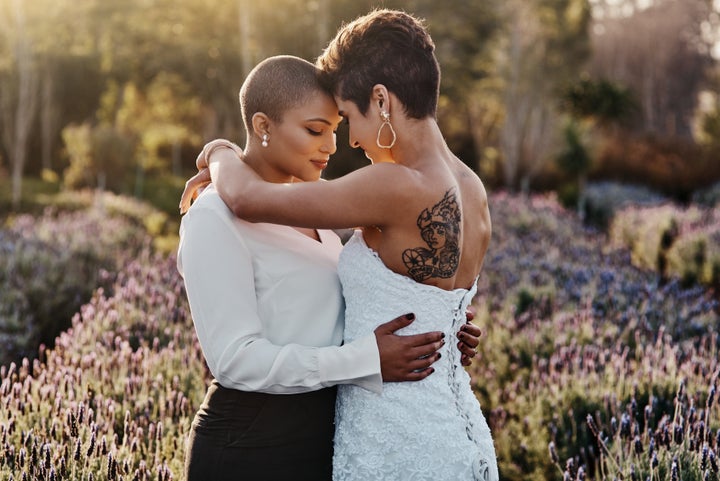 Alternative venues
Almost three quarters (71%) of couples who planned to marry in 2020 postponed to a later date, according to the wedding site Hitched, and Google trend data shows an increase of over 210% for the term "sequel wedding".
The bumper year for weddings has meant registrars are fully booked in some parts of the country, sparking a move back to more traditional settings, such as the village church, says Sinnott.
Those who don't want a religious service may opt for a ceremony hosted by a celebrant, before making their marriage legally binding once a registrar is available.
"Celebrants can host a wedding pretty much anywhere meaning that the possibilities really are endless," she says. "From secluded beaches to whimsical woodlands, just remember to factor in some shelter due to the risks associated with unpredictable weather."
Bright colour schemes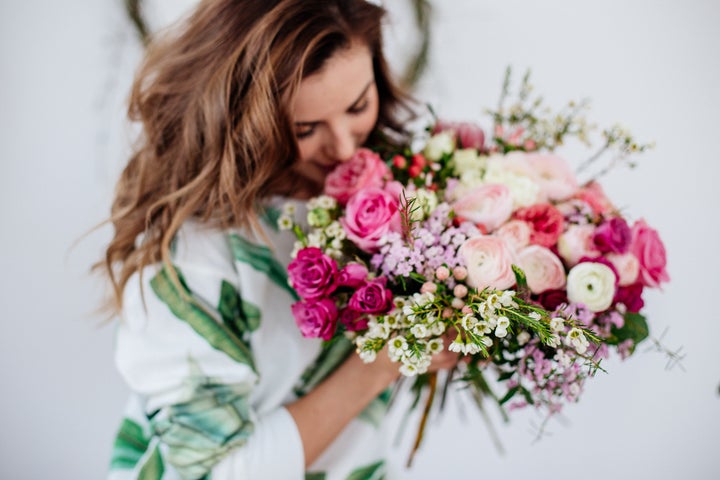 Sky blue is Etsy's colour of 2021, supposedly bringing "hope and connecting with nature" – so don't be surprised to see it reflected in bridesmaid's dresses, stationary and flowers.
Vaishali Shah, from wedding stationary specialists Ananya, thinks couples will want to get away from the doom and gloom of 2020 with their colour scheme.
"Couples will want to celebrate life with a burst of colour; it can be bold and vibrant such as rich reds and hot pinks to make a big statement or pale delicate pinks and corals will give a soft and romantic effect to inject life into the stationery," she says. "Colours will be an expression of freedom and spontaneity."
Nods to the pandemic
Wherever the party ends up, cake toppers will provide a fun way for couples to acknowledge the strange journey they've had to get to their celebration. Etsy is already full of designs using the word "finally", or "1st anniversary," for couples who did tie the knot but postponed the party for a year.
Due to the pandemic, we are yearning for personal, meaningful gestures in all aspects of life, adds Shah. She expects couples will want to bring those aspects into their wedding stationery, with personalised stamps or hand illustrated designs offering a more thoughtful and informal look.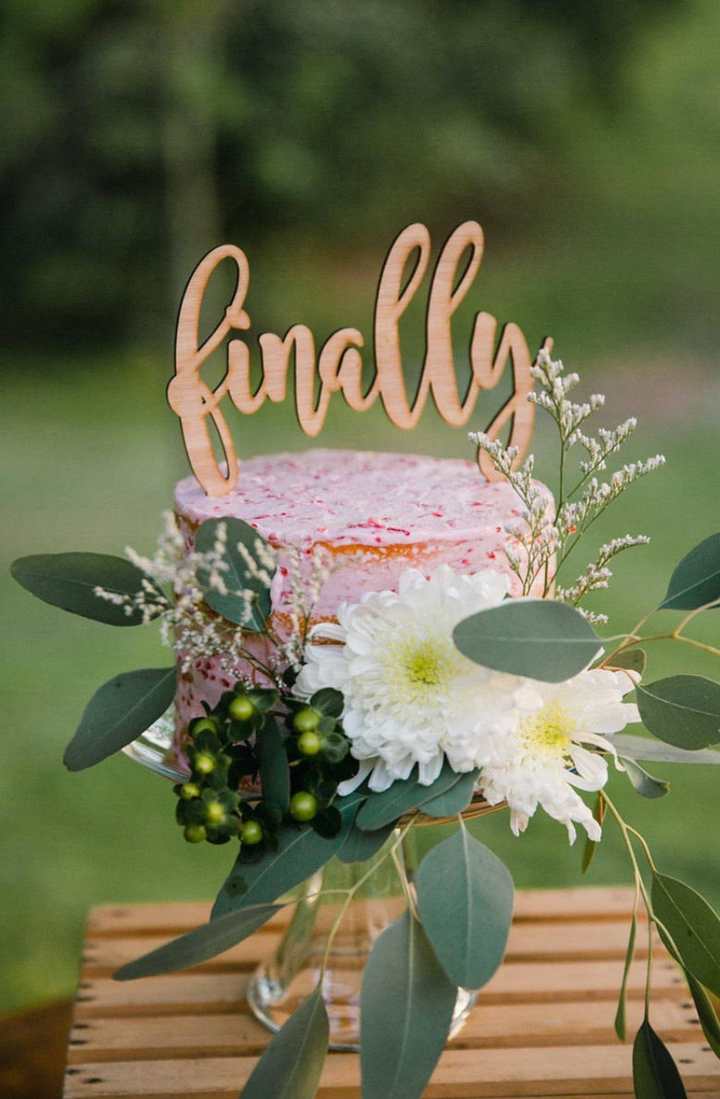 Shah also predicts couples will get touchy-feely with stationery, to make up for the lack of physical touch we've had with loved ones throughout the pandemic.
"All the ways we can make wedding stationery tactile will be embraced and experimented with in 2021," she says. "Handmade paper in gorgeous shades, dyed with natural, plant-based dyes has a texture that gives it a charming and comforting dimension. Print techniques that employ embossing and engraving are lovely to touch. Hand torn edges complement either a rustic or luxe look, depending on what other treatment you give it."
The dress gets an upgrade
Guest lists may be smaller, but brides will not be compromising on the dress, says Shah. Traditional red remains popular for a bride's sari or lengha in Asian weddings, while pastel shades are gaining popularity in place of the big white dress elsewhere.
"Brides are not opting for lower key styles as they want still want to celebrate their wedding in style and 'go all out' in their attire and jewellery," she says.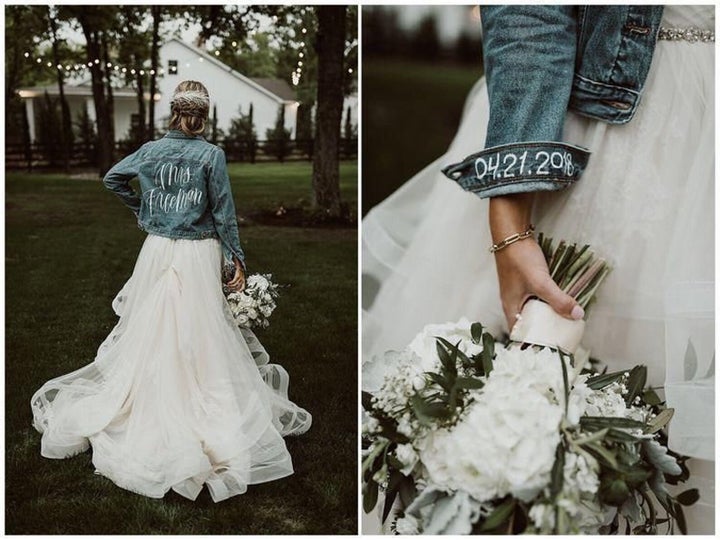 Those worried about getting cold outside are looking for alternative jackets on Pinterest, where searches for wedding jean jackets have increased by over 130% in the past year.
There's also been a 34% increase in searches for "reception dresses" on Etsy, suggesting that brides who had to postpone their wedding party may ditch their main wedding dress for a slinkier evening option.
Meghan Markle's halter neck was so ahead of its time!