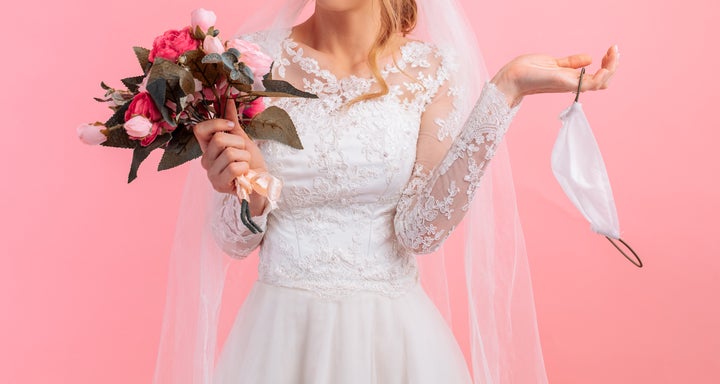 "Are you worried this virus could threaten your wedding," I remember a friend texting me back in March. That evening, my fiancé and I had been ignoring all news surfacing of any virus, instead arguing over wedding favours.
"Not at all, it's just affecting Asia," I replied dismissively, bemused she could even suggest such a thing to a bride-to-be who had been meticulously planning her wedding for 15 months and was on the cusp of the final countdown.
Like many industries, no one could really quite imagine what a write off weddings would be for 2020. As events unfolded from that March evening, it became clear we wouldn't be able to have the day we had been looking forward to. We would not be able to host 130 guests, and a big question mark appeared over our Sri Lanka honeymoon.
Fast forward a few months and our wedding has now been postponed twice – once in May and again in October. In May, weddings of any form were not allowed and in October, weddings of 15 were permitted with guests wearing masks.
Weddings dreams for thousands of brides and grooms have crumbled, but thinking optimistically there is likely to be an increased appreciation for these joyous moments in the future. After all enduring love which has survived a pandemic could be more of a reason to party. Our big day is now scheduled for Autumn next year.
If all else fails, fingers crossed, the big celebration could be the Golden Wedding Anniversary!
Allow yourself time to mourn your wedding, and then move on
I expected our biggest challenge would be agreeing on bridesmaid dresses with my sister, or maybe finding those pants to suck in my stomach for my wedding dress – not the raging chaos of a worldwide pandemic.
The heartache was real. Some people may see that is as trivial, but I wouldn't. At first I felt personally victimised and burst into tears in the office when my hen party was cancelled. People have been having weddings for years, could this pandemic not have waited a few more months, I selfishly thought.
However, as the hardships – lockdowns, job losses, health issues – either directly or indirectly as a result of Covid-19 mounted, I quickly learned to stay grounded. Once I realised this was all out of my control, it was easier to take a step back.
It pays to rein in your inner bridezilla
If someone can't attend your wedding for a decent enough reason – say they've just given birth, live on the other side of the world or have a family wedding clash – it's key to remember this is just one day, and the best friendships will last years. Don't burn any bridges.
In fact, the delay in our wedding date has made me more grateful for many people in my life. Our initial wedding date proved to be a clash for one close friend, who was living in another country and due to give birth the week before, but the bridezilla in me was livid. "I am sure you could manage it, just jump on an 18-hour flight and the baby can sleep," I naively insisted.
Obviously as someone who was not yet a mother, I could not really understand the big deal. Throughout the ups and downs of the pandemic, this friend could not have been more kind and generous with her time. Thank goodness, I managed to rein in my inner bridezilla on this occasion.
Be fair to your suppliers
Many suppliers are self-employed and will have lost out on work throughout the pandemic. One supplier offered to refund the deposit the first time we cancelled, as she could not make the second date. I refused and insisted it was her money. She is now able to do the third wedding date, and has given us a better deal.
The wedding industry has been hit hard by the pandemic, which has left thousands of businesses out of pocket. I think people will always want to come together and celebrate weddings, but it is hard to know when they will resume as the events we know them to be.
Be flexible... but know your limits
We had waited 18 months for a summer wedding, but we decided to be open-minded with dates going forward. We discussed what government restrictions on numbers we would settle with and those we wouldn't. Other people have gone ahead and had their special day in the middle of the pandemic, but we decided that wasn't for us – we wanted to keep pursuing the dream of having a room full of people we love to share the special moment with us. But we also did not want to put our guests at any risk of catching Covid-19, and so, if the pandemic continues, we will be having our big day with any restrictions set upon us next year.
I remember waking up last Christmas Day in a panic as the hot water had run out at home. I then worried that, in five months time, my bridesmaids and I would be showering in Arctic temperatures on the wedding day. It somehow nearly ruined Christmas, but little did I know a cold shower would be the least of my issues in 2020.
We can all imagine getting married, and the intricacies of the day – champagne flowing, beautiful flowers, the bride and groom sparkling the night away. I suppose in these times, it is important to remember that, really, weddings are a day when you say your vows to your other half – everything else is a bonus.
Fundamentally, weddings as we know them may not be the same for a while, but these uncharted times have taught me to be even more grateful to have a strong relationship.
Laura Mowat is a freelance journalist. Follow her on Twitter @lcmowat