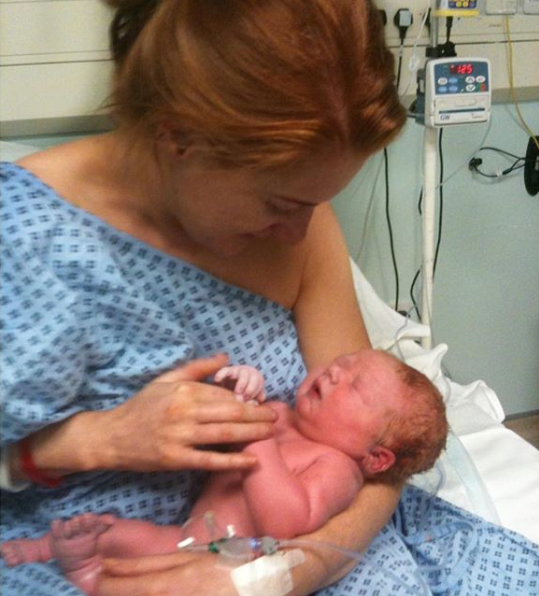 In HuffPost Birth Diaries we hear the extraordinary stories of the everyday miracle of birth. This week, Amanda Fulton, 45, tells her story – if you'd like to share yours, get touch with amy.packham@huffpost.com.
Giving birth to my son Dominic was surreal. I'd go so far as saying it was an out-of-body experience. It blows my mind thinking back to it now. I felt the moment – like it was magic.
Birth is an excruciatingly painful experience but for this, my second child, it was unlike anything I'd expected. He slithered out in the most ethereal way. I actively felt his whole body leaving mine. It sounds 'wishy-washy', I know, but it was a moment of clarity when suddenly I was like: 'wow'. So relaxed and calm. I remember thinking to myself: this is why people call it the miracle of birth. I held him and in that moment, I knew everything was going to be okay.
I'd never thought that moment of clarity would come.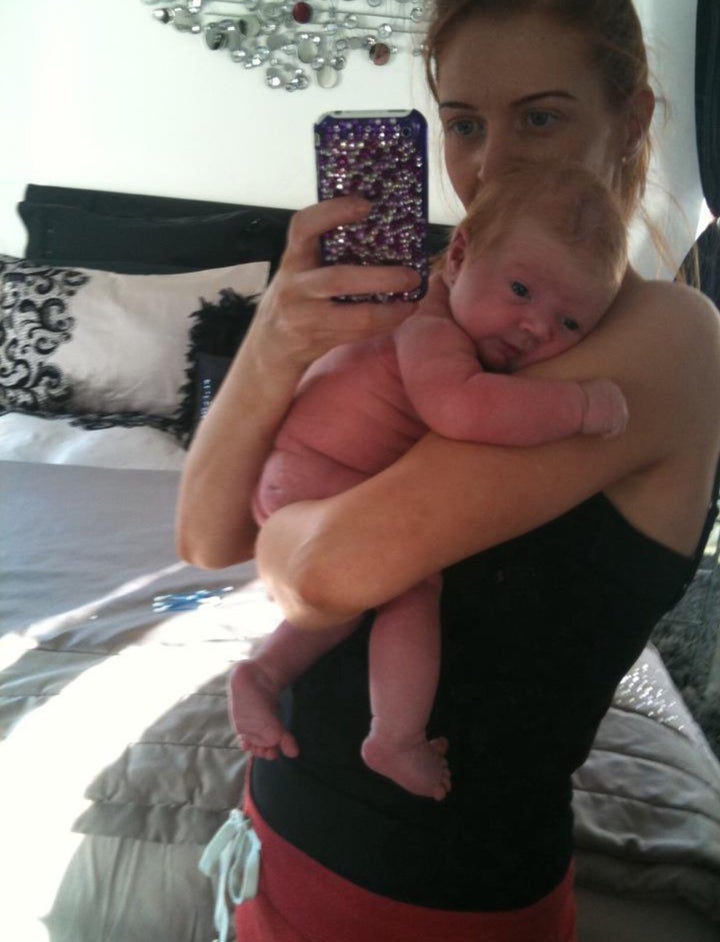 I hated my second pregnancy. My first birth had been so traumatic and lengthy (22.5 hours, induced, rushed to theatre, epidural, then finally a 'natural' delivery in theatre with forceps). And then I'd had a miscarriage between my two children so I guess it was a big decision for me to go for it again. I couldn't wait to have my baby and be done with being pregnant forever.
By the time I went into hospital, 12 days overdue and booked to be induced, I couldn't ignore this heavy feeling of sadness. As soon as we arrived, I was sobbing to my husband, telling him I didn't think I could love another child the way I loved my firstborn son. If I'm honest, I just wanted to run away.
The panic set in as soon as I was induced – a fear that my birth was going to be just as traumatising as the first. And to begin with, it was nothing short of horrific. In just a few minutes, I went from zero to intense pain and I knew it didn't feel right. The doctors realised things were happening too quickly, too, and had their concerns, so they had to reverse it. That part was blurry to me – I don't recall how they did it, but there was a lot of medicine involved and drips to slow it back down again. By this point, I felt exhausted.
"I didn't think I had an ounce of energy left in me to get him out. And then something changed.""
When they finally got my labour back to a stable level, it started to tick along nicely, but my baby didn't want to come out. That familiar feeling of panic set in again. Memories of my first birth came flooding back and were so raw that I expected everything was going to go exactly the same. After 20 hours and no sign of baby, I didn't think I had an ounce of energy left in me to get him out.
And then something changed.
We got a new midwife and she was quite simply outstanding. "This is obviously not working for this woman," she told staff in the room, telling them she was going to try something else. And she did – she completely changed everything. It was like the room transformed into a scene from a movie.
Her name, quite fittingly, was Grace. She was hands-on and confident I would deliver my baby within a few hours. And her confidence seemed to radiate on to me. She was so intuitive, it was ridiculous. Grace put some classical music on, dimmed the light and turned the room into what felt like a meditation zone. As soon as I relaxed, it was as if my body geared up to get Dominic out. I'd been through 20 hours of pain where I felt like my baby was destined to stay inside me forever. And now, a few hours after Grace arrived, I was ready to push.
The pushing, of course, wasn't pain-free. But I knew it was going to be short-lived and it felt very much how it was meant to be, if that makes sense. I knew the end game wasn't far away and I had my eyes on the prize.
After the most magical birth, Dominic was put straight on my chest and Grace left me, my husband and our newborn in the dimly-lit room. The moment was calm, intimate. When I'd given birth before my baby had to be whisked away. This time I could really feel him. He was heavy. He had big bones. He was mine.
The birth made me feel very connected to Dominic, and it's probably why I'm so gooey about him now. It makes me smile when I think of it now. How did I get so lucky?
My birth advice?

"It's important for people to know birth can be lovely. Don't be shy to say what you want. There were times I was like: "This isn't right, can you get someone else in". You must speak out. You are the most powerful person in your world at that time. Use that power and ask for what you want. Nurses are there to help you, but you've got to make sure you vocalise what you want."