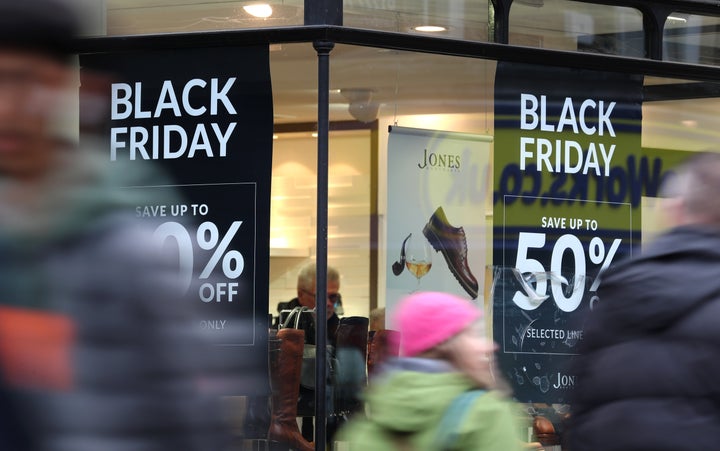 "Massive savings on everything!"
"Get them now before they're gone!"
"Our lowest prices EVER!"
Sound familiar? If your inbox looks anything like mine this week, it will be filled with an avalanche of emails promising sales, discounts, bargains galore – bigger and better than ever.
The first Black Friday promotional email hit my inbox on November 2nd - three whole weeks ahead of the pre-Christmas shopping event, as the countdown clock in the email 'helpfully' reminded me.
Black Friday is no longer confined to just the Friday anymore either, with offers spilling across the weekend into Cyber Monday and many retailers offering discounts and promotions in the weeks leading up to the event too. Shoppers are pressed to buy now, or live in regret for the next 12 months, thinking of all the deals they could have snapped up.
But is this really the case? Or are these promises of savings, deals and offers all just smoke and mirrors?
Ahead of this year's event, we revealed that the vast majority of last year's Black Friday 'deals' were cheaper or the same price at other times of the year. So much for 'our lowest prices ever', right?
We tracked the prices of 94 popular products, including TVs, cameras and fitness trackers, that were on offer over Black Friday 2017, from six months before until six months afterwards. Nearly nine in ten (87%) of the items we looked at were cheaper at other times of the year. When looking at the whole fortnight of Black Friday, that figure is still three quarters (74%).
Coming at the beginning of the Christmas shopping season, it's no wonder so many of us are tempted by the promise of slashed prices on Black Friday. But while retailers will try and tell you to buy, buy, buy, and do it now, before it's too late, the message couldn't be clearer – Black Friday isn't all it's cracked up to be.
We're urging shoppers to keep their heads during the Black Friday madness – there are plenty of great deals to be had, but it's important to know what you're looking for, and how much you're willing to spend before jumping headfirst into the sales. You could risk spending just for the sake of spending, and coming away with a bogus 'deal'.
Which? has five top tips for shopping on Black Friday:
Be careful not to impulse buy

– Make sure you know the sorts of products you want to buy and how much you're prepared to spend before you start shopping in the sales. Don't worry about missing out on a good offer as our research has revealed that you could be better off waiting until after Black Friday anyway.

Set yourself a budget

– It can be easy to be tempted to spend more than you can afford, but don't overstretch your finances. Set a budget and stick to it.

Find out about offers in advance

– Sign up to your favourite retailers' newsletters for inside tips, or check their social media pages ahead of the sales for any clues or hints to what will be on offer.

Do your research

– Look at the price on previous days to make sure you really are getting a good deal and don't always trust reviews you find online. Our recent investigation revealed how shoppers are being misled by unscrupulous sellers using fake and paid-for online product reviews.

Know your rights

– From faulty goods to delivery problems, be aware of your shopping rights before you buy in store or online, so you're in-the-know should something go wrong.
So, before you hit the sales today, take a minute to consider what you want from Black Friday, and whether you really are getting a good deal or not. There will always be other sales, and likely better discounts.
Of course, that's not to say every Black Friday sale item is a dud. With a little research and some planning ahead, you can arm yourself with the facts, bag a bargain, and make Black Friday work for you – not the other way around.