Greenpeace has urged Black Friday shoppers to remember the devastating environmental impact of certain products, warning "even free stuff has a price".
The charity has previously warned how electronic goods, particularly smartphones, will generate 50 million metric tonnes of e-waste in 2017, less than 16% is expected to be recycled.
On Friday, shops will be offering bargain prices, with gadgets in particularly high demand.
Tisha Brown, Oceans Campaigner for Greenpeace UK, told HuffPost: "On Black Friday, please buy the things you want, the things that amuse or entertain you, the things you need or that make life easier.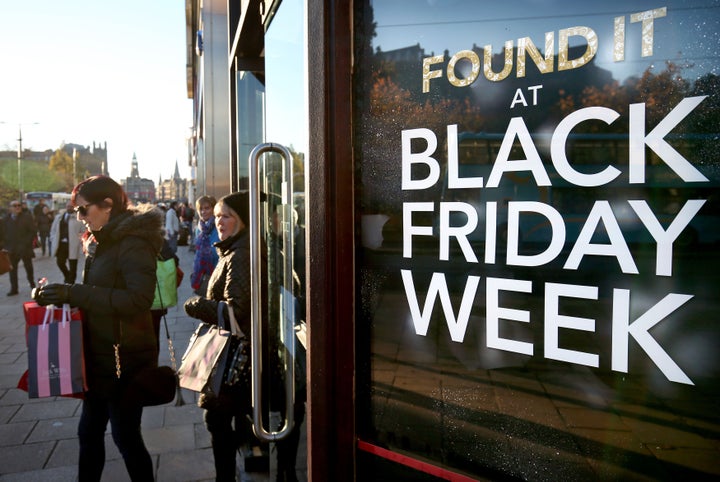 "But please don't buy things because they are bargains. Even free stuff has a price, and our oceans, forests and wildlife are paying their share of that price, even when you aren't.
"Remember, plastic, like a puppy, is for life."
Black Friday originated in America, where the first day after Thanksgiving is seen as the beginning of the Christmas shopping period.
But retailers began offering deals in the UK and last year sales were 12% higher because of them.
In a report in February, Greenpeace hit out at how best-selling tech products, including Samsung smartphones and Apple laptops, had relatively short lifespans, which was creating more waste.
"A number of products from Apple, Samsung, and Microsoft are increasingly being designed in ways that make it difficult for users to fix, which shortens the lifespan of these devices and adds to growing stockpiles of e-waste," Gary Cook, IT sector analyst at Greenpeace, said at the time.
Friends Of The Earth have estimated the manufacture of a single smartphone, which typically includes minerals such as lithium, tantalum and cobalt and rare metals, used 13 tonnes of water and the equivalent of 18 square metres of land.
Campaigner Julian Kirby said of Black Friday: "Let's not get caught out.. let's not get bullied into something that is, at the end of the day, just a marketing gimmick.
"If you don't need it or want it then don't give them your money. If you are going to take advantage of what's purported to be lower prices then don't rush into it, think about whether it's the most sustainable and ethical product and whether you might be able to get a second hand version that's able to do just as good a job."
Dom Ferris, a project manager at Surfers Against Sewage told HuffPost UK: "Does that person really need what you're going to buy them? Do they really want it? Does it tell a story of how you feel about them?
Can you do something else? Can you create something for them? Can you take them somewhere? Stop and think: 'Do they need it?'
"If you love the ocean, the environment, consider if is it harming them."
On Twitter, people stressed the risks posed by Black Friday.