Black Lives Matter protesters brought traffic to a standstill across major UK cities, including blocking holidaymakers trying to get to Heathrow Airport, on Friday.
Demonstrators called for a nationwide "shutdown" on the fifth anniversary of Mark Duggan's death, causing traffic chaos today as they blocked major roads such as the M4 sliproad, near Heathrow Airport, shortly before 8.30am.
Similar protests were held in Birmingham, Nottingham and Manchester.
UK Black Lives Matter (UKBLM) protesters said they are demonstrating to "mourn those who have died in custody and to protest the ongoing racist violence of the police, border enforcement, structural inequalities and the everyday indignity of street racism".
Images and footage on the M4 sliproad showed long tailbacks as demonstrators held up traffic. Ten people have been arrested in London.
Metropolitan Police officers were called to the scene at 8.25am and released protesters who had "locked on to each other".
Lanes were gradually reopened and Heathrow Airport said traffic was returning to normal shortly before 12.30pm.
Police said there have been no injuries.
Many are questioning the choice of location for the demonstrations, saying disrupting people's holiday plans will do little to help their cause.
Heathrow Airport warned travellers to avoid M4 Spur because "protest activity is causing delays".
Demonstrators lay in the road with their arms linked in front of a banner that read 'This is a crisis'.
Speaking to BBC Radio 4's Today programme on Friday, Black Lives Matter campaigner Adam Elliott Cooper said that, although "the issue isn't as pronounced as it is in the US, there is still a serious issue that does need to be addressed".
Dr Tony Sewell, from the Youth Justice Board, told the programme that 21% of young men under 18 in custody were black, although they only made up 4% of the population.
In contrast, 62% of men under 18 in custody were white, despite making up 82% of the population.
"That is a scandal, that's what we should really be looking at," Dr Sewell said.
In August 2011, Duggan was shot dead by police in Tottenham, North London. The shooting sparked mass riots in the capital, which lasted for days.
Black Lives Matter campaigners said in a statement on Friday: "We stand in solidarity with the families and friends of all who have died at the hands of the British state.
"We take action because justice has not been delivered through conventional means: the police, the IPCC, the courts or the legislature."
Similar protests were held in other parts of the country.
In Birmingham the A45 Coventry Road was blocked by demonstrators who were lying in the road. Five people were arrested for obstructing the carriageway.
West Midlands Police were called at about 7am to reports of a group of people in the road at Solihull.
Officers confirmed at about 7.45am the road had been cleared, with traffic returning to normal.
A video posted on Twitter shows one of the demonstrators arguing with commuters on the A45.
The Black Lives Matter campaigner tells drivers they should be "ashamed" of themselves for asking them to get out of the road.
In Nottingham city centre four protesters demonstrated by lying across the tram tracks.
Police were called to the junction of Parliament Street and Goldsmith Street at about 8am.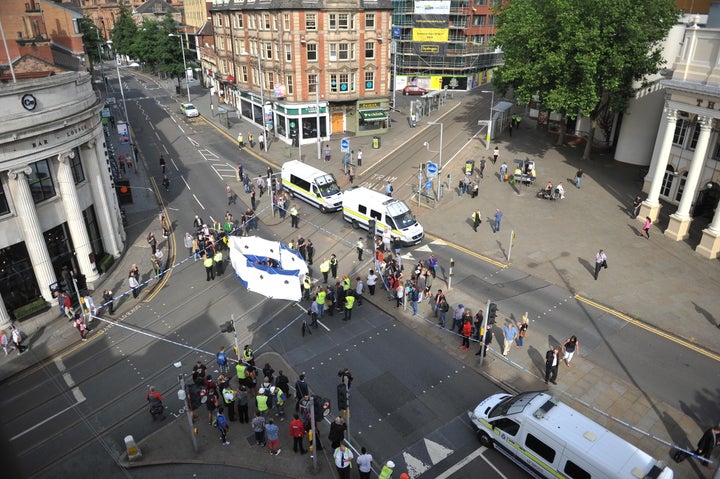 Nottinghamshire Police said in a statement: "Four people have been arrested on suspicion of causing the wilful obstruction of a highway following a protest in Nottingham city centre today."
Three women aged 30, 48 and 50 and a man, aged 30 were all arrested at the scene.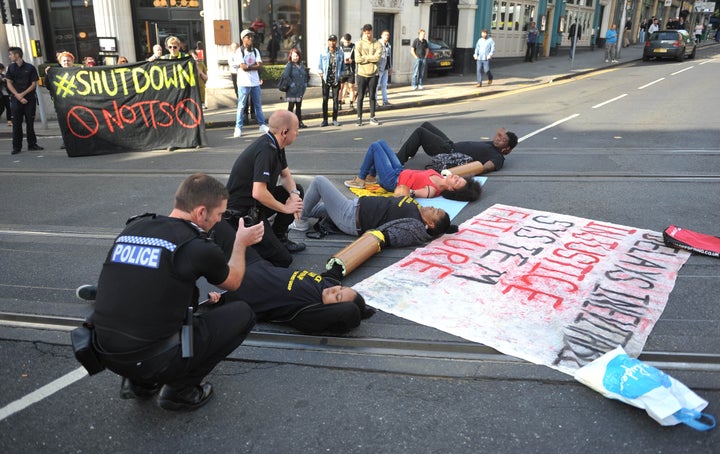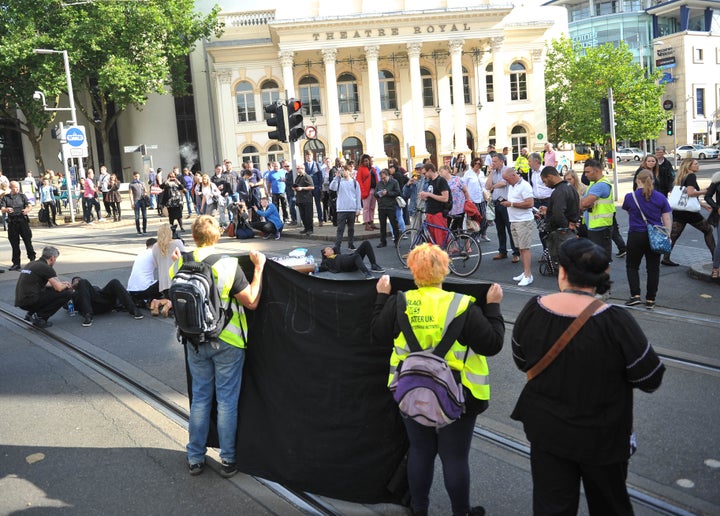 Police erected screens around protesters in Nottingham, Birmingham and London.
Officers said this was to prevent distractions for motorists, although some said it made it "look like a murder scene".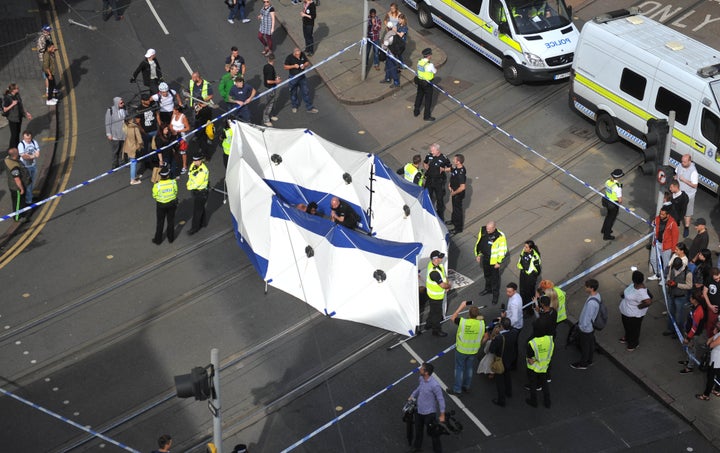 A protest is due to be held in Altab Ali Park, in London, on Friday at 6.30pm.
A Facebook page called 'Black Lives Matter #Shutdown LDN' has more than 700 people registered to attend.
UKBLM said it is time "now for a Black Lives Matter movement in the UK to #Shutdown a nationwide crisis of racism".
The group said their aim is to to "shutdown state-sanctioned racialised sexism, Islamophobia, classism, ableism, homophobia and transphobia".
The group said they were alarmed to see that in the UK:
Black people are overrepresented by more than a factor of two for deaths in police custody since 1998.
Black people are up to 37 times more likely to be stopped and searched than white people.
Black people are three times more likely to be arrested than white people.
Black people are 44% more likely to be detained under the mental health act than white people.
Black people are three times more likely to be unemployed than white people.
Black Caribbean pupils were almost four times more likely to be permanently excluded from school in 2009-10 than the school population as a whole.
There has been a 57% increase in reported racist hate crimes since Brexit vote.
3132 black and brown people have drowned in the Mediterranean in 2016 alone.
A video posted on Facebook by Black Lives Matter UK explains the reasons why activists are calling for a nationwide 'shutdown'.