Hundreds of people were trapped in cars and on trains overnight as sub-zero temperatures and blizzards hit large swathes of the UK.
The military was called to lead a major rescue operation on the A31 in Hampshire and M62 in Greater Manchester. Drivers have reported being stuck for 17 hours on the A303 between Somerset and Wiltshire.
Commuter Philip Brown said he endured more than 15 hours on a train with 50 people on board which became stuck overnight in the snow.
The 49-year-old, who was travelling from London Waterloo to Bournemouth, Dorset, when the train became stuck in the New Forest, said: "I didn't have any food or water, there were no buffet facilities on board, the train lost power and we lost heating and lights.
"I couldn't tell you how cold it was but it was cold enough to prevent you from sleeping. People were taking it in their stride although one guy was quite agitated. People were wrapping jumpers round their legs trying to keep warm."
Passenger Rob told BBC Breakfast that he boarded the train shortly after 6pm from Waterloo and had been stuck outside Christchurch for about five hours.
He said there had been "very little power" and no heating, adding: "Everyone is pretty cold and miserable."
He said there were between 50 and 100 people on the train.
"It has certainly been freezing temperatures overnight on board and there is still no power, no lights for a while either," he added.
Another passenger who had set off from London Waterloo shortly after 5pm towards Weymouth said they were left sitting in darkness 10 hours after the original departure time.
Shane White reported being stuck near New Milton on the 4.30pm service from Cardiff to Bournemouth until shortly after 7am.
A South Western Railway spokesperson said: "We sincerely apologise to passengers who were stranded on trains overnight. They have all been taken to Bournemouth station where South Western Railway staff are providing hot food and drinks.
"Hotel accommodation will be provided for those unable to travel onwards from Bournemouth.
"Our staff, together with Network Rail have battled tirelessly throughout the night to try to get trains moving in very challenging conditions, and will continue to do so throughout the day.
"We are advising passengers not to attempt to travel today, but for those who have already started their journey, we recommend they return as soon as possible.
"Due to the continued extreme weather conditions, we will be closing the train service early today. Please check our website for the most up to date information."
The weather is so severe that gritters are struggling to cope with the ice and snow.
Drivers travelling between Somerset and Wiltshire on the A303 have reported being stuck for 17 hours.
More than 100 cars and lorries were trapped on the stretch of road overnight due to a gritter getting stuck in the snow after it "slid sideways", one driver told the Press Association.
Thomas Hamilton, a 36-year-old sales director, was heading from his home in London to a friend's farm when he got caught in the queue.
"I left London at 6pm. We came to a standstill at the start of the A303 around midnight. There were lorries and cars in both lanes trying to get up the hill. We drove past a burned-out car, then we didn't move until 9:30am."
Hamilton, who was stuck only 10 miles from his destination, said he moved for the first time in hours this morning after "a soldier got out in a hi-vis jacket with another good Samaritan and moved lorries".
Wiltshire Council has described the traffic as a "major incident" and urged people not to travel in the area.
The military was called to help Hampshire Police deal with a "build-up of traffic" and stranded motorists on Thursday night.
The army was also called upon to assist clearing traffic from the M62 in Greater Manchester as the motorway was shut from junction 20 at Rochdale to junction 24 at Huddersfield.
A Greater Manchester Police spokeswoman said: "The strong winds will continue throughout the day and we ask that you don't travel unless it is essential.
"We are aware of drivers in the surrounding area who have been stranded for some hours due to snow and wind.
"The military have been deployed to support us and our partners in our efforts to clear the roads and get people to safety.
"We are filtering traffic off the M62 at junction 20 and diversions are in place although traffic is severely congested."
Meanwhile Avon and Somerset Constabulary has declared a major incident due to the severe weather.
In a statement, the force said the declaration had been requested by the Somerset Partnership NHS Trust, Yeovil District Hospital NHS Foundation Trust, Musgrove Park Hospital and was supported by South Western Ambulance Service, over concerns essential staff were unable to get to their place of work due to the snow.
Avon and Somerset Chief Superintendent Ian Wylie said: "A multi-agency response is now under way. We have well-rehearsed plans to deal with severe weather events and will do everything we can to keep people safe.
"We expect the disruptive snowfall and icy conditions to continue overnight and we're urging people to cancel their travel plans tomorrow morning and stay off the roads for all but essential travel."
Mr Wylie added: "This operation is being supported by a number of volunteers and voluntary agencies, including Avon and Somerset Search and Rescue, Exmoor Search and Rescue, Burnham Area Rescue Boat (which has 4×4 vehicles) and Wessex 4×4 Response, along with other emergency services and Her Majesty's Coastguard.
"If you are stranded, please stay in your vehicle, call for assistance and wait for help to arrive. Don't abandon your vehicle as it can hamper the efforts of emergency services."
It comes as a red weather warning – the second in 24 hours – has been issued for South West of England and south Wales as Storm Emma moves in, meaning the conditions could pose a risk to life.
The Met Office has urged those in affected areas to prepare for widespread heavy snow and very strong easterly winds, which will bring "blizzard conditions" and "severe drifting".
The weather front comes as the UK reels from the effects of the Beast from the East and just hours after a red alert for Scotland ended at 10am.
It was reported a homeless man had been found dead inside a tent in Nottinghamshire and a seven-year-old girl, believed to be a pedestrian, was fatally injured after a car hit a house in Looe, Cornwall.
Meanwhile, two male teenagers have been taken to hospital after they were trapped under a fallen conifer tree in Blackley, Manchester.
Earlier in the week, a 75-year-old woman was found dead in a snow-covered street in Leeds, and a 46-year-old man died after a collision involving a lorry and van on the A34 southbound near Tot Hill services.
A 60-year-old man who died after being pulled from the water at Danson Park, near Welling, south-east London on Wednesday, has been named by the Metropolitan Police as Stephen Cavanagh.
It comes as:
– Hundreds of schools were forced to close, including more than 125 in North Yorkshire and more than 330 across Kent, giving thousands of children a second snow day.

– The National Grid issued a "gas deficit warning" prompting fears of a shortage, but households were reassured domestic supplies would not be affected.

– Nearly all train operators warned of cancellations and disruption and hundreds of flights were cancelled.

– The Royal Air Force was drafted in to help relief efforts in snow-hit Lincolnshire.
The red snow warning issued for Wales and the South West, valid until 2am on Friday, is just the third issued in seven years.
It means "widespread damage, travel and power disruption and risk to life is likely", with concerns some rural communities could be cut off for days.
Amber warnings for snow and wind are also in force for much of the country until 10am on Friday.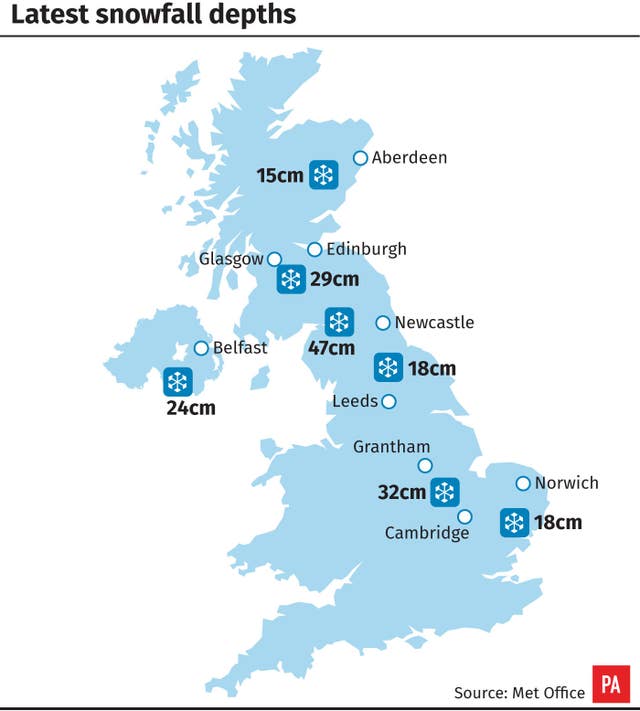 Snowfall will grow heavier through Thursday afternoon and evening with 10-20cm likely to settle widely across red alert areas, Met Office chief meteorologist Paul Gundersen said.
He added that freezing rain may batter parts of south-west England and Wales on Thursday night, potentially creating large, hazardous icy stretches as rain droplets supercool and freeze instantly upon hitting the ground.
The Irish Republic is also on red alert after being hit by the worst snow in 35 years, with Evelyn Cusack, senior forecaster with Met Eireann, warning 40cm of snow could fall in parts of the east and south.
Irish Taoiseach Leo Varadkar urged: "We are asking everyone to be at home and safe by 4pm today and to remain indoors until the severe weather has passed.
"I'll repeat, nobody should be on the roads after 4pm today and everyone should be in home or indoors by 4pm."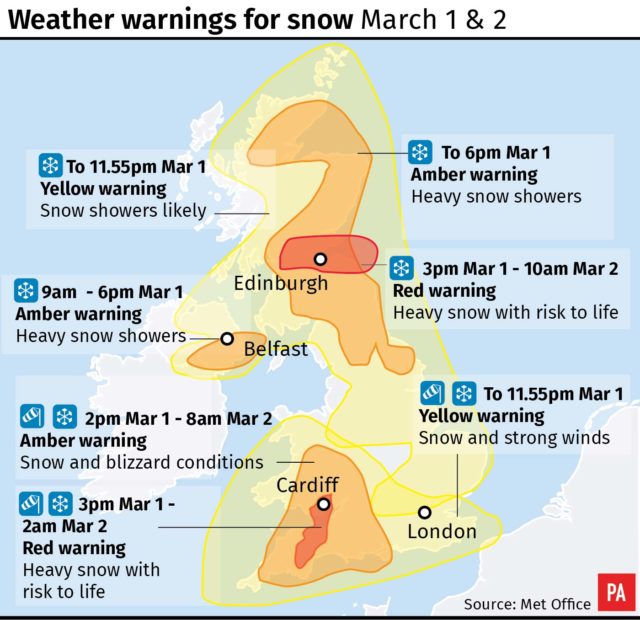 Motorists across much of the UK have been warned against driving unless absolutely essential amid icy conditions and poor visibility, with Lincolnshire police describing travel on "most roads" as impossible.
Scotland has faced the brunt of the extreme weather so far, with police warning the public against travel until the severe amber warning passes at 6pm.
Hundreds of motorists on the M80 near Glasgow reported being stuck for up to 13 hours, with some spending the night in their cars, and others abandoning their vehicles.
Around 1,000 vehicles were at a standstill, tailing back eight miles in both directions, Police Scotland said.
More than a foot of snow was dumped in some parts of the country – peaking with 34cm of snow in Wittering, Cambridgeshire.