As one fifth of Queer Eye's Fab Five, Bobby Berk knows all too well how important safe spaces are for queer people to feel protected. In the five years since it began streaming, he also has first-hand knowledge of how shows like the Netflix hit have encouraged the world to open up more, and truly understand the expansiveness of the queer experience.
The interior design expert is highly regarded by fans for the work he puts in, and the positive impact he has on the lives of "heroes", the word he uses to refer to those who appear on Queer Eye and are empowered to change their lives.
"Being a queer youth at one time in my life, I understand the importance of having that safe space that feels like home because for so long I didn't have a home," Bobby considers. "I've been homeless, I've lived in my car, I've couch surfed from house to house for a long time.
"It was very important to me to give our queer heroes a space that they felt really safe and secure in."
Bobby says he noticed this when he first met with "heroes" on Queer Eye, who initially struggled to "articulate what they wanted".
"They didn't know a lot about themselves, and they sometimes shy away from life, and we give them permission to not know and figure out by looking at the things that you love," he says.
"With our queer heroes like Skyler, Angel, and AJ, who have kind of been through what I've been through – the rejection in a place you thought was your home… Then all of a sudden, literally in a day, it's no longer that space."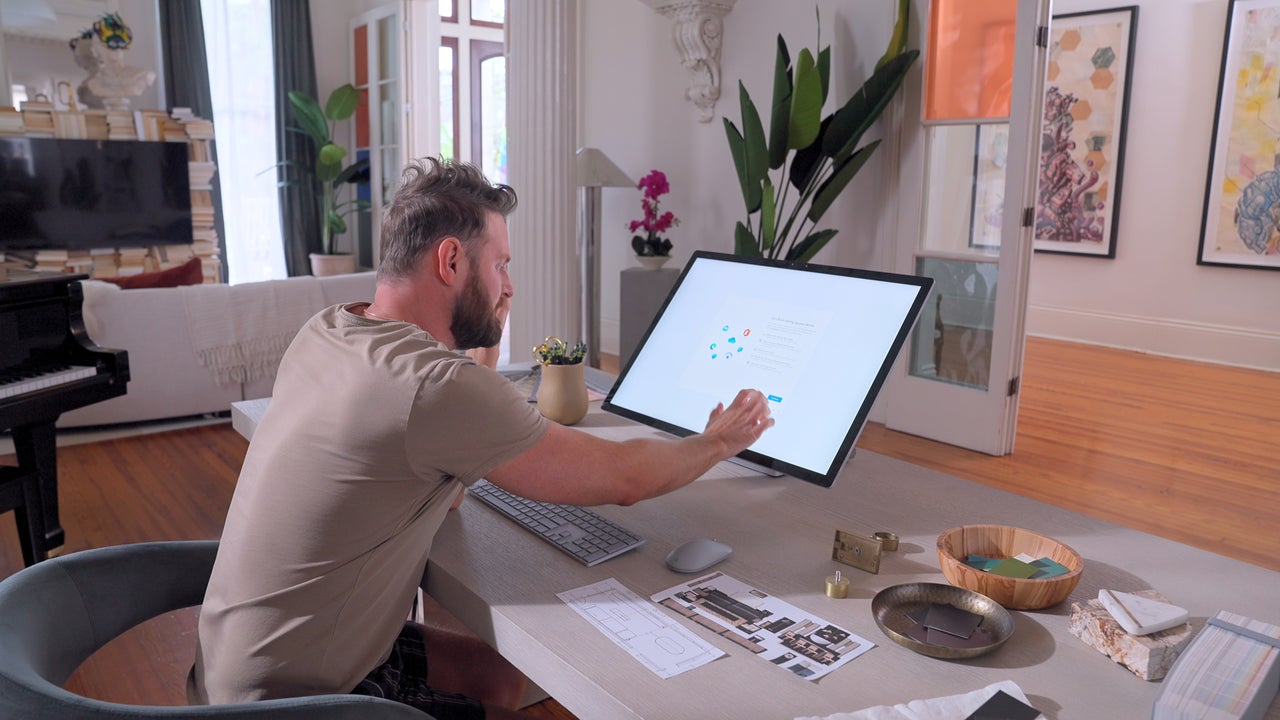 Before Bobby became an onscreen home design expert, the Texas-native's intrigue for the power of space-building was sparked at the age of five.
"After painting and changing all the interior of my childhood room from red to blue, I understood that the space that you surround yourself with really does affect your mood, and not just while you're in the space, but outside of the space as well," Bobby recalls. "I have been in tune with the way design affects your mental health since I was a little kid."
He sees this now when walking into a hero's home for the first time, with things that are symptomatic of how they really feel.
"A pile of laundry, dirty dishes… you really start to see how things add up. I had an epiphany thinking about how chaos around you creates chaos in your mind and that kind of catapults you," he says.
Bobby was 22 when the original version of Queer Eye – then titled Queer Eye For The Straight Guy – hit screens in 2003, and credits it as being transformative for him.
He says: "There was no real queer representation on TV, and up until that time I had been told over and over and over by family and work coworkers that I was never going to be successful. I was never going to be accepted in the real world outside of the queer community. I was never going to find happiness. So for me to see the original Fab Five as these five strong, successful, out and proud gay men who loved each other, who were adored by the world, you know, were in, you know, healthy relationships – it really changed my life in the way I thought about myself."
For the reboot, Michael Williams, who also produced the original, evolved the reality show with an even more positive lens.
In the past, Queer Eye's 2003 episodes were seen as controversial due to what some critics perceived as stereotypical portrayals of gay people. Now with the present incarnation running on its seventh season (plus one that took place in Japan), the new Fab Five are a far-reaching global alliance, and among the most prolific queer people on TV today.
"I really feel that our franchise is able to do this new take for a whole other generation because between 2003 and now, there has been a lot more queer representation on television." he says.
"I think the visibility of the original Fab Five was very different. This is not a knock on them because it is exactly what it needed to be in 2003 – it was just getting gay people on television, just letting people know, 'Yeah real gay people exist'. But it was fine because they were decorators, they were fashion people and they were hair stylists and cooks. The world could wrap their head around these stereotypical ideas of what gay people are. But if they had tried to talk about their spouses or the things that they went through, the world would not have been able to accept that.
"And so I think that they handed the torch to us and we're now able to really talk about real life issues and situations that, again, I think aren't just helping other queers, but really helping create a new whole generation of allies."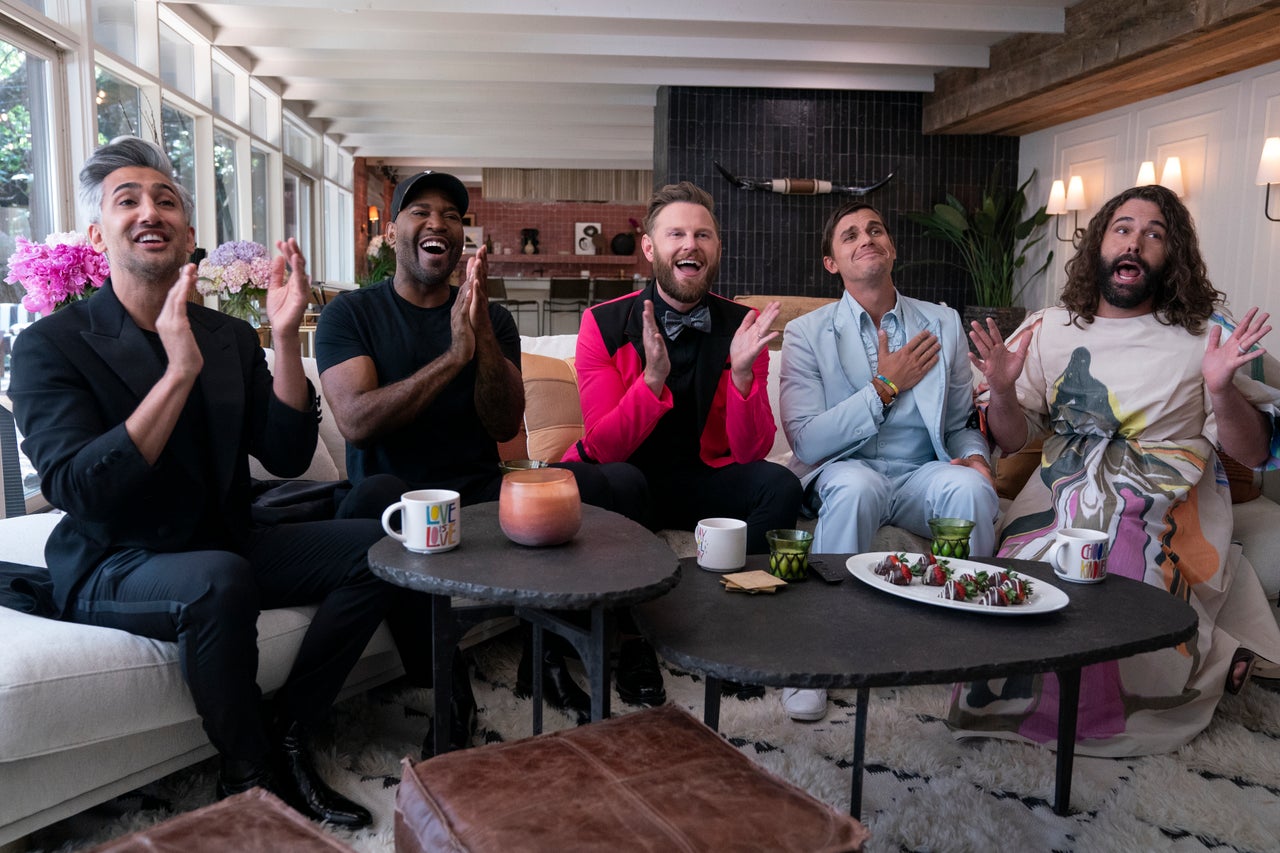 The process of being selected as a coveted member of the Fab Five for the new franchise was not an easy one for Bobby.
In late 2016, the home developer and interior design connoisseur was running anxiously around Los Angeles seeking a bright-coloured suit that he could wear to a callback, after impressing producers with his initial Queer Eye audition. He ended up settling on a fuchsia tuxedo, which he wore to a what turned out to be 40-person mixer, where his job was to show up and prove his charisma to the Queer Eye producers.
"I was super sick that day and I was downing Sudafed and DayQuil to try to keep myself awake and tried my best to not hack up a lung," Bobby responds, admitting the cards weren't exactly in his favour on the big day.
"I waited around all day, and then we were doing speed dating with a three- table set- up, and each table had a mixture of Netflix executives, and they had these fish bowls with questions. I guess some people were having a hard time opening up and talking, but luckily I wasn't. I waited around for 15 hours to do three, five-minute speed dating rounds with casting people."
The next day, he was tasked to run through home style tests with Netflix executives. Over the next five days, more participants were filtered in, and the last five standing were: Jonathan Van Ness, Antoni Porowski, Karamo Brown, Tan France and Bobby Berk. The final test was acting out a lifestyle makeover for the show's leading producer, Michael Williams – something Bobby describes as being a bit of a catch-22.
"I'm like, Wait, you want me to walk in here and, like, pick apart my – hopefully – future boss' house?!" he recalls. "How am I supposed to come in here and rip his house apart when I also want him to like me?"
He need not have worried, however, as the quintet passed the assignment with flying colours which led to the culmination of the Fab Five, who have gone on to become famed for the unique skills they bring to the table. For Bobby, his USP is the fact his designs are more about making people happy than following trends.
"Do what makes you happy," the home expert firmly states is his design mantra for personalising the homes of Queer Eye's "heroes". "Your home is your sanctuary and your home should recharge you."
He explores this further in his new book Right At Home: How Good Design Is Good For The Mind – due for release later this year – in which the attuned interior wiz uses his Queer Eye makeovers to show off how one can transform their abode into a safe and mentally-stimulative space without breaking the bank.
"A lot of designers focus just on making a home look aesthetically pleasing and I want to make sure that a home functions for you first and then I worry about making it aesthetically pleasing," he says, adding he wanted his book "to be something that people could really learn from and use to change their lives".
When putting together his own makeovers on Queer Eye, the team he works with will source through local materials and make sure to stay true to every hero's individual personality and act accordingly to their current home's state.
Divulging just how fast the behind-the-scenes turnaround actually is for the Queer Eye crew, he shares: "I used to work with contractors and carpenters to renovate homes as quickly as a week per episode. Now it has been shortened to three days due to the cast's scheduling." Because of Karamo's new talk show, "there were some weeks where we would film things for three different episodes in one week," Bobby explains, admitting it was "hard" to revamp so many houses in such a short space of time.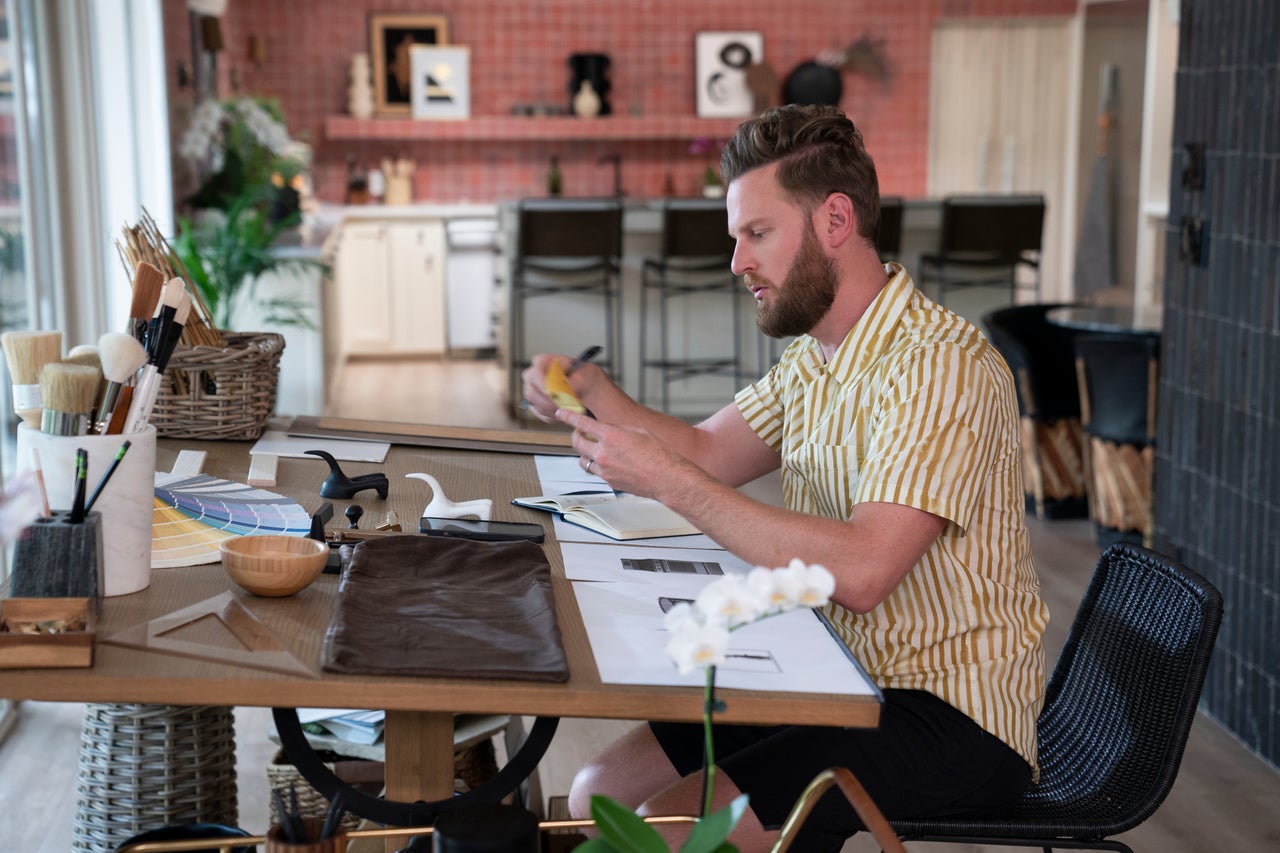 Bobby's prized project over the seasons was in the humble town of Harrisonville, Missouri. There, he helped ranch owner Matt Moreland's dairy farm become "a farmhouse full of plaid and reclaimed woods", so that he could continue to host extravagant farm-to-table dinners.
He also fondly remembers the fourth episode of the opening season, where he remodelled a reluctant AJ's apartment into an open layout downtown loft. "Funny story by accident, AJ decided to move in with his boyfriend and no longer needed the space and it sold so quickly off the market," Bobby mentions to deter any poor assumptions being made. "I was happy I added to his property value!"
With multiple spin-offs, consecutive seasons, and more than 50 episodes now under the Fab Five's designer belts, Queer Eye's impact is universal and can be felt worldwide.
The reality show has travelled throughout the US, including conservative midwest towns, to the metropolis corners of Tokyo, to help people who need it find themselves again. What makes the Netflix series so successful is the way unlikely people are exposed to each other and are compelled to connect which Queer Eye proves is innate human nature.
Bobby recalls one particular moment he realised the tangible impact the show was having during a press trip to promote the show in the UK in 2018 when the Fab Five were asked to introduce Olly Alexander's Years & Years on stage at Radio 1's Big Weekend in Swansea.
"We're sitting in like the green room tents and we're hearing Ed Sheeran come on. Some of the biggest celebrities in the world and you'd hear the crowd cheer, and whoa, they were so excited! But then we went out on stage and like 85,000 people lost their minds," he remembers.
"I went down to the front of the stage to watch Olly perform and I just remember standing there, bawling at the effect that the show was having on people – and how they were relating to what we were doing. And not just in a way like, 'Oh yeah, that's a fun show I like to watch,' but in a way it was really affecting people and their lives emotionally, physically and mentally."
"That was a really special moment," Bobby adds.
Five years on, the juggernaut that is Queer Eye shows no signs of slowing down, and with Bobby's own unique perspective and talents, it's fair to assume that the show will only continue to expand the way we all live and love.
Queer Eye is streaming on Netflix now. Right At Home: How Good Design Is Good For The Mind by Bobby Berk is released on 12 September. This interview has been edited for clarity and length.