The prime minister confirmed at a snap Downing Street press conference on Saturday that the second lockdown will begin on Thursday and last until December 2.
All pubs, restaurants, hospitality venues, non-essential retail and leisure facilities will close during that time, though manufacturing and construction can continue, and schools, colleges, universities and essential shops will stay open.
The government has confirmed that the emergency wages scheme will continue, with the cut-off set at 80%.
The prime minister apologised for the strain the lockdown would put on hard-pressed firms, still reeling from previous restrictions, adding: "I'm under no illusions about how difficult this will be for businesses which have already had to endure such hardship this year and I'm truly, truly sorry for that – and that's why we're going to extend the furlough system through November.
"The furlough system was a success in the spring, it supported people in businesses in a critical time. We will not end it, we will extend furlough until December."
He said the measures would be time-limited from November 5 to December 2, when restrictions would be eased and regions would go back into the tiered system.
Johnson added: "Christmas is going to be different this year, perhaps very different. but it's my sincere hope and belief that by taking tough action now we can allow families across the country to be together."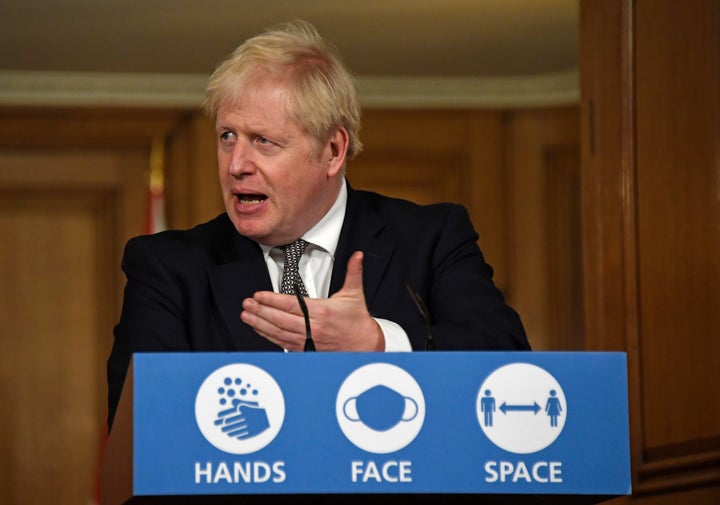 The 80% matches the rate announced during the first lockdown in March and is a higher percentage than the 67% chancellor Rishi Sunak set out for areas subject to tier 3 restrictions.
Johnson will speak to MPs on Monday and there will be a vote in parliament on the new measures on Wednesday.
At the meeting, chief medical officer Chris Whitty and Vallance told ministers that every one in every 100 people in England have Covid, compared with one in 2,300 in July and one in 200 at the beginning of October.
The scientists also warned that the NHS would run out of critical care beds by early December, including the beds at the emergency Nightingale hospitals and even if all non-emergency operations were cancelled, if drastic action was not taken quickly.
Frances O'Grady, general secretary of the Trade Union Congress, welcomed news of the furlough schemed extension, but told HuffPost UK the self-employed also needed support.
She said: "The government should have acted decisively much sooner and now families face a grim winter.
"The extension of the furlough scheme is long overdue and necessary, but ministers must do more to protect jobs and prevent poverty.
"Furlough pay must never fall below the national minimum wage. We need a boost to Universal Credit and government should not abandon the self-employed. And we will not control the virus unless the government fixes then test and trace system and the scandal of workers asked to self isolate without decent sick pay."