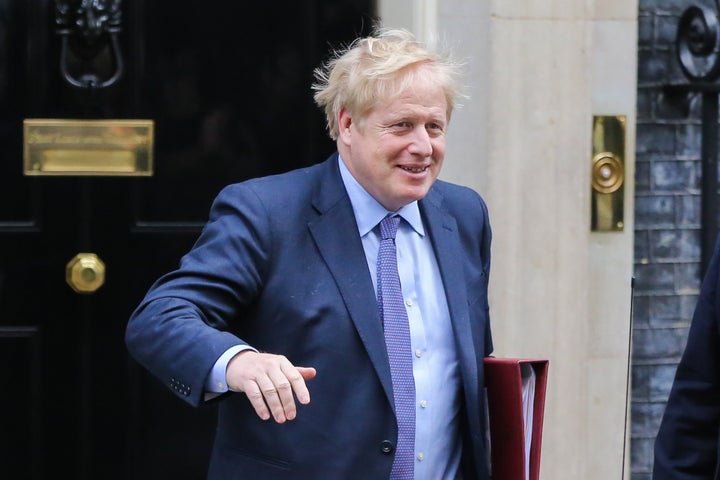 Sign up now to get The Waugh Zone, our evening politics briefing, by email.
Reshuffle rumours
Boris Johnson will be spending all weekend weighing up a game of multidimensional chess. He'll need to make the right moves to deliver for the country and keep the Tory party happy.
No, it's not Brexit but the cabinet reshuffle which is expected next Thursday.
And that of course means Westminster is awash with gossip, speculation and the kind of do-it-yourself lineups usually reserved for football fans the morning before a big game.
Some themes are however emerging. People don't expect a big Dominic Cummings-inspired reorganisation which would have seen the cabinet dramatically cut in size, given the paucity of Whitehall leaks about preparations.
Several insiders feel it would be a waste of the first year in office of a government with a huge majority and could actually hurt Johnson by reducing his power of patronage.
A few weeks ago Tory MPs were counting only three or four cabinet members as safe and predicting a "Valentine's Day massacre".
But these plans also appear to have been scaled back, although given recent rows between the Treasury and No.10 cautious sources are not ruling out a brutal night of the long knives to rival Johnson's first reshuffle.
A major health warning is required as we discuss names, but plenty are predicting a difficult day for women, with Theresa Villiers' and Andrea Leadsom's names repeatedly coming up in discussions about who's facing the chop.
But there is much talk of talented junior ministers such as Lucy Frazer and Victoria Atkins winning promotions to fill the gaps.
Penny Mordaunt is being tipped by some for a cabinet return six months after her brutal sacking.
But she is still distrusted by some in No.10 after apparently stringing Johnson along before backing Jeremy Hunt in last summer's Tory leadership race.
Trade secretary Liz Truss meanwhile will be feeling better about her position after being namechecked in Johnson's big Brexit speech on Monday and getting good coverage for her trade plans, even if the PM called her "Lynne".
In terms of the men, bombastic attorney general Geoffrey Cox is being tipped for the axe as ministers grow tired of what they see as his grandstanding in cabinet. Frazer could be in line for his job.
Defence secretary Ben Wallace is a long-term friend of Johnson but was vocally opposed to the PM's decision to grant Chinese tech giant Huawei a role in British 5G infrastructure and has been mentioned in dispatches as a potential candidate for the sack.
Much intrigue also surrounds the futures of Michael Gove and Rishi Sunak, who are certainly safe and could get big jobs, although the Guardian's Rowena Mason has reported that the latter could be staying put as Treasury chief secretary.
Former Brexit secretary Stephen Barclay is almost certain to return to the cabinet having helped lead successful negotiations on the withdrawal agreement before unceremoniously losing his post when the Department for Exiting the EU (DExEU) was scrapped last week.
He is being tipped to replace Villiers at Defra, with his knowledge of Brexit detail likely to prove valuable in the department most affected.
Someone will have to replace Baroness Nicky Morgan at culture after she revealed this week she was definitely on the way out.
Lower down the ranks there is some fierce jockeying and a tricky job for the PM, who has to wrestle with effectively two "new intakes" of MPs from 2017 and 2019.
One senior Tory MP told me Johnson must not fast-track bright new things who won seats in Labour's "red wall" straight into parliamentary seats, warning it would create "seething resentment" towards the two or three that get special treatment.
Some 2017ers meanwhile feel the newest intake is "very ambitious", noting that some have been giving "audition" speeches without notes in the chamber and unusually holding hustings for select committee chairs like Hunt.
Many are hoping for a "measured" approach, with 2017ers being promoted and 2019ers taking over their PPS roles, with an "up or out" policy for junior ministers from 2015 or earlier.
Whatever happens, the shape of Johnson-ism and its protagonists should be a little clearer this time next week.
Quote Of The Day
"You can find the BBC at times enraging, arrogant and extravagant. But a weaker BBC would mean a weaker British culture – and no Conservative can seriously want that."‌
– Tory former cabinet minister Damian Green fires a shot across Boris Johnson's bows.
Cheat Sheet
Workers should have the freedom to switch off digital devices and not face job-related contact outside of normal hours, Rebecca Long-Bailey has said.
A former Conservative activist has been jailed and expelled from the party after sending a malicious message threatening senior Labour MP Yvette Cooper with harm.
The government is investigating 69 suicides that may be linked to its overhaul of welfare – but the National Audit Office thinks there may be more.

Tracy Brabin has raised £2,000 – and counting – to help a charity empower young women by auctioning the off-the-shoulder dress that drew sexist criticism when she wore it in the Commons.
What I'm Listening To
Americast with Emily Maitlis and John Sopel – BBC