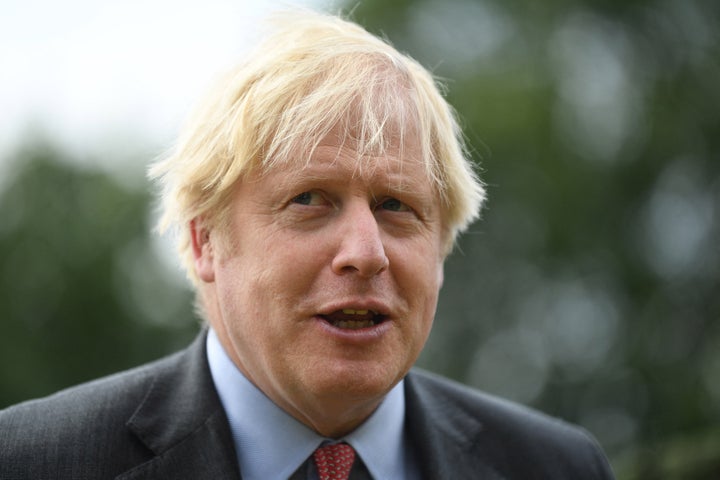 Boris Johnson has been formally warned by the UK statistics regulator about his claim that child poverty has fallen over the past decade, HuffPost UK can reveal.
The Office for Statistics Regulation (OSR) has written to Downing Street to raise Johnson's use of statistics in prime minister's question time last month.
The PM declared "we are also seeing fewer households now with children in poverty than 10 years ago".
The OSR said that it had received complaints about the misleading nature of the claim, adding that on some measures child poverty had increased in recent years, not decreased.
"It would help aid public understanding if statements concerning child poverty were clear about which measure is being referred to, particularly where other measures present a different trend," the watchdog said in its letter to No.10's head of data science.
Campaigners have long warned that Johnson deliberately makes misleading statements about the poverty statistics.
The Department for Work and Pensions (DWP) uses both relative poverty and absolute poverty measures, before and after housing costs.
Relative poverty covers households which have "less than 60% of contemporary median income".
Absolute poverty is defined as households which have less than 60% of the median income in 2010/11 "held constant in real terms".
Relative child poverty after housing costs rose from 3.6m when the Tories took office in 2010 to 4.2m in 2018/19.
But Johnson relies on the "absolute" child poverty measure which has dipped in 2019/20 to fall just below the 2010 figure.
Anna Feuchtwang, Chair of the End Child Poverty campaign and CEO of the National Children's Bureau, said: "The prime minister's misuse of child poverty statistics is neither fair or accurate.
"It's simply not right to play down the misery of families swept into poverty and hide behind different statistical measures when answering difficult questions. The simple fact is that even by the government's own measures, child poverty is rising and we need urgent action rather than game-playing by policymakers.
"The Office for Statistics Regulation has written to the prime minister again, calling for him to be clear on which measure of child poverty he is using in his statements to parliament.
"We hope this will prompt greater recognition from across government that child poverty is a real and present blight on many young lives."
The latest government statistics show that under New Labour, relative child poverty decreased, but since 2010 has flatlined and then increased.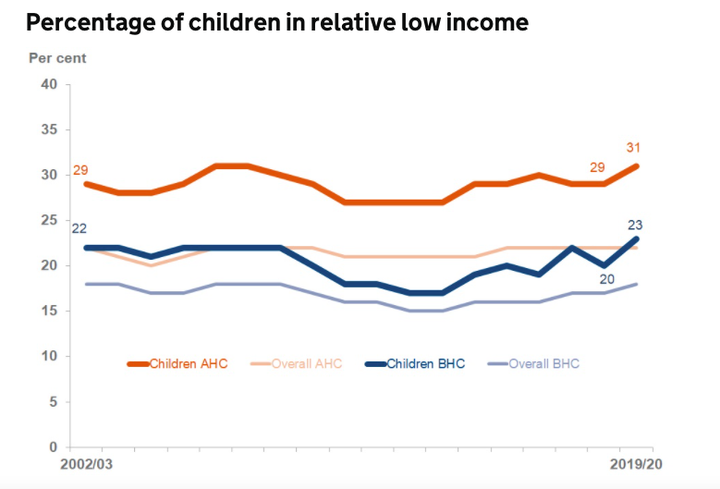 On the measure of absolute child poverty after housing costs, the percentage declined significantly under New Labour, but levelled off in recent years before falling slightly just before 2020.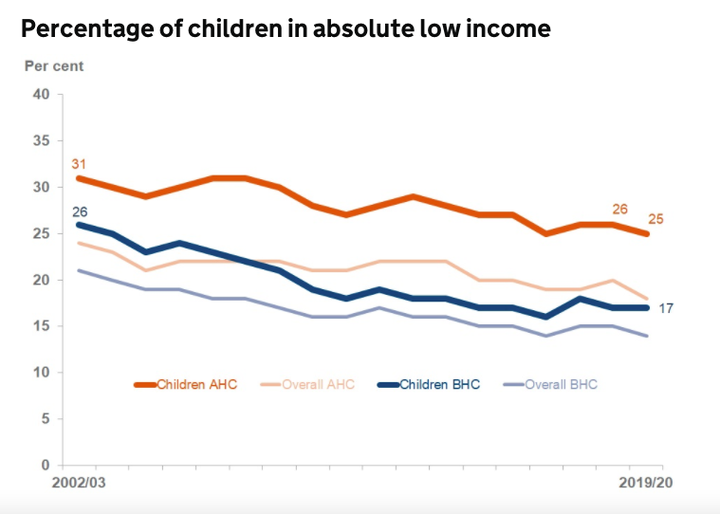 A government spokesperson said: "The prime minister was referring to absolute child poverty statistics between 2009/10 and 2019/20.
"These statistics show that the number of children in the UK living in poverty fell both before and after housing costs were taken into consideration."
In its latest letter, the OSR's Ed Humpherson suggested that he had decided to issue a fresh warning because the PM had continued to ignore previous attempts to engage with Downing Street.
"Over the last year, a number of concerns have been raised to us regarding the prime minister's use of statistics on child poverty and in each case, we have brought this to the attention of the briefing team in No.10," he wrote.
The OSR wrote in a blog: "Measuring poverty is complicated. There is no wrong measure but there is a wrong way of using the available measures – and that is to pick and choose which statistics to use based on what best suits the argument you happen to be making.
"It is important to look at all the data available and set the context when referring to statistics on poverty."
Current statistics only cover poverty before the Covid pandemic and the numbers are estimated by some researchers to have risen sharply.
Earlier this year, the Resolution Foundation forecast that the situation would get even worse, pointing out that higher unemployment and the removal of a £20 uplift in universal credit could lead to 400,000 more children ending up on the breadline, the biggest year-on-year rise in poverty rates since the 1980s.
Here is the letter in full from the UK Office for Statistics Regulation to Laura Gilbert, Director of Data Science, 10 Downing Street:
Dear Laura

Use of official statistics on child poverty in Prime Minister's Questions

Over the last year, a number of concerns have been raised to us regarding the Prime Minister's use of statistics on child poverty and in each case, we have brought this to the attention of the briefing team in No.10. Further concerns were raised to us following Prime Minister's Questions on 26 May, where the Prime Minister said that "We are also seeing fewer households now with children in poverty than 10 years ago."

As the Office for Statistics Regulation highlighted last year in a blog and more recently in our review of income-based poverty statistics, measuring poverty is complicated and different measures tell different parts of the story.

We are pleased to see some improvement in the way official statistics on child poverty are referred to in these statements. However, it would help aid public understanding if statements concerning child poverty were clear about which measure is being referred to, particularly where other measures present a different trend.

I am copying this letter to Alex Jones, Head of Data and Transformation for 10 Downing Street, and Steve Ellerd-Elliott, Head of Profession for Statistics at the Department for Work and Pensions.

Yours sincerely

Ed Humpherson
Director General for Regulation