The Royal College of Midwives (RCM) still recommend exclusive breastfeeding for the first six months of a baby's life as "the most appropriate method of infant feeding" and their recommendations about bottle-feeding are not too dissimilar to their last position statement on infant feeding, published in 2015, which states that if after being given information and support on breastfeeding, a woman decides not to breastfeed or to give formula as well as breastfeeding, then "she needs the best possible evidence-based information and positive support".
However, crucially the sentence "her choice must be respected" has been added and while previous advice focused on enabling mums to "minimise the risks of formula feeding", the new guidance states:
"Those parents of infants that are formula-fed, whether exclusively or partially, should be provided with the information to enable them to do so safely and be given support to encourage the bonding process."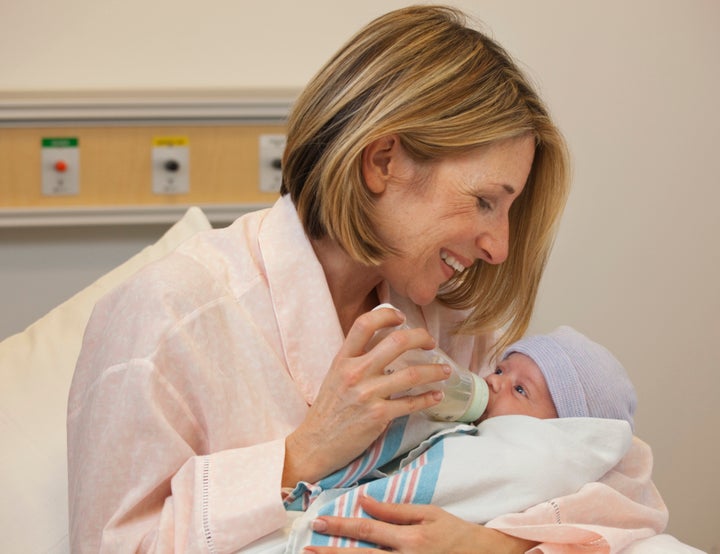 Mum-of-two Holly Leppard says she hopes every mother can feel "proud that they are using a method of providing nutrition in a way that suits their family, whether it's through choice or necessity. More importantly, every mother should be supported and respected."
When bottle-feeding her children Leppard has experienced negative reactions from maternity staff, friends, family and even complete strangers.
"I've experienced the 'why can't you breastfeed?' questions. I've experienced the looks off other women when I got my bottle out in a restaurant, not my breast," she explained. "I've experienced the "it's such a shame you couldn't pass on your antibodies" comments. There is judgement out there and I believe it stems from the pressurised breast-only drives and campaigns that can leave bottle-feeders sidelined.
"The literature and general conversations surrounding infant feeding is "breast is best". This can result in mothers who use other methods of feeding to feel inferior and guilt-ridden. Breast is not always best and this blanket statement and assumption is damaging many mothers. We need individual care and education for individual mothers and babies."
RCM's chief executive Gill Walton explained that the new guidance will help midwives give new mums the information and guidance needed to bottle-feed their babies if they choose to do so. "We know that every woman wants the best for her baby and we want to be able to empower our members to support women to be the best they can be and enable them to make decisions that are right for themselves and their babies," she said.
The NCT is backing the RCM's new position statement. Abi Wood, head of campaigns said: "We believe that parents need information and support for breastfeeding and bottle-feeding and it's up to them to decide how to feed their babies, so we wholeheartedly support the RCM's new statement which tallies with our position."
Related