Bowel cancer rates are rising among young adults, according to two new studies, prompting fresh calls for action from a leading bowel cancer charity. Deborah Alsina MBE, chief executive of Bowel Cancer UK, said it is unacceptable for doctors to tell people under 50 who present with symptoms of the disease that they are "too young" to have it.
Bowel cancer is the UK's second biggest killer, despite the fact that it can be prevented and, if caught early, cured. Here's how people can take charge and reduce their risk, regardless of their age.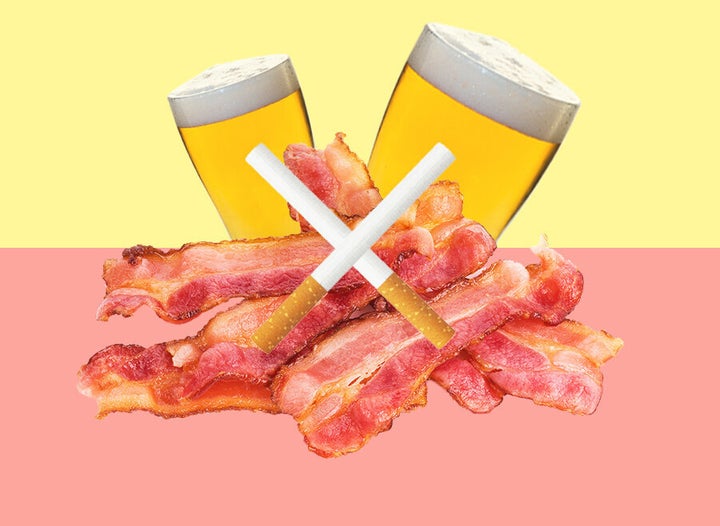 1. Avoid Processed Meat.
Eating 50g of processed meat a day (one sausage or two rashers of bacon) increases the chance of developing bowel cancer by nearly 20%.
Bowel Cancer UK advises people to avoid processed meat completely and limit their red meat intake.
2. Eat Fibre.
People should eat plenty of fibre from wholegrains, pulses, vegetables and fruit, the charity said. In the UK, most people do not eat their recommended intake of fibre – the average intake is 17.2g per day for women and 20.1g per day for men, according to The British Nutrition Foundation. The recommended average intake for adults is 30g per day.
Some ways to increase fibre intake include:
Choose a higher-fibre breakfast cereal such as plain wholewheat biscuits (like Weetabix) or plain shredded whole grain (like Shredded Wheat), or have porridge.
Choose wholemeal or granary breads, or higher fibre white bread.
Consume potatoes with their skins on, such as a baked potato or boiled new potatoes.
Add pulses like beans, lentils or chickpeas to stews, curries and salads.
Eat plenty of veg with your meals.
Have some fresh or dried fruit, or fruit canned in natural juice for dessert.
Snack on fresh fruit, veggie sticks, rye crackers, oatcakes and unsalted nuts or seeds.
3. Try To Maintain A Healthy Body Weight.
Being overweight or obese is the second biggest preventable cause of cancer in the UK – more than one in 20 cancer cases are caused by excess weight, according to Cancer Research UK.
A person's cancer risk increases the more weight they gain and the longer they are overweight for. It's thought one in four adults in the UK is obese.
4. Exercise Regularly.
People who are more physically active have a lower risk of bowel cancer, according to Bowel Cancer UK. Being active can also help you maintain a healthy body weight and makes you feel good, as it releases feel-good hormones.
5. Quit Smoking.
Smoking is a risk factor for multiple types of cancer and accounts for 7% of bowel cancer cases in the UK. Studies have shown that bowel cancer risk is up to 21% for cigarette smokers compared with people who have never smoked.
6. Reduce Your Alcohol Intake.
Bowel cancer risk is 17% higher in people who consume around 1.5 to 6 units of alcohol per day, according to Cancer Research UK, and 33% higher in those who consume more than six units of alcohol per day, compared with non- or occasional drinkers.