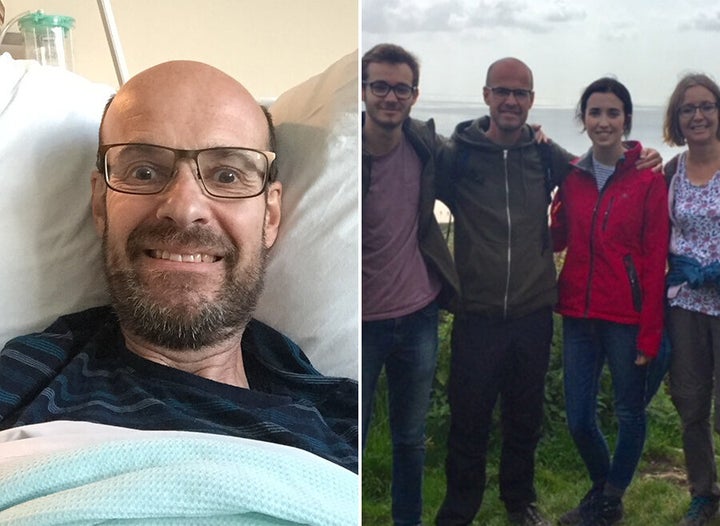 I was 52 when I diagnosed with stage 4 bowel cancer in June 2017, Just weeks after first visiting my GP with mild stomach pains, I was having emergency surgery to remove a large tumour from my bowel and I was given a stoma (an opening in my abdomen through which my poo passes into a bag). It was a lot to take in.
Having stage 4 means that the disease has spread beyond the bowel, in my case into my liver and lungs. It's incurable with fewer than 10% of stage 4 bowel cancer patients living for more than five years. I'm nearly two years in already!
This April is Bowel Cancer Awareness Month and though it's the UK's fourth most common cancer, many people don't know much about what it's like to live with the disease. And to be honest, before my diagnosis, my knowledge of cancer didn't extend much further than chemotherapy, side effects and hair loss. But since advanced bowel cancer reared its ugly head I've realised there is so much more to living with the disease than that.
The only direction is forward
Advanced bowel cancer patients occupy this awkward space, sandwiched between their pre-cancer life and probable early death. There is no going back. I try to make life as constructive as possible through involvement with Bowel Cancer UK and Velindre Cancer Centre in Cardiff, where I'm treated, fund raising and increasing awareness of the disease. As well as walking, reading and drinking coffee in local cafes, I write a blog and have become active on social media. Articulating my feelings about my illness has been incredibly therapeutic and hopefully it helps spread awareness of bowel cancer.
The 'positive attitude' thing is misleading. I believe it places undue pressure on people – surely, it's permitted to have negative feelings when dealing with such a brutal disease? I'm fortunate to have the support of fantastic family and friends and they are a huge help in keeping me mentally strong, but tears are part of it too and they're not a sign of weakness!
Before my diagnosis I had a life expectancy of perhaps 30 or more years. But I've had to recalibrate and think in terms of possibly only a matter of months. That takes some getting used to. But bizarrely that's been quite a positive change for me, forcing me to savour and enjoy the present moment.
Sharing with others is vital. Through social media and my blog I've encountered and been fortunate to befriend many others living with cancer. It's such a benefit to be able to share information about coping with bowel cancer, providing moral support or simply sharing a joke. I try to be frank about my illness as increasing awareness and demystifying aspects of the disease, such as having a stoma, are ways in which I can hopefully make some positive contribution.
Often when you have bowel cancer, you also have a stoma. Either permanent or temporary, many people get them after going through operations as part of their treatment. I have one, and that's why I can say with authority that stomas are nothing to fear.
My operation was an emergency so the first I knew about having a stoma was when I woke up! At first, I was totally consumed with how I could possibly live with my new belly bottom, never mind the cancer. Of course, nobody wants one, but they are amazingly easy to live with and the bottom line (no pun intended) is that without it I'd be dead!
I HAVE cancer. I am not cancer.
Cancer patients don't all look and feel ill. I'm fortunate that apart from when the chemo side effects kick in, I generally feel good.
I don't regard myself as 'suffering from' or 'battling' cancer. Being able to lead a reasonably full and active life, I prefer to think of myself as 'living with' cancer, and for now at least, living pretty well!