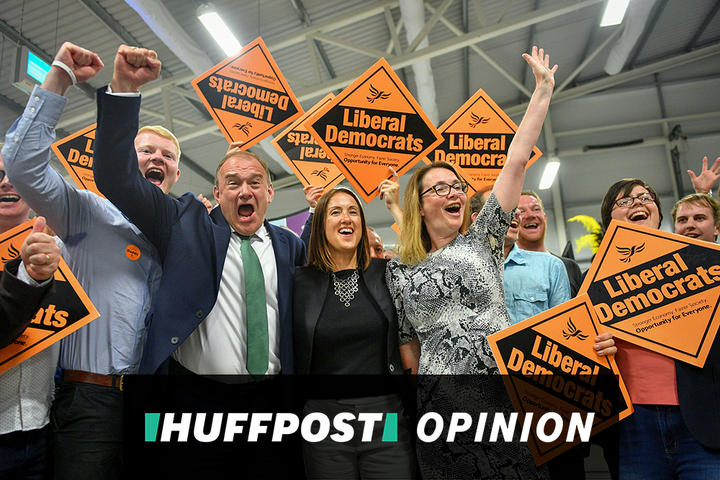 Jane Dodds' victory in Brecon is thanks in no small part to the leadership shown by my party, Plaid Cymru, in deciding not to stand a candidate in the by-election, meaning the pro-Remain vote was able to coalesce around a single candidate.
A difficult decision? Yes. The correct decision? Certainly.
It's no time for traditional triumphalism. Rather, it is a time to congratulate our partners and to then to draw breath and consider what might have happened in the absence of our historic cooperation.
"I am urging all parties who want to stop the Boris bandwagon from carrying us all, along with our communities and industries, off to catastrophe to work together, as we did in Brecon and Radnorshire."
Consider, also, that our opponents in the Conservative and Brexit parties – who would happily see untold damage done to Wales by a crash out Brexit – may be learning some hard lessons about the value of alliances in the wake of this result, and they may be more strategic in their joint approach to any future votes.
In short, the cross-party approach adopted by Plaid Cymru, the Liberal Democrats and the Greens in this particular by-election should be seen not as a one-off response to political circumstances but, rather, as a blueprint for the years ahead.
We know that an electoral event – a snap general election, a vote of some sort – is very likely within a few months. We know also that, like it or not, Brexit is going to be the deciding factor for many, if not most, voters.
That is why I am urging all parties who want to stop the Boris bandwagon from carrying us all, along with our communities and industries, off to catastrophe to work together, as we did in Brecon and Radnorshire.
We live in serious times, which require us to put party politics aside in the national interest. For Plaid Cymru, not standing a candidate in a Welsh election would never be an easy decision, but it was the right decision – in the Welsh national interest – because we are committed to doing everything we can to maintain Wales' place in the European Union.
Campaigning organisations such as Best for Britain are also pushing politicians to put party divisions aside and fight against Brexit. Indeed, Best for Britain has been inundated by voters signing up to fight Brexit, in all its many guises. Like me, they want politicians from pro-EU parties to join forces to ensure an unholy alliance between Boris Johnson and Nigel Farage doesn't crash the UK out of Europe.
More than 100,000 people have now signed Best for Britain's petition calling for parties to do just that.
The harsh truth is that the British political system is not fit for purpose. Westminster has been unable to find a way through the myriad challenges of Brexit – in no small part due to the Tories' obsession and Labour's endless prevarication.
In Wales, more and more people are viewing the daily tragicomedy that is Westminster politics and coming to the conclusion that a better way of doing things must be possible.
Of course, we in Plaid Cymru believe that Wales' brightest future is as an independent nation at the heart of Europe – that independence is the only durable answer to the challenges we face as a nation.
I believe that independence is inevitable. But while we still operate within the United Kingdom, we will continue to highlight the value of political alliances in giving a voice to those who might otherwise go unheard, and in giving parties like ours the firepower to take on those broken behemoths of British politics.
The future, of course, is not all about Brexit – but sadly, Brexit would impact all our futures. It impacts our institutions – the NHS, our shattered political system, the Armed Forces which have been so central to Brecon for more than two centuries.
It impacts on our industry, from beleaguered sectors such as car manufacturing to bedrock employers such as aerospace – both of which have been key employers in Wales.
It impacts our agricultural sector, and those who farm sheep in the hills of Powys and beyond are rightly concerned about the fatal blow Brexit could cause to their businesses.
And that's why our pro-European alliance in Brecon is so important: it's about protecting all our futures, whatever our political leanings. It's about recognising the value of short-term political sacrifice in the national interest and sparking a new spirit of cooperation and a new, better way of doing politics. And, yes, I do expect the Liberal Democrats to have to make sacrifices as well.
And it's about championing the idea of unity over division, partnership over tribalism, alliance over antagonism.
In politics, in Europe, even on this island, it's cooperation – cross-border, cross-party, as equal partners – that is the key to success. One Welsh by-election may yet unlock the door to a better future for all of us.
Adam Price is the leader of Plaid Cymru
Welcome to HuffPost Opinion, a new dedicated space for reliable, expert commentary and analysis on the day's biggest talking points. Got a unique angle or viewpoint on a news story that will help cut through the noise? We want to hear from you. Read more here