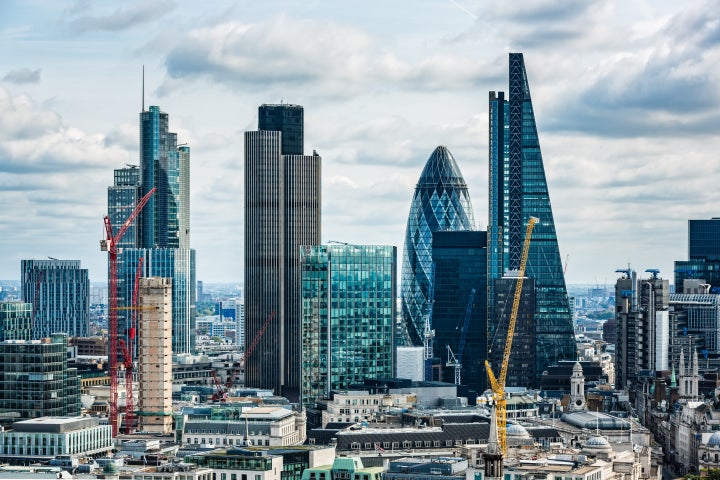 Up to 30,000 banking staff and £1.5trillion of assets could leave London after Brexit, according to a study published today.
The stark warning comes from the Brussels-based research group Bruegel, which estimates 17% of the UK's entire banking systems could leave Britain once Brexit is finalised.
The think-tank's report is based on the assumption the UK will not be able to secure so-called passporting access for banks once it leaves the Single Market – a system which allows companies to sell financial services into the trading bloc.
The report argues that international companies currently based in London will have to move about 10,000 employees into the EU after Brexit. A further 18,000 to 20,000 people in jobs related to the financial sector will also leave London.
Today's report has slightly more conservative estimates than Rolet, and reads: "At a minimum, it is expected that the new EU27-based entities will need to have autonomous boards, full senior management teams, senior account managers and traders, even though much of the back-office might stay in London or elsewhere in the world.
"We thus estimate that 10 to 15 percent of positions might move, or about 3,300 positions at the five top US investment banks.
"As US investment banks count for one third of London wholesale activity that might move, our estimate for the entire wholesale banking segment would amount to 10,000 banking positions moving from London to the EU27."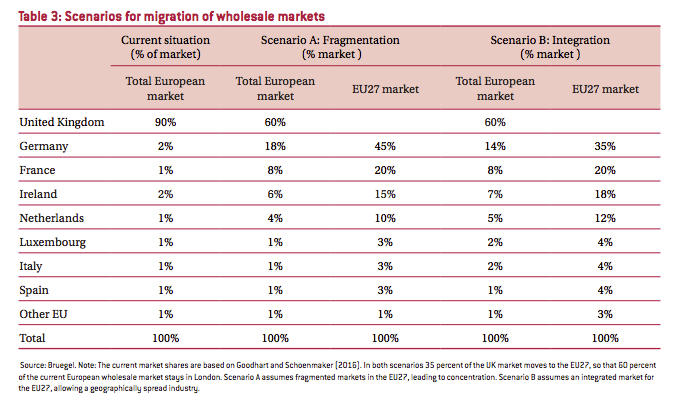 The report comes amid moves from Paris and Frankfurt to tempt international banks away from London.
Bruegel's report claims that the German city could well be the big winner from Brexit if the EU remains "fragmented" with regards to financial regulation.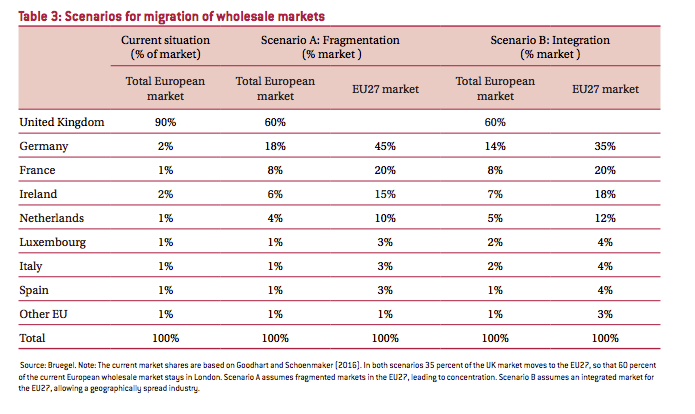 The report said: "For this and other reasons, we assume that Frankfurt is positioned to become the most prominent centre [after Brexit] with 45 percent of the EU27 wholesale market.
"Next, Paris, which is home to the markets supervisor ESMA and several large banks, may cover 20 percent.
"The runners-up, Dublin and Amsterdam, might cover 15 and 10 percent respectively, and an aggregate 10 percent in all other centres."
Related