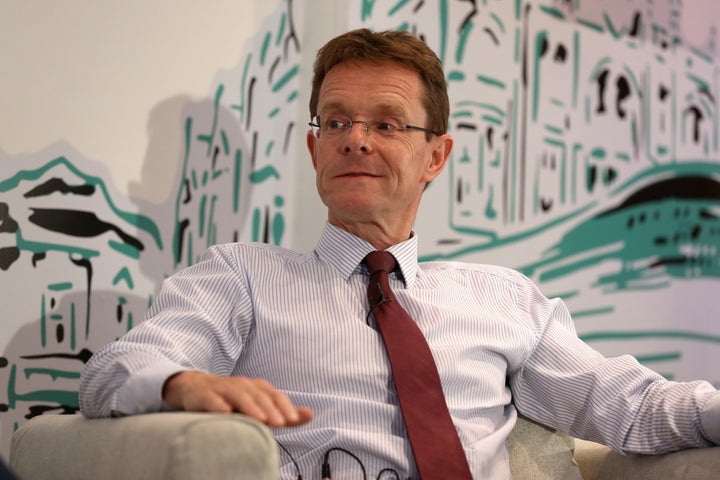 The Tory Mayor of the West Midlands has urged ministers who refuse to get behind Theresa May's Brexit strategy to "get off the bus".
The Prime Minister is preparing for a showdown at Chequers on Friday, with her Cabinet big beasts such as Boris Johnson and Michael Gove at loggerheads with their Remain-backing colleagues over her negotiations with Brussels.
But Street says those who continue to undermine the PM after the Chequers clash should stand down.
Speaking at a HuffPost UK event in Birmingham on Wednesday, the former John Lewis chief executive threw his weight behind "spot on" Business Secretary Greg Clark, who told fellow ministers to listen to the opinion of UK business.
Street called for Conservative ministers to show unity after the high-level meeting, adding the UK had reached a "critical point" in negotiations.
"I think the Cabinet should all support what is agreed because this is a critical point in the UK," he said.
"As long as we have had parliamentary democracy, the Cabinet decides on something and they all stick together. It's the only way things get moved forward."
Asked what his advice would be to those that don't like the strategy, Street said: "Get off the bus."
Amid speculation the PM was minded to back a soft Brexit, Street also called for May to face down "utterly wrong" MPs who backed a 'no-deal' scenario.
"I would tell them that they are utterly wrong and that they could do damage to the country, and I would say, whatever they agree tomorrow, that they should all get behind it and implement it," he said.
"Because, frankly, the country is sick and tired of politicians arguing on and on about this."
It comes as Midlands-based Jaguar Land Rover (JLR) sounded the alarm over a bad Brexit deal that could potentially cost the car-maker £1.2bn in profit and investment.
Asked if the Government should heed the company's warning, he said: "The one word answer to this is, yes, they should. This has been a critical success story to the West Midlands, the revival of JLR over the last decade.
"It is definitely at risk if the right conclusion is not drawn and let's be really clear what I mean by that. I don't mean that immediately that we will see, as once was the case, the future of those two plants in question, but there are definitely decisions that the board of JLR are waiting to take which will affect future investment in those plants."
He added: "What we have been told is that investment that could come here will not come here and, whilst the car industry is changing so fast, that would mean over time, there would be less jobs.
"It is very straightforward. And it's not just about JLR itself, it is about the whole supply chain."
Street, who rose from a trainee to become managing director of the department store chain John Lewis, was full-throated in his support for Clark.
Clark went out to bat for firms in Parliament after Foreign Secretary Johnson reportedly said "f*** business" when asked about warnings about the economy and after Health Secretary Jeremy Hunt called Airbus's warnings about Brexit doom "completely inappropriate".
"I think Greg's view on this is spot on right," he said. "Business generates the wealth that we all share - that's why there has been more jobs created here.
"It is absolutely necessary that the government hears what matters to business.
"I think also that business has to speak up. When I was CEO of John Lewis, we always tried to do that, and I think it is absolutely right that business speak up and be listened to.
"I don't think they should always be deferred to but they must be considered."
In a statement released by No 10, the Prime Minister said the cabinet had a "great opportunity - and a duty" to shape a Brexit deal that would "enhance our security and prosperity" outside of the EU.
May added: "This is about agreeing an approach that delivers decisively on the verdict of the British people – an approach that is in the best interests of the UK and the EU, and crucially, one that commands the support of the public and Parliament."