Footage shot on Monday afternoon saw cars submerged under flood waters in Whitchurch Lane, Bristol. The Fishponds area is also affected.
At least 15 cars have been written off by the flash flooding, which saw waters rise to five feet within the space of just one hour, The Bristol Post reported.
Much of the South West was hit by persistent downpours with wind speeds of up to 50mph.
Motorists are being warned not to drive through flood water and residents in at-risk areas have been advised to contact their local councils for sandbags to protect their homes.
An amber "be prepared" warning has also been issued for Devon.
Exeter had already faced more than two inches (54mm) of rainfall overnight into Sunday - more than half of what is usually expected in the area for the entire month of November.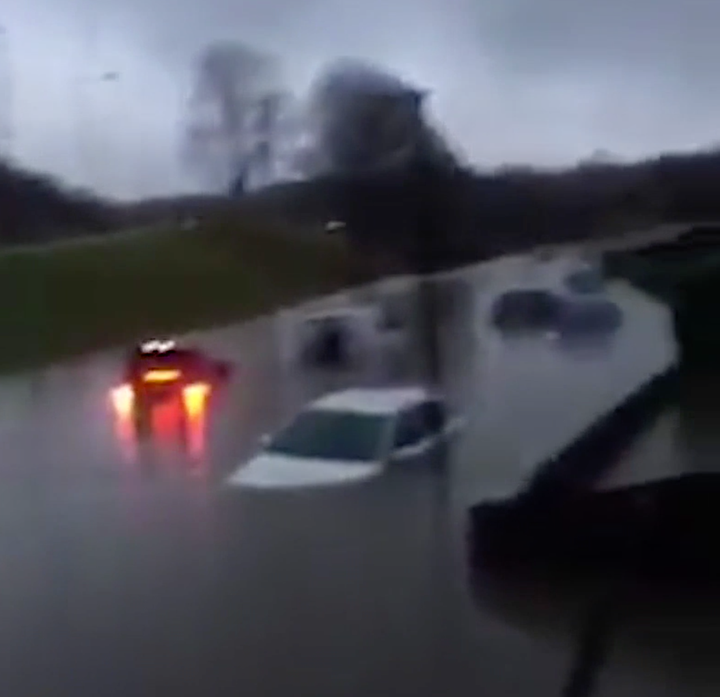 Storm Angus, the first named storm of the season which moved off into the North Sea by about midday on Sunday, brought gusts of more than 80mph and caused power cuts for more than 1,000 homes in the South West.
Eleven crew members had to be rescued from a cargo ship after it crashed into a stone barge off the coast of Dover and began taking on water.
The other 12 remained on board as they worked alongside the Coastguard to bring the ship into port.
Fire crews in Devon spent Sunday pumping out flooded properties and roads, and warned many of those same areas are due to be hit by wet weather again.
Devon and Somerset Fire and Rescue Service station manager Martin Bayet advised people to take precautions and call 999 "if they are concerned for their safety".
He said: "There is likely to be a lot of surface water on country roads, particularly around Braunton, so motorists should be wary of the possibility of flooded roads, take notice of road closure signs and not attempt to drive through floodwater."