A office worker has been dubbed "Britain's most generous colleague" because he buys Christmas gifts for all 1,000 people at his workplace.
Steve Newman, 57, from Wirral, Merseyside, started the gift-giving more than seven years ago.
Back then, he worked in a much smaller office with just 12 people – spending around a £1 on each of them.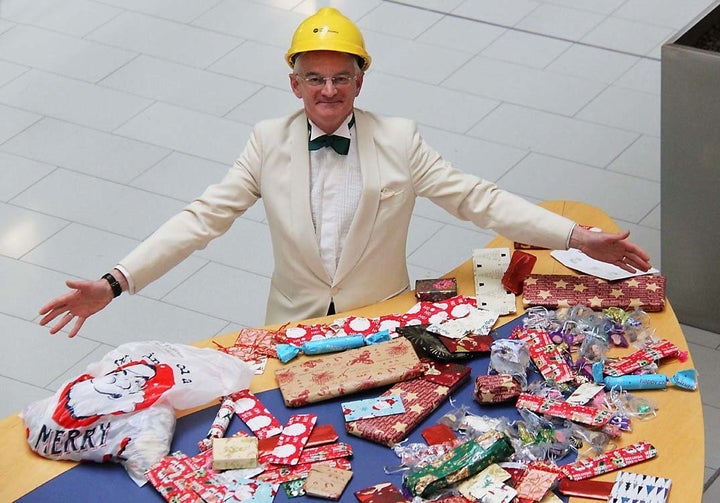 "I came across a website that was closing down, and they sold novelty inflatable hats," Newman explained.
"I thought I would buy a few of those along with some other daft presents for the people I worked with."
When he presented his colleagues with the little treats, they were so thankful that he decided to make it an annual tradition.
"They were so happy and I thought I would like to do that again. The looks on their faces was just priceless," he continued.
"It reminded me of that feeling of queuing up for a Santa's grotto.
"I think everybody went back to their childhoods when they were giving out their presents so for the next few years, I decided to keep trying to find daft and unusual presents."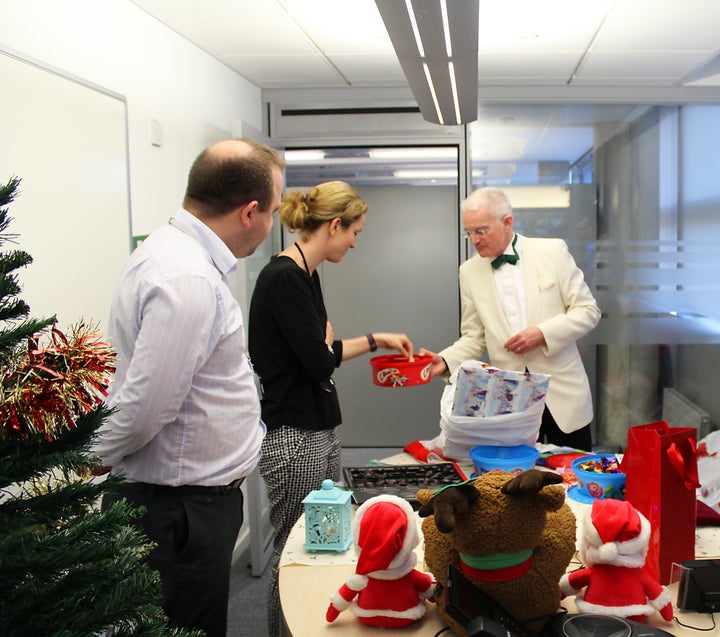 Over the next few years, Newman bought more and more presents.
When he became a para-technical officer, which means he assesses emergency plans, with the Office of Nuclear Regulation, Bootle, in 2011, he even set up a makeshift grotto in one of meeting rooms as he gave more than 50 presents to people in his team.
Last year, he expanded it to the whole of the Office of Nuclear Regulation – more than 500 people - and this year, he gave festive treats to almost 1,000 people across the whole building.
He said: "Gradually it's got bigger and bigger and when I moved to the Office of Nuclear Regulation, I expanded it and I had to be more ingenious about finding enough presents for everyone without spending lots of money.
"I suppose I did get a bit carried away but I managed to get lots of really inexpensive things.
"My reasons for doing it are entirely selfish. I get to see everybody being happy. It started on a small scale but it has worked its way into something much bigger."
Newman took a day off work and helped as his colleagues lined up outside a conference room filled with his goodies.
"It has gone down incredibly well," he said.
"In our organisation, people really look forward to it. I get people stopping me in the corridors asking me when it's going to be on.
"We had hundreds and hundreds of people, but I even have a few presents left over so I can use them next year."
With almost 1,000 gifts to buy, Newman starts his Christmas shopping early.
Although he made sure everyone had a little something, his bargain hunting skills meant he estimates he spent just £200 to £300.
He explained: "Whenever I find some kind of sale or reduction, I am thinking ahead. For example when they are selling off packets of Christmas cards for 10p, I will buy a stack of those. I've also bought chocolate in bulk to keep the price down.
"Overall, I think I spent between £200 and £300, but it was spread right through the year so it doesn't really feel like much.
"It's a serious job working in the nuclear industry, but to give everybody a chance at thinking back to their childhood and having that feeling of going to the grotto just brings a smile to everyone's face."
Newman has even had to turn the basement of his house into a Christmas room to store all the treats throughout the year.
Without an army of elves on hand, he gets help from his family including wife Gina, 57, daughter Amy, 28, and granddaughter Aleesa, eight.
Together, they individually hand-wrap each gift.
"We all sit around the table and hand wrapped each of these things. It's something for us all to look forward to and it fills us with Christmas spirit," he said.
"Some of my friends and family are a bit confused and say 'why are you doing this!?' but they do think it's lovely. I don't get any negative reactions - people are just a bit perplexed but I love it."
Dave Caton, director of human resources at the Office for Nuclear Regulation said: "Nuclear regulation is rightly a serious business, but we are all human beings and it is heart-warming that Steve takes the time out to say 'thank you' to his colleagues in this special way.
"We're all extremely grateful for his generosity and certain he must be in the running for 'Britain's most festive employee,' and the embodiment of the true festive spirit."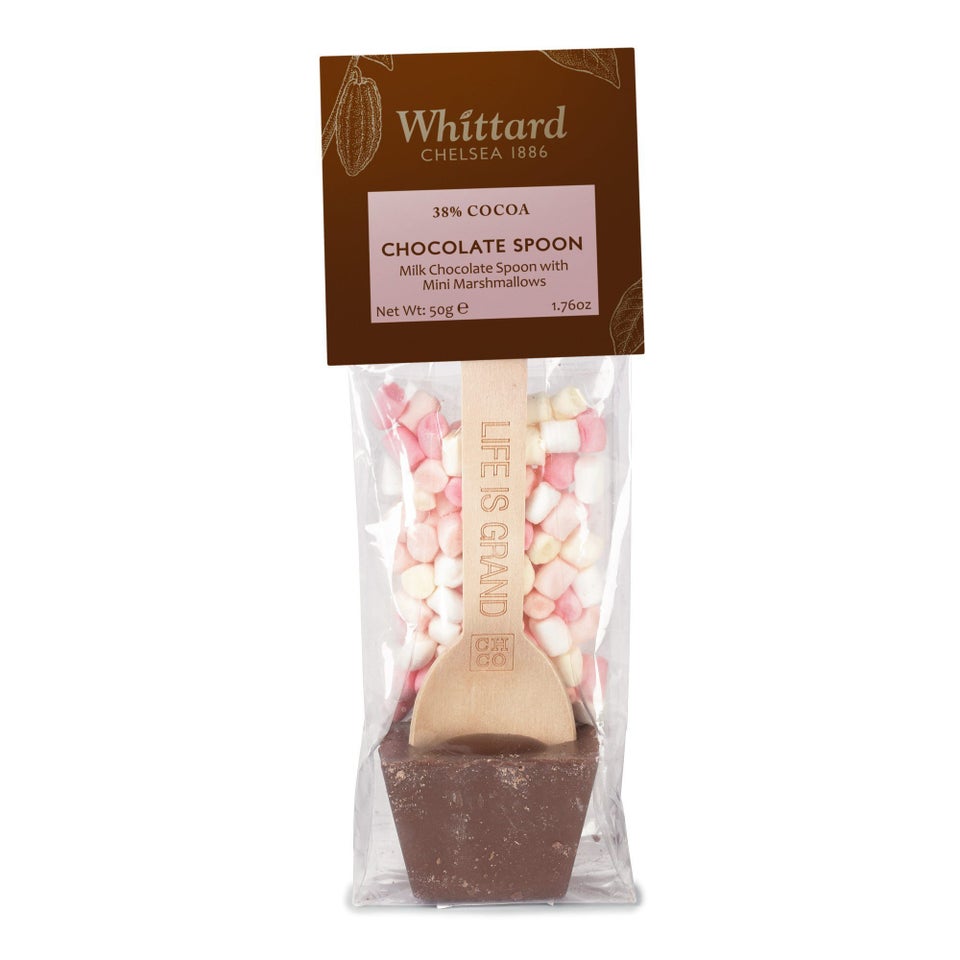 Secret Santa Gifts Under £5 And £10