English wine production is on the rise in Britain, with a record number of bottles of still and sparkling wine from UK vineyards reaching the market last year. HMRC figures revealed 3.86 million bottles of UK-made wine were released for sale last year, up from 2016's 2.36 million bottles - an increase of 64%.
English sparkling wine is made with the same traditional method as Champagne, meaning it is left to age in the bottle, usually for about three years. Janet Harrison, from Cracking Wines, tells HuffPost UK she truly believes the UK excels at producing wine: "We are winning awards and quite rightly so."
Here, Harrison and Nik Koster, director at drinks-only agency Garnish and judge for International Wine Challenge, share their top five British wines to sip as the weather warms.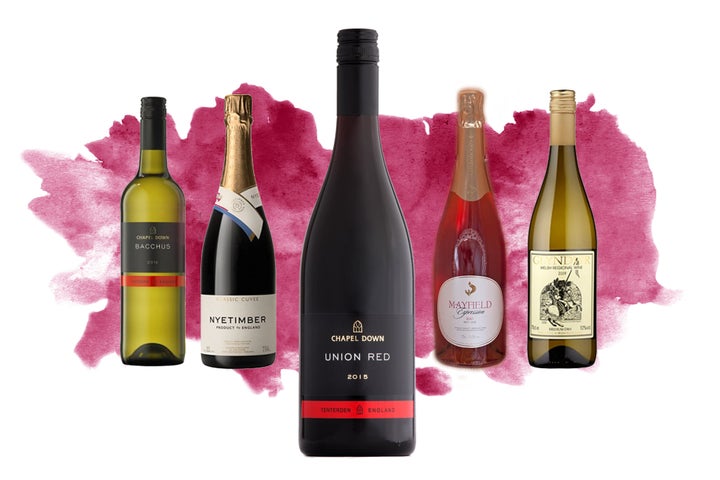 1. If you love sparkling, try Nyetimber Classic Cuvée NV
This drink has a "creamy and rich" flavour with "notes of brioche complimented with a refreshing citrus twist".
Koster describes it as: "A serial award-winner and constant reminder that British Sparkling Wine can easily compete with Champagne. The Classic Cuvée has incredibly traditional Chardonnay, Pinot Noir and Pinot Meunier that provides familiar honey, almond and baked apple flavours synonymous with the best in sparkling."
2. If you love a crisp, dry white try Chapel Down Bacchus 2016
This bottle is described as a "crisp, refreshing white wine with aromas of melon, pineapple, elderflower and grapefruit".
Harrison says: "Chapel Down alway seem to lead on awards for their still whites and their Bacchus is now available in a growing range of retail outlets."
3. If you love rosé try Sussex Vineyards Mayfield Expression
A deep rosé fizz characterised by "lovely fresh acidity, red fruit flavours and the enticing aromas of summer berries which follow through onto the palate".
Harrison says that while Sussex Vineyards are a smaller producer, they make some "fantastic fizz to match with food". While most of their products are sold out online, we did manage to find a few bottles of rosé on the Secret Cellar website. Grab them while you can.
4. If you love a bold red try
Chapel Down Union Red
This bottle of red has "aromas of damson, blackberry jam and subtle vanilla oak" with a light body and flavours of cherry.
Koster says: "Chapel Down is fast becoming a household name and definitely one the of key players when it comes to the popularity of British Wine. Traditionally conditions in the UK aren't great for producing reds but the Chapel Down Union Red is an incredibly fruity and jammy style wine, light and easy-drinking."
5. If you love a smooth, rich white try
Glyndwr White
This cheeky little number hails from Susan and Richard Norris' estate in Glamorgan. "This wine has delicate flavours of gooseberry and peach," says Koster. "This idyllic Welsh vineyard now has two generations working together blending 'heritage and innovation'. The Glyndwr White is fresh and floral on the nose, deliciously fruity and celebrates a herbaceous savoury finish."