A mum and her twin daughters have fractured more than 100 bones between them because of a hereditary health condition.
Jill Williams and her daughters Lizzie and Anna, 21, were all born with osteogenesis imperfecta, also known as brittle bone disease, which means they regularly suffer breaks for no reason.
Lizzie even lived with a broken spine for seven years without realising.
The condition, which affects roughly one in 15,000 people in the UK, means Jill cannot work and her daughters struggle to maintain a social life at university, as they are often in and out of hospital.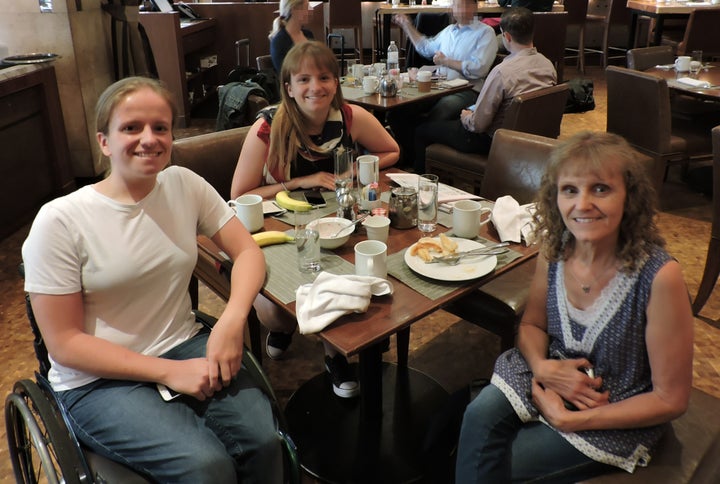 Sports student Lizzie was shocked, aged 16, to learn she'd broken her spine as a nine-year-old.
"I'd taken a tumble in my living room," she said. "It had always hurt, but I only learnt it was broken after a scan at Great Ormond Street Hospital in London which I'd had after complaining of pains."
Then studying for GCSEs, Lizzie, who lives with her mum in the south-east of England, subsequently underwent a four-hour major spinal operation at the Royal National Orthopaedic Hospital in Stanmore, Middlesex, where metal rods and screws were used to fix her spine back in place.
Her spine is just one of 60 fractures Lizzie has endured.
Meanwhile, Jill, now in her fifties, has broken 40 bones, and Anna around 15.
Between them, their breaks have included fractured legs, arms, wrists, fingers, a skull, and ribs.
Constantly at risk of further injuries, they have to wear sensible, supportive shoes and have to avoid lifting things, bumping into people and falling.
"When Lizzie rang me and told me about her broken back my jaw dropped," Anna, a nutrition student at the University of Bath, said.
"I was so upset for her. Lizzie was shocked, but also relieved to have a reason for her pain."
The women, who are constantly in and out of hospital, suffer with the condition to different degrees.
Jill said her twins are a "medical mystery," as although identical, Lizzie's condition is more severe and she needs a wheelchair, whilst Anna is much more mobile.
Jill was worse as a child, only learning to walk when she was about 12 and then needing crutches for four more years.
"My father passed the condition on to me. If you have it, there's a 50 per cent chance of passing it on to your child," she added. "I had a lot of fractures as a youngster and spent most of my childhood in hospital.
"What makes it scary is that fractures can happen for no reason whatsoever. There's nothing you can do to prevent it and it's frightening and painful."
The mum, who is unable to work because of the illness, said when she was younger she'd break about four bones per year, but could be in hospital for a few months while each one healed.
Often medics can't pinpoint the fracture to any specific accident or moment.
She has most commonly suffered from fractures in her legs, but has also broken her arms, wrist, and ribs in the past.
"You can't plan your life or think 'tomorrow I'm going to do this,'" she explained.
Jill stabilised at around 16 years old, but then deteriorated badly in her 40s as her bone density started to drop. She now suffers with a lot of bone pain.
For the past year she has had a wheelchair on standby, which she uses when needed.
Jill, who has two sons aged 26 and 24 who do not have the condition, knew having children would put them at risk, but decided it was worth it.
"As a sufferer myself, there has never been a point in my life where I wish I had not been born," she said. "In fact, people with a brittle bone disease tend to have a real desire to achieve."
Still, life for the family has not been easy.
Jill continued: "I had four children in five years, two of whom needed a lot of attention.
"I walked around for years with my stomach muscles clenched, waiting for the next scream, because one of the girls had fractured a bone."
Anna said one of the most difficult things for her, because of the condition, has been trying to have a social life at university.
"It's hard to explain to people why I'm always in and out of hospital," she said. "I worry about what they think."
But having a twin who understands is a tremendous support.
She added: "Being able to moan about aches and pains with Lizzie is nice. She has a strong and fierce attitude, which helped her live with her back pain. She'll just dose up on medication.
"If Lizzie breaks something, she is in more of a pickle than me, though, as she is the one in a wheelchair."
To treat their mum, Anna and Lizzie, contacted the charity Dreams Come True, which fulfils dreams for people with serious and life-limiting conditions, to organise a surprise this summer.
Jill said: "Lizzie asked me if I could go anywhere in the world, where I'd go, and I said New York and Niagara Falls in Canada.
"A few months later the twins surprised me by revealing that they'd applied to Dreams Come True and were to make my dream a reality this June.
"They are both amazing every day and the holiday was just magical.''