The burger chain is facing growing scrutiny for aiding authorities in detaining dozens of members of staff.
Petros Elia, general secretary at United Voices of the World Union, told the Huffington Post UK: "If it was a choice between dismissing these workers or entrapping them then absolutely they should have dismissed them".
More than 1,000 people have said they will be attending a demonstration at Byron's High Holborn brach at 6.30pm on Monday, with a further 2,100 stating the are interested in going, according the event's Facebook page.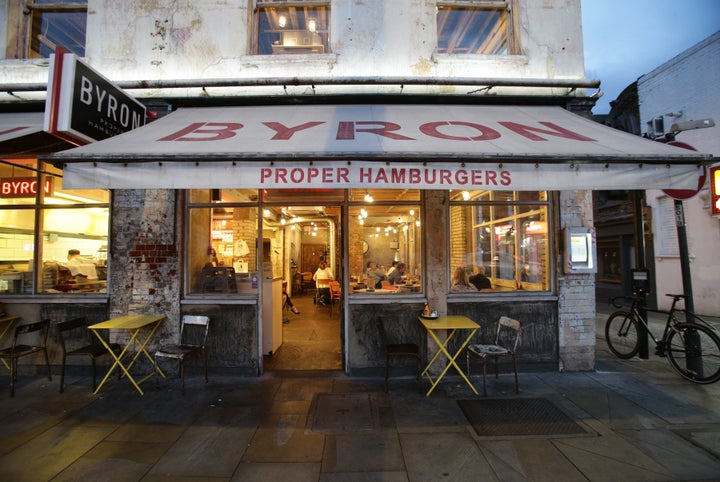 A Metropolitan Police Service spokesman said the force was aware of the protest and that an "appropriate policing plan is in place".
Byron's Holborn restaurant is closed today, with management citing a "technical issue".
The upmarket burger restaurant was accused of "underhand trickery" after it was alleged it helped the Home Office deported some staff from its London restaurants.
Spanish newspaper El Ibérico reported an anonymous employee claiming staff were asked to attend what they believed was a training session before some members of staff were asked to move to a separate room where immigration officials were waiting.
The Home Office said 35 people from Albania, Brazil, Nepal and Egypt were arrested for immigration offences at a number of restaurants across London.
Byron Burger's behaviour has been slammed as "abhorrent" and "reprehensible" by opponents.
Demonstrators co-ordinating Monday's event have been quick to distance themselves from Friday's direct action.
Tonight's protest is co-hosted with the Unite Hotel and Restaurant Workers Branches, the United Voices of the World Union, London Latinxs, Black Dissidents, London IWW, Lesbians and Gays Support the Migrants, South London Solfed, War On Want and Global Justice Now.
Petros Elia told the Huffington Post UK that Friday's protest "was not part of what we are doing at all".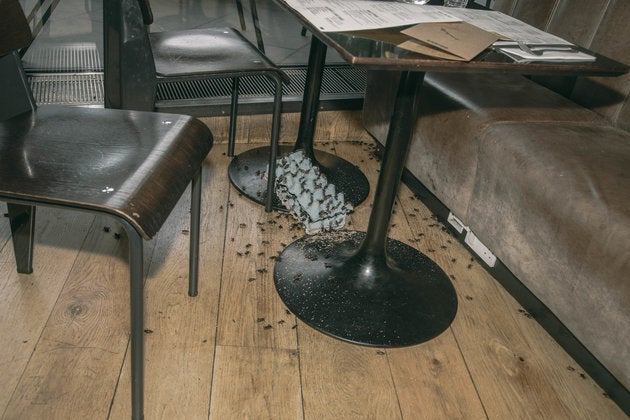 Byron Burger said that its restaurants reopened on Saturday after pest control services had been called.
Elia said tonight's protest has been designed to "shame" the burger chain.
He said: "Of all the things that Byron could have done, the thing they did is the only thing they shouldn't have done."
When pressed what alternative course of action he believes Byron Burger should have taken, the representative from United Voices of the World Union struggled to give an answer.
Elia said: "It's not really for me to dictate how they should respond to the news that some of their workers are undocumented, but really what they did was really the only thing they shouldn't have done.
"Colluding with immigration officers, entrapping them, luring them to a booby trap, surely anything that they could have done would have been better than what they actually did."
He added: "If it was a choice between dismissing these workers or entrapping them then absolutely they should have dismissed them."
Byron Burger has defended its actions. Saying in a statement: "The safety of our customers and restaurant teams is paramount, and our priority is now to work with local police to minimise the risk of further incident."
Byron Burger said in a statement:
The safety of our customers and restaurant teams is paramount, and we would ask protestors to respect their safety this evening

Byron was

unaware

that any of our workers were in possession of counterfeit documentation until the Home Office brought it to our attention

The Home Office recognises that Byron as an employer has always been fully compliant with immigration and asylum law in its employment practices

We carry out rigorous 'right to work' checks, but sophisticated counterfeit documentation was used in order to pass these checks

We have cooperated fully and acted upon the Home Office's requests and processes throughout the course of their investigations: it is our legal obligation to do so

We have also worked hard to ensure minimal impact on our customers while this operation was underway
Byron Burger staff described the moment they were trapped in a kitchen by an immigration sting, with one telling The Guardian under the condition of anonymity it felt like it was "the 1930s or something".
Another worker said he was escorted into a police van and taken to the Home Office immigration centre near London Bridge.
He said: "There were 20 of us there, all from Byron. At the beginning, I couldn't believe what was happening. But then, when I realised they were going to deport us, I felt so bad," the chef said.
"They were destroying everything I have done. I worked hard, I paid taxes and Byron did this to us. It is immoral.
"They were happy to employ me for years doing really hard work that no British person would do."
Elia told Huff Post UK the burger chain was not "legally obliged to lure them (employees) into fake training".
Elia said that the classification between "illegal" and "legal" is a "dehumanising classification" and called deportation "an extreme response".
"We are talking about acts being illegal, the things that people do are illegal, but for somebody themselves to be illegal is a very dehumanising classification," he said.
The Home Office said the operation was carried out with the "full co-operation" of Byron earlier this month.
A spokesman for the Home Office dismissed reports that an event was set up to lure workers to one place for immigration officials.
Popular in the Community