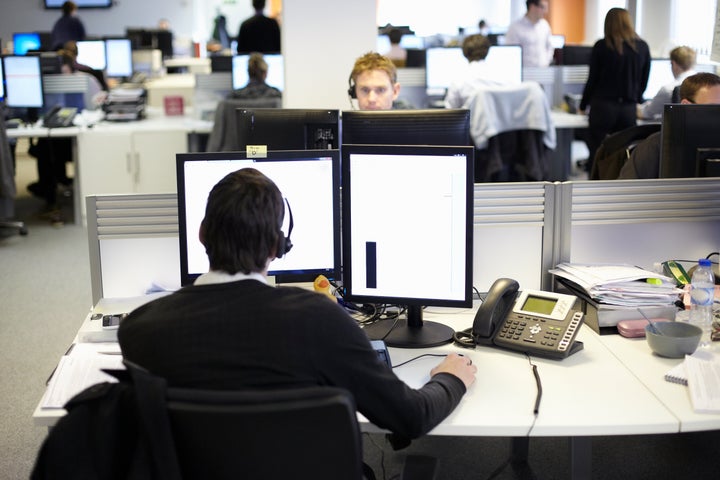 Call centre workers have described being "terrified" to go to work amid claims of coronavirus social-distancing guidelines being ignored and staff being encouraged to car share to avoid being late into the office.
Despite being identified as key workers, essential in order to keep the country connected both via phone and internet, workers are continuing to take "non-essential" calls throughout the crisis about matters such as upgrading entertainment packages for broadband customers.
One employee at Sky's call centre said they were "terrified" to go into work, describing the process of entering the building as "like walking into a petri dish".
They added: "The thought of sitting on the bus with so many other people and then being stuck with hundreds of others in an office for hours on end, knowing that anyone could have picked the virus up from anywhere, is just horrible.
"The work I do could be done from home. It feels as though it's profit over the wellbeing of employees at the moment – some additional measures have been brought in but I don't think it's being taken seriously enough."
As well as barely sitting the government-mandated two metres from their colleagues, the call centre worker also raised concerns that promised deep cleans had not been completed thoroughly enough and said that managers often had to manually lean over employees to enter passwords on their keyboard, contradicting the two-metre guidelines.
In addition, the employee reported that, as recognition of their work throughout the crisis, staff had been given vouchers to spend in the workplace canteen – leading to concerns that it could encourage even more people than usual to use communal areas and flout social distancing rules.
"At a time like this I wouldn't touch the canteen food, but encouraging people to use that facility more than they would just seems so short-sighted," they said.
"I'm so worried – not just for my health but for the health of my colleagues, some of whom are going home every night to young children and partners and parents who could be vulnerable."
A spokesperson for Sky said: "At this difficult time it is critical we're able to keep people connected, online and informed with the latest news and information – so we are pleased the government recognises our contact centre colleagues as key workers.
"It is vital that a core team continue to work to support our customers, particularly vulnerable ones who we are prioritising. We are minimising the number of people we need to be on site, whilst also following all guidelines to keep our people and customers safe."
Elsewhere, concerns have been raised about workers' proximity to their own colleagues – while travelling.
Managers at a Virgin Media call centre in Motherwell reportedly suggested that employees carshare, in direct conflict with social distancing rules, after a bus route to their industrial estate was cut and taxis were overwhelmed by demand.
"It's ridiculous," said a family member of one of the workers.
"Staff are going into work as the previous shift are leaving and sitting at the same desks – there's no deep cleaning." People are bringing in their own wipes.
"Social distancing measures are pretty much non-existent – a few posters have gone up reminding employees to wash their hands, but that seems to be the extent of it."
Despite claims that staff were continuing to offer services they saw as non-essential, such as handling upgrades and new media packages, a spokesperson for Virgin Media said that demand had been extremely high and exacerbated by the closure of sites overseas.
They added: "The government have categorised our contact centre teams as key workers as the work they are doing is 'supporting critical national infrastructure'.
"We have implemented social distancing and hygiene measures across all of our sites, including those managed by third parties. We trust our third party partners to deliver those measures appropriately and take best care of the teams there."
Sitel, which manages the building in question, did not respond HuffPost's request for comment.
It's not just workers at media giants like Sky and Virgin that are worried – on Sunday, shadow environment secretary Luke Pollard published a letter online, addressed to health minister Matt Hancock, detailing his concerns about another Sitel-run office used by 111 call handlers in Plymouth.
He said staff had been left "terrified to go to work", outlining problems such as continued hot-desking and a lack of deep cleaning – concerns also raised at the Motherwell site.
He added: "From the conversations I have had with people who work on this service I believe that these practices go against your advice on social distancing and increase the chance for the virus to spread in this environment.
"A coronavirus outbreak at this call centre would be devastating for the UK's response to the pandemic and could result in more deaths in the long term."
BBC News reported on Sunday that Sitel had instructed staff on site to follow stricter social-distancing measures after reports that space at an office in Stratford-upon-Avon had been "maxed out" as new starters joined the company.
A Sitel spokesman told the BBC that allegations of overcrowded break rooms and limited training were "categorically untrue", adding that it had been "ramping up measures to protect our staff against infection, implementing social spacing as recommended and staff being asked to sanitise their hands when they enter and leave the building".