A family have shared the heartbreaking moment they lost their home to the raging wildfire in Canada, which it now said to be bigger than Greater London.
James O'Reilly, from Fort McMurray, watched his home get destroyed by viewing the property's security camera on his iPhone. Some 88,000 people have been evacuated from the city.
Winds of 40mph were fanned the flames on Sunday with the wildfire now said to be around 494,000 acres - bigger than all of Greater London, Sky News reported.
In the video, flames can be seen lashing the side of the house, before it fills with smoke.
So far, some 1,600 homes have been lost, but there have been no reports of deaths or injuries. The fire is set to become Canada's costliest ever natural disaster.
Canadians authorities have said they expect to battle the fire for months to come and fear it could double in size and reach a major oil sands mine, and even cross into the neighboring province of Saskatchewan, the Associated Press reported.
Chad Morrison of Alberta Wildfire said it's not uncommon to fight such an inferno in forested areas for months.
Morrison said the fire was burning away from communities this weekend. He expected cooler temperatures along with the rain Sunday, but significant rainfall is needed to put out the flames.
Just over 30 kilometers (18 miles) south of Fort McMurray, the main highway into town is blocked off by barricades and police vehicles.
Fort McMurray Fire Chief Darby Allen asked for the patience of residents who are eager to find out if their home has been destroyed.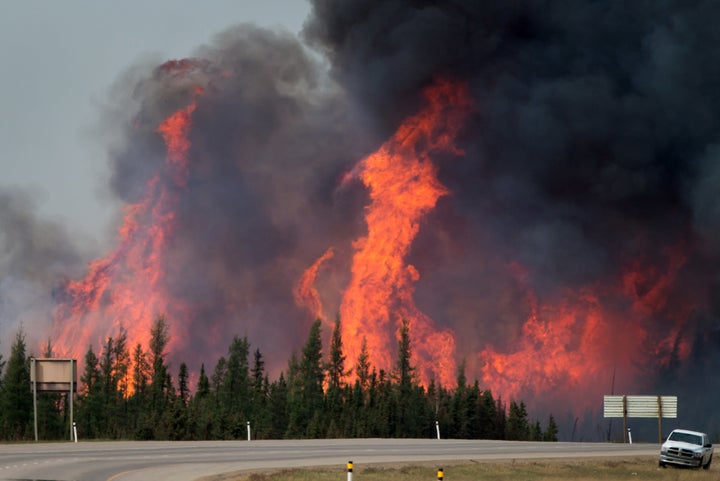 "We are really working hard on that, it's a complicated process, what's damaged, what's left," Allen said in a posted video. "We really will get that to you as soon as we possibly can. We care about all of you."
Officials had hoped to complete the mass evacuation of work camps north of Fort McMurray on Saturday. Thousands of displaced residents got a drive-by view of some of the burned-out neighborhoods as convoys continued.
Notley said about 12,000 evacuees have been airlifted from oil sands mine air fields over the past two days, and about 7,000 have left in highway convoys escorted by police. She said the goal was to complete the evacuation from northern work camps by Sunday.
The fire could reach the edges of the Suncor oil sands facility, about 15 miles (25 kilometers) north of Fort McMurray. Non-essential staff have been evacuating and efforts to protect the site were under way.
The Alberta oil sands have the third-largest reserves of oil in the world behind Saudi Arabia and Venezuela. Its workers largely live in Fort McMurray where some neighborhoods have been destroyed.
Canadian Prime Minister Justin Trudeau had no immediate plans to visit the region. "We don't want to distract from the important work right now," Kate Purchase, a spokeswoman for Trudeau said.
Popular in the Community