Graphic warning: This article contains images of a medical nature.
When Mickey Brady was just 14 years old, he started smoking.
Despite knowing it was bad for his health he continued his habit until, aged 51, he discovered lumps in his cheek and neck.
Shortly after, Brady, who is from Bolton, was diagnosed with cancer.
Following surgery to remove a huge tumour from his neck, the father-of-one shared a graphic photo of his scar to prompt others to quit smoking and avoid suffering the same consequences.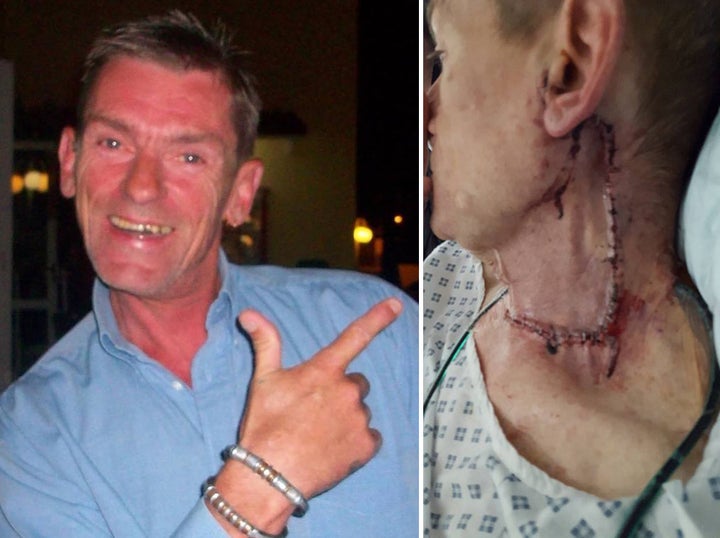 Brady said he knew of the health risks surrounding smoking when he was younger, but added that he thought he was "indispensable".
"But as you get older your health does catch up with you," he told The Bolton News.
Shortly after noticing lumps in his cheek and neck, Brady was diagnosed with tonsil cancer.
He recalled: "I was so shocked when the doctor said it was cancer. I just sat there numb for what felt like a life time, but it must have only been a few minutes. It is very scary."
Tonsil cancer is one of the head and neck cancers, which develops in the part of the throat just behind the mouth called the oropharynx, according to Cancer Research UK.
The main risk factors for developing this type of cancer are smoking and regularly drinking alcohol.
Brady has since had a large tumour removed from his neck, which has left a huge scar spanning from his ear to his collar bone.
Since his diagnosis he has quit smoking and overhauled his lifestyle.
Brady said he shared the image of his neck not to scare people, but to make them aware of the "risks that come with smoking".
"If what has happened to me stops just one person from smoking then it is a bonus," he said.
Over the next six weeks he will undergo radiotherapy and chemotherapy to help battle the cancer.
In the meantime, he remains hopeful that the treatment will work and said he is thankful for the support from his friends and family.