Carillion bosses are "series of delusional characters", said MPs leading a powerful Commons inquiry into the group's collapse.
Rachel Reeves and Frank Field said chiefs of the defunct outsourcing firm "built a giant company on sand" and blamed everyone but themselves for the firm's demise.
It came as a raft of former directors appeared before the joint Business and Pensions Select Committee - and gave conflicting reasons for Carillion's catastrophic deteriorating.
Speaking after the session, Reeves and Field said: "This morning a series of delusional characters maintained that everything was hunky dory until it all went suddenly and unforeseeably wrong.
I was surprised at the outcome that eventually came to pass.

Zafar Khan, former finance director of Carillion
"We heard variously that this was the fault of the Bank of England, the foreign exchange markets, advisers, Brexit, the snap election, investors, suppliers, the construction industry, the business culture of the Middle East and professional designers of concrete beams.
"Everything we have seen points the finger in another direction - to the people who built a giant company on sand in a desperate dash for cash."
Former finance chief Zafar Khan denied he was "asleep at the wheel" and instead said uncertainty surrounding Brexit and the snap General Election had made it difficult to drum up new business.
He said he was "surprised" the firm failed.
Pressed by MPs, he said: "No, I don't believe I was asleep at the wheel because as soon as I came into the role, we were looking to tackle the issues and the key focus of my time in the role was to bring net debt down."
"I was surprised at the outcome that eventually came to pass," Khan said.
Carillion chairman Philip Green appeared to blame former chief executive Richard Howson, during the joint Business and Pensions Committee hearing.
Green said he should have sacked Howson "a month or two" before he was forced to quit in the wake of a major profits warning by the firm in July.
But he added: "The collapse is the responsibility of the chairman and the board. As chairman of the board, I take full responsibility."
He said: "We went into the year with too much debt.
"Contracts deteriorated rapidly and because we didn't have that wiggle room, that was a significant factor."
He added: "If I look back, there are things I would have done differently, but there's no question about that."
Labour MP Frank Field put to him the suggestion that the directors should not be permitted to work at other companies. Green was bullish.
"I believe that all of the board, every decision we took was right at the time we took it," he said.
The former chairman also offered a grovelling apology.
He said: "I want to say I am deeply sorry for the impact the collapse of the company had on employees, pensioners, customers, suppliers and all stakeholders, all the more so because we felt that even on January 14 a restructure was possible."
Howson, meanwhile, said: "The company was run well in my opinion, there are things that I would have done differently.
"The support services and construction are in very difficult sectors, it takes a lot of horsepower to put cash into the group.
"Sixty per cent of my time was on cash calls, out and about collecting."
On how the pension deficit ballooned while dividend payments to shareholders were ramped up, Howson added: "We had no growth in our profitability in 2012-13, the market was very challenging.
"We thought we should show some confidence in the future by increasing the dividend."
Howson also said sorry, despite blaming "a few challenging contracts predominantly in the Oman and Qatar" for Carillion's hardship.
"I too would like to say how deeply saddened and how sorry I am for what's happened to the business," he said.
MPs also detailed bonuses paid to former chief executive Howson - £293,000 in 2015 and £245,000 in 2016. Howson said he was comfortable with the size of his bonus and said it was justified "for the attributes that I earned it for".
He refused to offer to give up his bonus, and said: "I know there will be a review of whether those bonuses were properly paid in line with processes and if the outcome of that review says that the bonuses should be paid back by any extent then I'll abide by that decision."
Keith Cochrane, who was chief executive at the time of the firm's collapse, admitted he should have acted sooner to save the firm and have asked "more probing questions".
Cochrane said: "Clearly the business did have issues - undoubtedly. And clearly, do I wish we had done something about it sooner? Absolutely. I recognise that.
"I can assure you that all the decisions I took in seeking to do the best thing for the business at that juncture."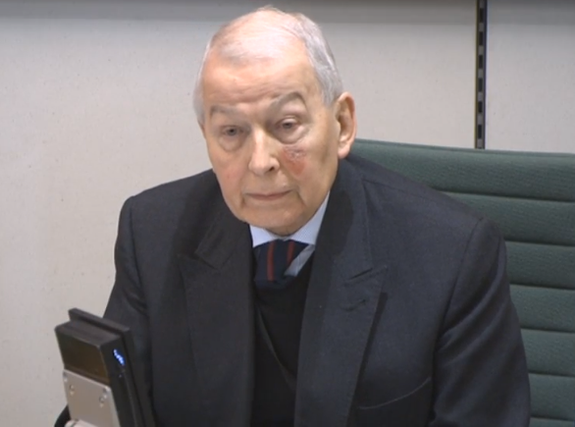 Another former finance chief, Richard Adam, said that he knew Carillion was in a "challenging position" when he left the firm in December 2016.
Carillion, which had public sector contracts worth £1.7bn and employed 20,000 British people, went into liquidation in January.
The group's portfolio included providing school dinners, cleaning and catering at NHS hospitals, building HS2 and maintaining 50,000 army base homes for the Ministry of Defence. It folded with a reported £5bn of liabilities and just £29m left in cash.
So far, 829 people have been made redundant as a result of the collapse, hundreds of apprentices face an uncertain future and. councils who operated contracts with the firm have faced a 20% price hike.