The Hollywood legend, daughter of stars Eddie Fisher and Debbie Reynolds, is now in intensive care at UCLA hospital, following the incident which happened on Friday.
AP quotes her brother Todd Fisher on Friday evening saying that her condition was stable and that she was "out of the emergency room". He later clarified to E! that the actress remained in an intensive care unit, while many details of her condition were unknown, including the cause of her collapse.
The Los Angeles Fire Department issued a statement, which revealed that paramedics had arrived at Los Angeles International Airport on Friday afternoon around noon, ready to treat a patient in cardiac arrest, and that they had "aggressively treated" that patient. Although they didn't name anyone, several news outlets identified the passenger as Carrie Fisher. It was reported that she had suffered the heart attack approximately 15 minutes before the plane was due to land, and the paramedics were standing by at the gate.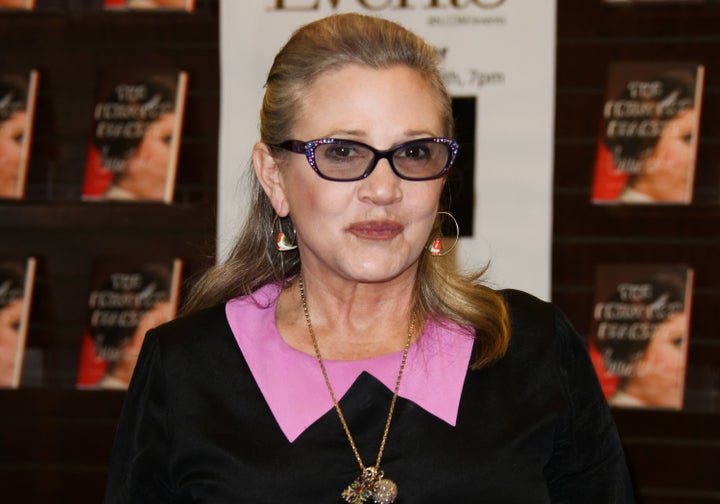 The actress has been extremely busy over the last few weeks publicising the latest in her memoirs, The Princess Diarist, an account of her time making the original 'Star Wars' film, when she only recently revealed that she'd had a secret affair with her co-star Harrison Ford.
This book release coincides with the debut of the latest film in the series, 'Rogue One', following her appearance in last year's sequel, 'The Force Awakens', alongside Harrison Ford.
Her other co-star in the original trilogy, Mark Hamill, was among the first to send his best wishes to Carrie, saying "As if 2016 couldn't get any worse..."
As well as her era-defining role of Princess Leia in the original 'Star Wars' trilogy, Carrie Fisher is a celebrated raconteur, novelist and author, often detailing her extraordinary life inside the Hollywood bubble, and sharing in often darkly comic detail the extent of her addictions. One of her books, 'Postcards From The Edge' dealt with her relationship with her mother Debbie Reynolds, and was made into a film starring Meryl Streep and Shirley MacLaine.
Popular in the Community