Never mind it raining cats and dogs - a woman in the US was hit in the face by a catfish that fell from the sky.
Lisa Lobree was on her way to meet her CoreFitness class near the Art Museum in Philadelphia on Labour Day when she heard a "rustling" in the trees.
Then, out of no where "I was slammed by something", the fitness instructor told the Philadelphia Inquirer, adding that she was "freaking out" due to the uncertainty of the situation.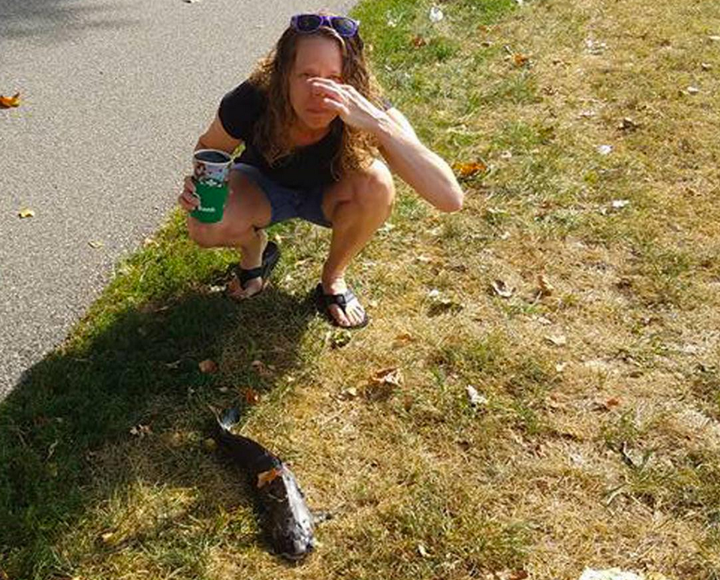 Although not seriously hurt, the unusual occurrence caused Lobree to scream out in anguish.
Later she discovered the projectile that had struck her was a whiskered catfish weighing around five pounds.
The newspaper suggested that a passing bird may have lost its grip on the marine creature causing it to fall into a tree, then on to Lobree.
"It's probably one of the strangest things that have happened to me in my life," Lobree told the Philadelphia Inquirer.
Her husband, Cameron Abrams, later shared a photo of Lobree, crouching beside the catfish while holding her nose, on Facebook.
Abrams captioned the picture: "A five pound catfish fell fifty feet out of a sycamore, dropped by a clumsy bald eagle, and hit Lisa Lobree in the face!"
Lobree added: "This is me after falling to the ground screaming and showering for 30 minutes to get the smell off.
"Only a small cut and swollen face. A memory to last forever though."
While highly unusual, Lobree isn't the first woman to be struck in the face by a fish that seemingly flew through the air.
And throughout history there has been several reported incidents of flightless creatures and objects falling from the sky.