There's a lot of things about 2020 that we couldn't have predicted, but an African grey parrot becoming a viral star is definitely one of the more ridiculous things we didn't see coming.
For those who have somehow missed the phenomenon of Chanel The Parrot over the last few days, allow us to rewind a little.
At the tail end of last week, a video of a woman screaming "CHANEEELLLL!"at the top of her lungs in the streets of Everton went viral, as she pleaded for help in finding her missing parrot, who'd flown off after being spooked by building noise.
It prompted a wave of memes and parody videos, including this amazing remix to Robin S' Show Me Love.
... which in turn was then covered by Little Mix's Jade Thirlwall.
Luckily, there was a happy ending to the story, as Chanel Chanellington (to use her full name) was found alive and well, and reunited with owner Sandra Hannah.
With the internet becoming obsessed with the whole absurdity of it all, it was only a matter of time before This Morning caught on.
Sure enough, on Monday morning, Chanel The Parrot made her national TV debut on the ITV daytime show, proving her rise to superstardom was complete.
But while Chanel took the whole thing in her stride like the true professional she is, the same couldn't quite be said for Sandra, who was rather overexcited to meet hosts Holly Willoughby and Phillip Schofield (albeit over video call).
Bouncing up and down, she screamed: "Oh my god it's Phil and Holly!"
Of their newfound viral fame, Sandra said: "All my mates were messaging me [saying] 'you've gone famous!'. All of us were in stitches until 4am watching [the videos]."
She also cleared up where Chanel had flown off to, revealing: "Chanel wasn't actually found down by the canal, she was just knocking on someone's window saying 'hello! hello! hello!'"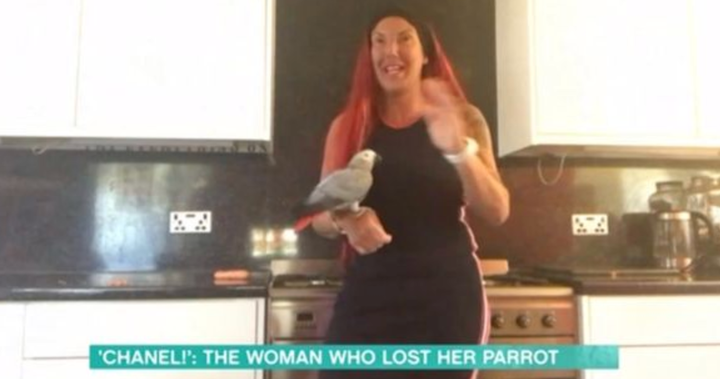 And if you were wondering how Chanel got her name, Sandra also answered that too.
"Because me dog's Coco," she said.
This Morning airs weekdays at 10am on ITV.