This year's Christmas dinner will set you back more than last year's, according to Good Housekeeping's annual Christmas shopping basket index.
Analysts tracked the price of 11 Christmas dinner staples across 10 major supermarkets and found seven supermarkets are more expensive than last year, with only the Co-op, Morrisons and Sainsbury's dropping their prices.
When it comes to the cheapest food shop, Aldi takes the crown with its basket coming in at £26.43 when all items are purchased at once. Closely following in second and third place respectively are Lidl (£28.22) and Asda (£31.24).
Food shops at Sainsbury's, Marks and Spencer and Waitrose will cost you the most.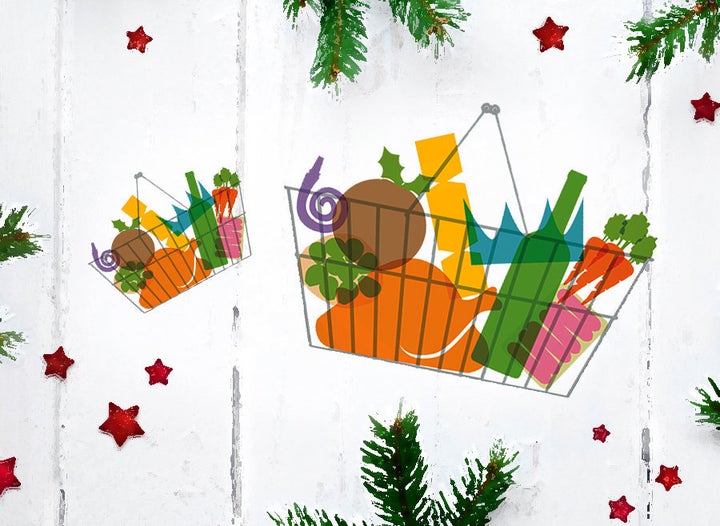 The average price per head is £3.11 this year, compared to £2.94 last year and £2.48 in 2016. There are many factors which have contributed to a rise in cost, said Caroline Bloor, consumer affairs director at Good Housekeeping.
"The extreme weather at the beginning of the year alongside this summer's heatwave has meant yields of crops were much lower than usual," she said.
"This, coupled with the weakened pound following the Brexit vote, means that in a nutshell, food prices increased this year across the board – and consumers are footing part of the bill."
Christmas Food Shop Prices Ranked

1. Aldi - £26.43
2. Lidl - £28.22
3. Asda - £31.24
4. Tesco - £31.43
5. Co-op - £31.72
6. Morrisons - £33.24
7. Iceland - £34.33
8. Sainsburys - £34.50
9. M&S - £39.22
10. Waitrose - £43.98
The basket comprises 11 items for a Christmas lunch for eight people including: a whole turkey weighing at least 3.5kg, at least 880g each of potatoes (Maris Piper or King Edward), sprouts, carrots, parsnips, at least 170g of stuffing mix, a jar of cranberry sauce, at least 900g of Christmas pudding, at least 900g of Christmas cake, at least eight mince pies and a jar of brandy butter.
How Do Prices Compare To Last Year?
All prices correct at time of going to press.
Read the full results in Good Housekeeping's January issue, on-sale 5 December.