Cooking With Kids is a weekly recipe series on getting creative in the kitchen with the family.
Another bland cheese sarnie on the lunch menu today? We see your forgettable fromage and raise you one cheese and potato chapatti sandwich.
Cookbook author and food writer Chetna Makan's creation is a wonderful mix of paneer, cheddar, potato that's perfect for picnics, lunch boxes, or a light meal at home.
It's also a great way to help kids work on their culinary skills. "This would encourage them to get into the kitchen and cook for themselves," she explains. "Making the dough is something which is very hands-on and it provides them useful knowledge about textures, dough and when to stop adding more water. It is something which is quite key to their own well being for the future too."
Her children's favourite ingredients are cheese and paneer. Combined with the spices and mustard seeds they add a wonderful aroma and flavour, but create a great-looking finish too. "They also like that it still has the flavour of chapatis and having it in a sandwich makes it more fun," Makan explains, adding. "Kids can help grate the potatoes, cheese and paneer, as well as, picking the leaves off the coriander and have a go at rolling the chapattis."
Cheese and potato chapatti sandwich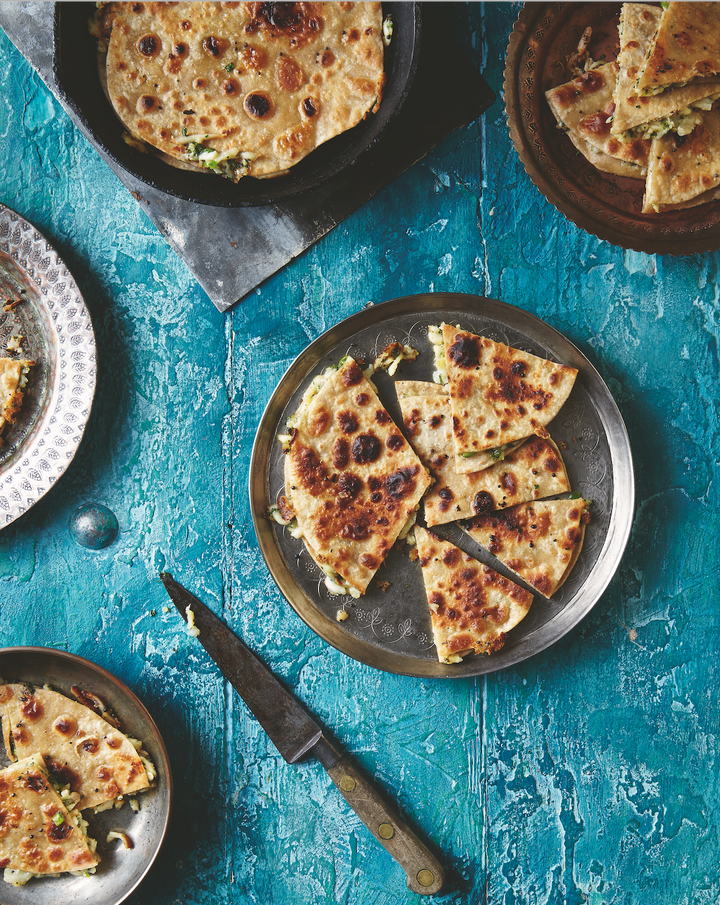 Ingredients:
200g (7oz) chapatti flour, plus
For the filling:
50g Cheddar cheese, grated
1 small potato, boiled and grated
½ teaspoon amchoor (mango powder)
1 small green chilli, finely
10g (¼oz) fresh coriander leaves, finely chopped
Method:
1. To make the chapattis, put the flour and salt into a bowl and gradually add just enough of the water (or a little more, if necessary) to form a soft dough. Knead for 2 minutes, then cover and let rest for 15 minutes. Divide the dough into 8 equal portions.
2. Roll out each portion on a lightly floured surface to a circle 15–18cm (6–7 inches) across. Heat a skillet until hot, and cook each chapatti for 1 minute each side on a low-to-medium heat, until slightly golden.
3. To make the filling, combine the ingredients in a bowl.
4. To toast the sandwiches, use the same skillet you used to cook the chapattis. Drizzle with a tiny bit of oil and, once hot, add a pinch of mustard seeds. When they start to sizzle, lay a chapatti in the pan and spread with a quarter of the filling.
5. Place another chapatti on top and cook for a minute on a low-to-medium heat, until the underside is golden. Turn and cook for a minute on the other side, then remove to a plate. Repeat with the remaining chapattis and filling, cut and serve. Eat these on the day that they are made.