WARNING: Some readers may find the terms used by food reviewer, the Chicken Connoisseur, confusing. See glossary at the end of this report for clarification.
A self-styled "chicken connoisseur" is racking up a huge following for his London chicken shop reviews on YouTube called 'The Pengest Munch'.
In his latest dispatch, Elijah Quashie, reviews Chick King, which is near Tottenham's Hotspur's stadium, and in just two days his YouTube clip has been watched more than 50,000 times.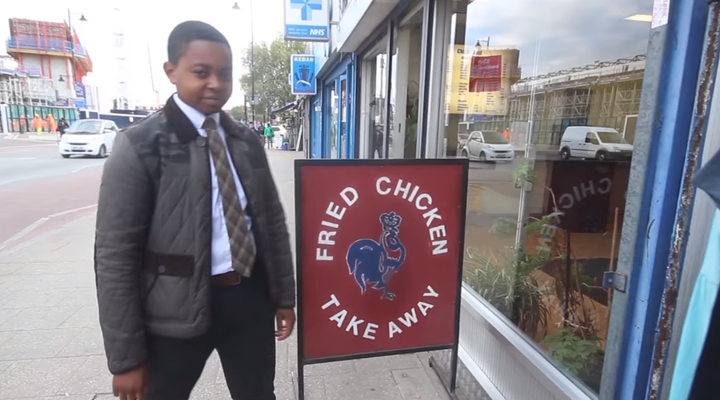 Quashie, who looks like a schoolboy, but is in fact a 23-years-old retail assistant, begins his restaurant review outside the Spurs shop - "the deadest team on the planet", but then quickly gets to the point, "but we're not here for the team, we're here for the chicken."
After ordering four wings, chips, a burger and a Lilt,Quashie takes his cardboard box bounty street side, to enjoy it al fresco.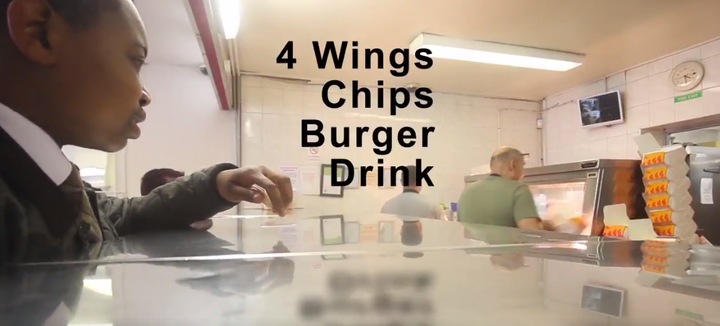 He is a little perturbed by the cost, "£5.80 without the drink", with the wings alone - four of them - setting him back £1.30. The same quantity at a store on Old Street, in east London, he says sells for £1.20: "How's that work?," he asks.
Chips - "I was gassed about it at first".
Starting with the chips, Quashie rhapsodises in perfect street slang:
"So chips, they were fat chips, which I was gassed about it at first, thinking 'boom', they're gonna be soft... but that wasn't the case. Nothing special, they needed barbecue sauce, without barbecue sauce, there's no way you'd back it."
Rating: 3/5
Wings - "I was expecting the best, bare in mind fam, dis ting was total £6.40."
Next up, the wings, which Quashie had high expectations for, due to the earlier mentioned high price point (10p more than at Old Street).
"I was expecting the best, bare in mind fam, dis ting was total £6.40. The wing was fairly fresh, fell off the bone quite well. They are well cooked. Quite succulent. Going into actual flavour... WEAK... in my opinion, a bit of cayenne (pepper), maybe one of two bits of black pepper."
Quashie then turns his attention to the "texture" of the fried-food favourite which he says is the "best thing", "just cause it's different".
The chicken had been rolled in breadcrumbs, but not only that, "it is all segmented into it, giving it a nice texture", he says, breaking breadcrumbing methodology down to street level.
Rating: 3.5
"But really they're not that far past mediocre," the youth opines.
THE BURGER - "It was not peng at all, it was just hench."
Moving on to the main course, the burger, Quashie admits it "caught me off guard".
"You know what, the burger it caught me off guard because it was hench. My mind was like, 'right, this burger's hench'. I looked at it, right, 'that look peng', and it hit me two thirds of the way in, I clocked that the burger was not peng at all, it was just hench. So I spent more time chewing and making sure I wasn't going to choke... flavour was dead.. and something that definitely caught me off guard, man definitely chewed on a bone. Boss man, I don't know what went on, but that can't go on... it's getting risky out here, you might need to sponsor me here, still, no joke, like, man's life is on the line, I ain't got life insurance, it is all me."
Rating 3.5
Concluding, Quashie says Chick King was "very, very underwhelming".
"You didn't even have burger sauce, how can I ever respect you... how?," he says in a personal message to the store's owner.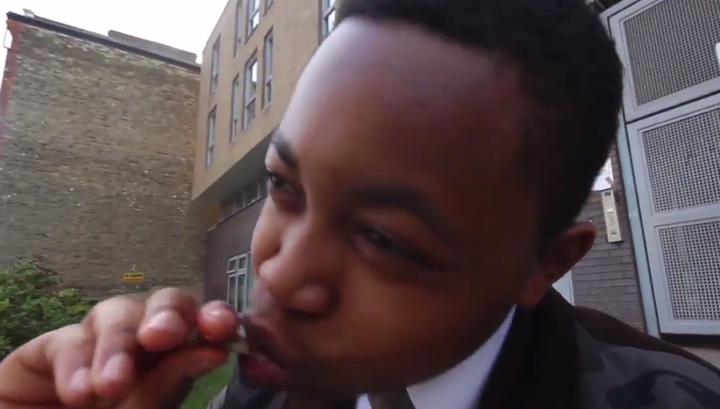 Overall the shop received a 3.5 rating, and it seems Quashie thought that was generous: "No, you're not getting more. Don't ask."
The review ends with some advice to chicken lovers: "If you're coming here expecting the pengest munch, you're an idiot."
Quashie has so far reviewed six chicken shops - in Old Street, Finsbury Park, Tufnell Park, Waterloo, Edgware Rd and Tottenham - in dispatches that viewers have found hilariously endearing, prompting calls for the boy to get his own show and a request to diversify his cuisine channel offerings.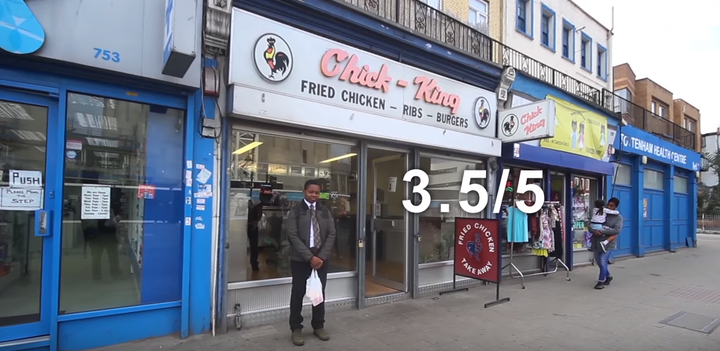 In one particularly scathing review of a restaurant in Edgware Road, Quashie takes issue with everything from the "shambolic" service to the condiments.
"I asked man for BBQ sauce," he tells his viewers. "He was like yeh how much do you want. I asked for three, he said 'I'll give you one'. Wagwan?
The "flaky" wings covered in pepper were likened to "dead hair", with Quashie telling the camera: "If you got your hair freshly trimmed lets say a week ago and you haven't combed it since. Them ones, them pepper grains, is what the wings look like."
And the burger: "Bare lettuce. First time it came out there was bare mayo as well. I told him no mayo. Wasteman. Man takes me for a dunce."
One commenter on YouTube wrote of the reviews: "This was amazing. You're going places. Granted right now they seem to be just mediocre chicken shops but soon you'll be going places."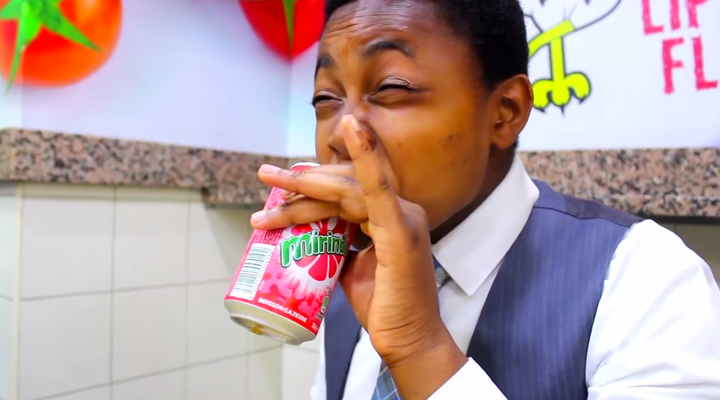 Another said: "This is brilliant. Can we get other food on here apart from Chicken Shops?"
Qashie told BuzzFeed that he was trying to fill a gap in the reviews market and had big ambitions for his YouTube channel. He said: "Most of the time I eat chicken. All restaurants have reviews but chicken shops rarely have any. They are not respected like that and they better for value for many."
According to his biography on YouTube, Quashie - who has amassed 28,379 subscribers since launching his channel in August last year - is: "A food critic for mandem who care to know where the finest chicken restaurants in London are and where to find them. He's a bit of a crep fiend too."
On his twitter account, @4wings_please, Quashie, whose profile image sees him feasting on chicken while wearing a tie and a displeased grimace, appears to speak directly to chicken shop owners, writing: "Bossman, bring the goods".
Qashie graduated from City and Islington College in 2011 and now works in retail. From May 2012 to May 2014 he was a missionary for the Church of Jesus Christ of Latter-day Saints.
The Huffington Post UK has reached out to the Chicken Connoisseur for comment but are yet to hear back.
Understanding the Chicken Connoisseur: A glossary of terms

Peng - good.

Dis - usually a put down, but the Connoisseur uses it as slang for This.

Ting - Short for Thing.

Fam - Short for family, but often used to refer to one's friends.

Wagwan: What is going on?

Gassed - Excited.

Hench: Strong, musclur looking.

Mandem - a group of men, or boys.

Crep - the Connoisseur refers to himself as a crep fiend, meaning a sneakerhead, or lover of shoes. A crepcheck is to look at and judge someone on their shoes. The Connoisseur begins his review with a crepcheck to show off his Nikes, before beating his feet to the chicken shop.