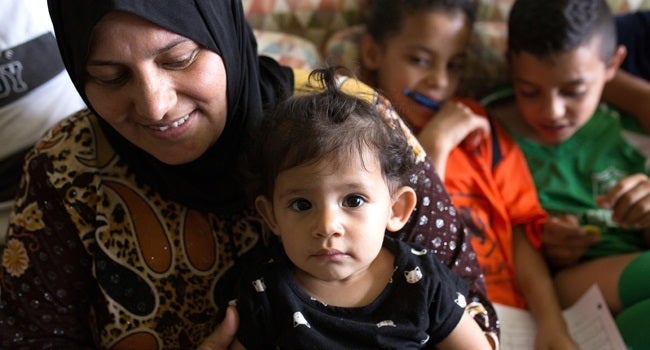 Among all the immigration data published this week, much of it inevitably getting attention due to the ongoing public and political Brexit discussions, the figure that stuck with me was 794. In the last year, 794 unaccompanied children were recognised as refugees in the UK.
These are children who, having fled horrors unimaginable to most of us, can now start to rebuild their lives. This is, of course, something to be celebrated. But for the children who have family members still in danger, their futures are clouded with fear and doubt. This is because unfair and restrictive UK laws are keeping refugee children separated from their families.
These children are some of the most vulnerable in the country. Arriving alone in Britain, facing a multitude of new difficulties and challenges – a new language and culture as well as the psychological fallout from incredibly traumatic experiences in their home country - many now face the heart-breaking prospect that they may never see their parents or siblings again.
The statistics are one thing, but these are real children who've fled war, persecution and terror. They've left everything behind and simply need a place of safety.
The global refugee population is at its highest on record, but the international community is still falling well short of its responsibilities in hosting and assisting refugees. Last month I saw this first-hand, visiting Rohingya refugee camps in Bangladesh. While countries like Bangladesh are left taking an overwhelmingly disproportionate share of responsibility for hosting refugees, many people fleeing conflict and persecution left in often unsafe and unstable circumstances compelling them to attempt dangerous journeys - putting themselves in the hands of smugglers to reach somewhere truly safe – for want to safe and legal routes. Refugee family reunion is one such safe and legal route, but to deny child refugees' family this opportunity is unnecessarily cruel.
On a visit to Lebanon this week, Home Secretary Amber Rudd said the government was considering extending its commitment to resettle 20,000 Syrian refugees by 2020. This is extremely welcome, providing a much-needed means for children and their families to reach safety in the UK, but it does not change anything for the hundreds of children who have arrived in this country without their parents.
A political change of heart is needed. The Home Affairs Select Committee has said it's "perverse" that children in the UK are not allowed to bring their close family to join them. On Wednesday, Shadow Home Secretary Diane Abbott announced that the Labour Party's immigration policy would ensure unaccompanied child refugees could be joined in the UK by their parents or guardians. And politicians from both Houses have supported calls for reuniting refugee families - including Members of Parliament from all the parties represented in the House of Commons.
But we need real action. On Friday 16 March Angus MacNeil's private members bill on refugee family reunion is being debated in the Commons and provides an opportunity to change the situation for refugee children in this country.
The bill seeks to do three things which could be transformative for refugee children:
1) It expands the criteria over who qualifies as a family member for the purposes of refugee family reunion;
2) It gives unaccompanied refugee children in the United Kingdom the right to sponsor their family members to join them under the refugee family reunion rules;
3) And it reintroduces legal aid for refugee family reunion cases.
Amnesty, as part of the Families Together coalition, is urging MPs across all parties to show true leadership and attend the vote to reunite refugee families.