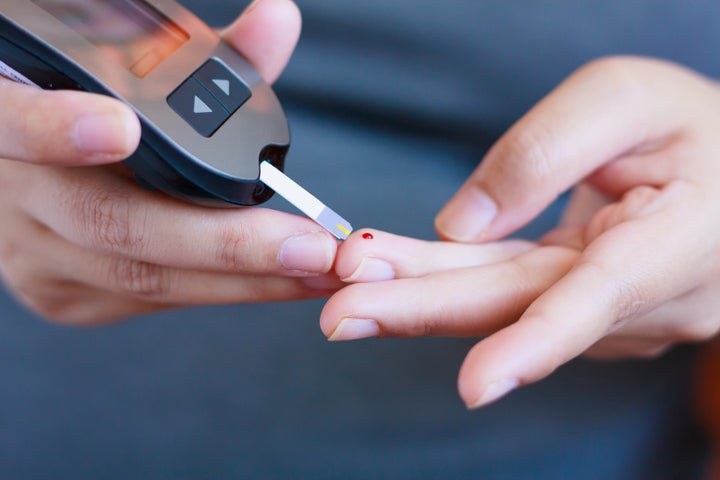 The number of children and young people treated for Type 2 diabetes has spiked by more than 40% in the past four years, new figures have revealed.
The condition – which is closely linked with obesity – had not been diagnosed in children in the UK before 2000.
But data highlighted by the Local Government Association (LGA) on Saturday revealed 715 under-25s in England and Wales received treatment in 2016/17 – a jump of 41 percent from 507 cases in 2013/14.
According to the figures, which were supplied by the Royal College of Paediatrics and Child Health, 79 percent of young people treated were also obese.
Typically diagnosed in people over the age of 40, Type 2 diabetes can lead to heart disease, strokes, nerve damage and blindness. According to the NHS, there is "strong evidence" that the condition is preventable.
Calling on the government to "reverse the £600m cut" to councils' public health funding, the LGA's wellbeing chairman Izzi Seccombe said the numbers were a "sad indictment of how we have collectively failed as a society to tackle childhood obesity".
A study published by the LGA earlier this year found that around 22,000 children in England and Wales are classed as "severely obese" when they leave primary school aged 11.
Seccombe added: "Councils with their public health responsibilities are on the frontline fighting obesity, but for this to work effectively they need to be properly resourced.
"Cutting their public health funding is short-sighted and undermines any attempt to help our children live healthy and fulfilling lives."
Fears have also been raised that the LGA data does not reflect the true scale of the problem, with the statistics only covering the number of children treated in pediatric diabetic units – not those receiving primary care from family doctors or clinics.
Meanwhile, councils have called for more outreach work for certain communities after it was revealed that almost half of the children treated for Type 2 diabetes were black or Asian.
Kathryn Kirchner, clinical advisor at Diabetes UK, branded the data "extremely worrying".
"Although there are a number of risk factors for Type 2 diabetes which are out of our control, one of the most important risk factors is being overweight or obese, which we are able to influence," she said.
"These figures are a stark reminder that we have a collective responsibility to push for the actions outlined in the most recent chapter of the Childhood Obesity Plan, including clearer and more consistent food labelling."
A Department of Health and Social Care spokesperson said the government is "determined" to halve childhood obesity by 2030.
"We've invested billions in public health services and have already removed the equivalent of 45million kilograms of sugar from soft drinks every year," they added.
"Our new childhood obesity plan will now get children exercising more in schools and reduce their exposure to sugary and fatty foods."